Eat like a "New Yawka" at Dobbs Ferry
With so many delicious restaurants in San Francisco, it's hard to go wrong. Especially in Hayes Valley, a neighborhood filled with cultural cuisine, like authentic Irish, German and French restaurants. On top of all the great options is an Italian gem: Dobbs Ferry, SF. It's a NY-style Italian restaurant smack dab in the middle of Hayes Valley, San Francisco.
If you're traveling to Dobbs Ferry by public transportation (MUNI), the Hayes Valley neighborhood is close to Van Ness. After your meal you can stroll the busy sidewalks to windowshop and browse accessory shops, bakeries, and bars.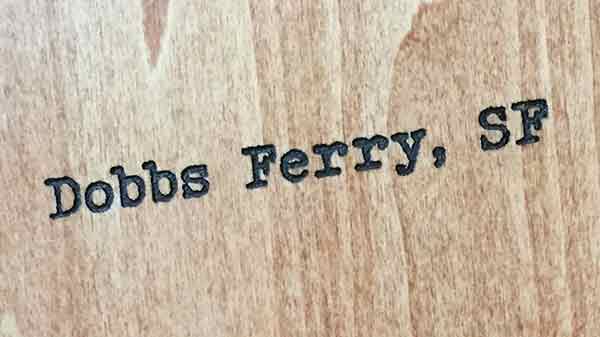 Dobbs Ferry SF Menu Review: Arancinis
Arancinis! Cute little balls of fried goodness with a fun name. Traditional arancinis are made of rice, mozerella, some veg, and rolled in bread crumbs. They are then deep fried to a golden brown and served in tomato sauce.
The arancinis on the menu at Dobbs Ferry are unique "fried English pea risotto balls with roasted garlic aioli and parmesan cheese". The garlic aioli sauce was an unexpected modern twist. Needless to say, the flavors popped and I could have eaten another 4 arancinis…
To wedge or not to wedge
Traditional wedge salads have become really predictable. That's why the one at Dobbs Ferry is the king of all wedges. Instead of standard blue cheese and bacon, the wedge at Hobbs Ferry, SF is served with Thousand Island dressing, dill pickles, egg and bacon.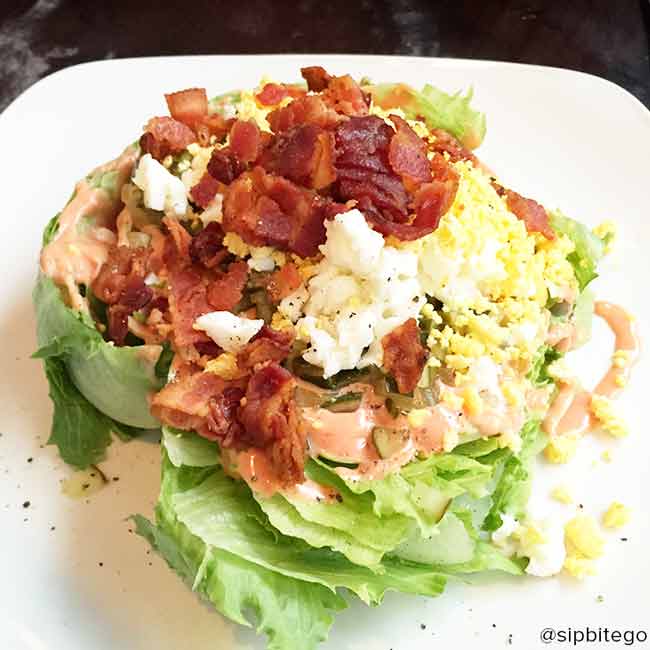 the Burrata salad
The burrata salad at Dobbs Ferry caught my eye because it sounded like a cheese plate more than a salad because it comes packed with plenty of interesting ingredients. Di Stefano burrata, marinated cherries, sweet balsamic syrup and olive oil toast. Oh, and some salad greens, obviously.
Between the NY-style pizza, pastas in a variety of homemade sauces and savory roasted chicken, it's not easy to choose an entree. In a pasta mood, we split the signature Dobbs Ferry, SF rigatoni dish with tomato sauce, red peppers and braised pork sausage.
Oh yea. We scraped that plate clean.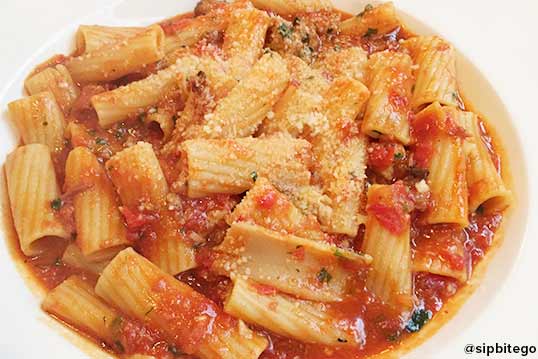 Hope you've enjoyed this tour of the Dobbs Ferry, SF menu. Their menu is always changing with the seasons, so you'll probably find a few new surprises on your trip. Have a great time in SF!