Listen to My Weird Food Obsession Podcast – episode 18 on Apple, Spotify, or wherever you get podcasts to hear more about this mushroom foraging hobby that led to selling food online, and more in this podcast episode:
How Thomas' love for mushrooms grew.
App recommendations for Mushroom Foraging.
How he makes his mushroom jerky.
The story behind Vegky and the key to its success.
The evolution of marketing over the years.
Working in a highly competitive industry.
The ins and outs of product shipment.
How to sell your food products on Amazon and in supermarkets.
Getting started: how to develop a food product idea.
From a mushroom foraging hobby to selling food products on Amazon
Calling all mushroom enthusiasts… Did you ever think that a mushroom foraging hobby could lead to a career change and selling food products on Amazon?
That's the story of Thomas Hong of the vegetarian mushroom jerky company, Vegky. He went down a few other paths in life before getting into the food business. First, as an engineer, and most recently as the owner of Tiny Bathrooms, a company that sells tiny toilets for people who live in tiny houses. Seriously – I love that idea almost as much as I love shiitake mushroom jerky!
Today, Thomas is answering questions and providing what you'd expect from Shark Tank advice.
We go into questions anyone getting into the supermarket foods industry would need answered…
Can I sell food products on Amazon?
How do I start selling food on Amazon?
How do you meet supermarket buyers to give samples to?
So join us as we dive deep into the mushroom food obsession and learn some food business advice along the way.
For the Love of Mushrooms: Vegetarian Jerky
Thomas is passionate about his product, and considers himself a man on a mission: doing his bit to reduce meat consumption and accelerate the world's transition to eating sustainably grown plant based meats.
The jerky he makes is from the stem of the shiitake mushroom, and he is confident that he stands head and shoulders above all competition: this jerky is the most 'meat like' out of all alternatives on the market.
But Thomas Hong wasn't always so focused on mushrooms. In fact, when he joined the mushroom foraging club as an undergrad at Rutgers University, who was more into the social aspect than any save-the-world ideals. Foraging mushrooms was a fun chance to get out into the countryside with a bunch of other students and have a low-key hour hanging out.
If you don't have an expert along on your own mushroom foraging expedition, Thomas recommends using an app like Shroomify and Picture Mushroom.
Never eat foraged mushrooms alone, he warned: use the buddy system, and make sure there is someone close by who will be able to help out if you end up reacting to what you ate.
Inventing a gourmet food product (after toilets!)
Thomas graduated from school as a full-fledged engineer— but soon found that a 40 hour work week was not where his passions lay.
During a year in Taiwan, studying language, his foodie self blossomed and he learned to appreciate a new use of mushrooms— taking the place of meat. Visiting the plethora of vegan restaurants in Taiwan, he sampled the gamut of meat substitutes— and left deeply impressed.
As he put it "it looks like real meat. It will taste quite like real meat, sometimes you may not even know it."
The economic turndown in 2009 proved his chance to get out of the engineering grind, and he began selling "tiny toilets and sinks", to people in the tiny homes community. The business, Tiny Bathrooms, continues today.
With his first experiment in entrepreneurship a decided success, Thomas decided to start selling something he could actually get excited about. Enter Vegky, a mushroom jerky-based startup that drew on all he had learned about 'shrooms as a tasty alternative to animal-based meats in his years since the mushroom foraging club at school.
It was Amazon that he honed in on as the key to his jerky marketing strategy. There are a hundred different ways to sell food products, but none as effective as the online shopping giant. Amazon has the biggest market and many loyal food shoppers, and an Amazon search is the first step in finding novelty foods for many Americans. An effective Amazon catalogue listing might be the single most important first step to online food selling success.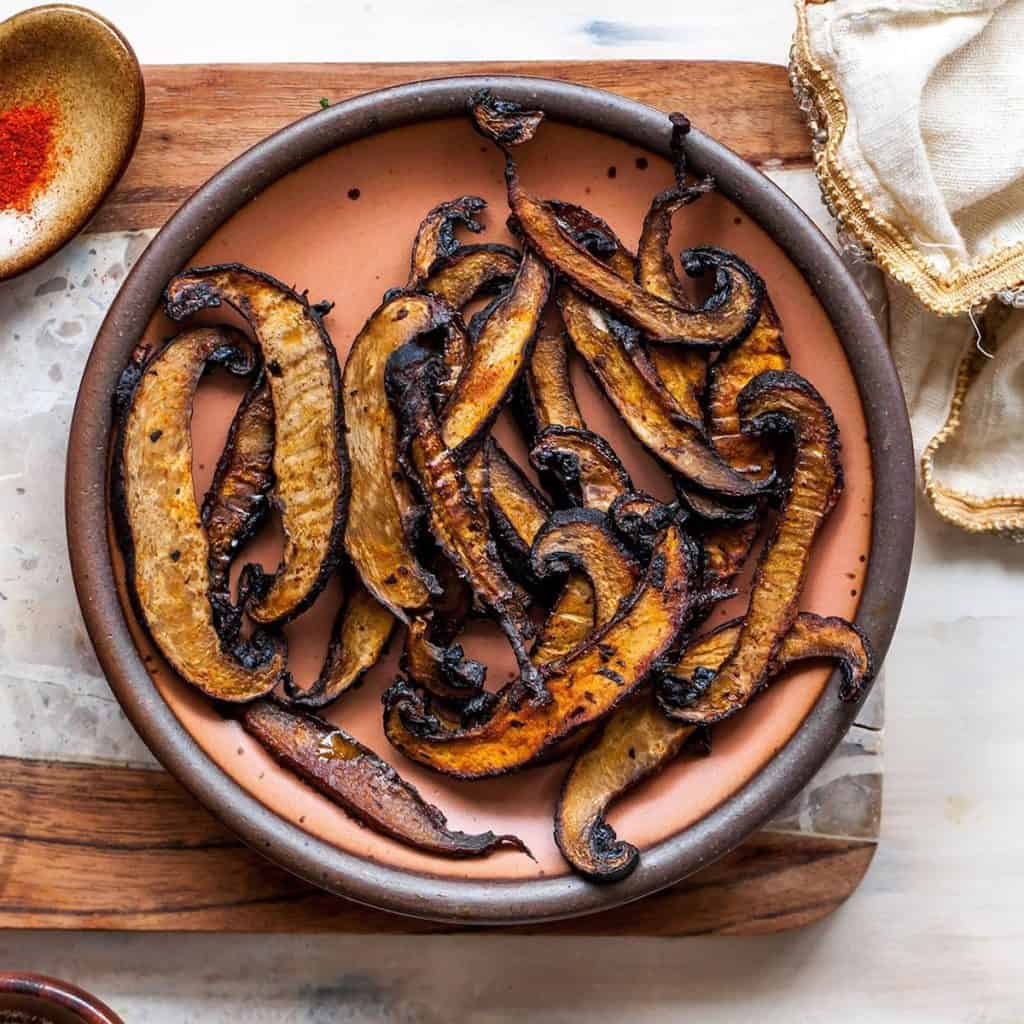 "The truth is success is only given to maybe 10% of those who try and work their butt off starting a business. I'm working in that business. So it's a really competitive industry. I'm still figuring things out. I have to be adaptable and know when to pivot and how to pivot." – Thomas Hong
Tips for starting a food product business on Amazon
Thomas recommends following these steps when you're thinking about launching a food business to sell on Amazon or at grocery stores….
Make sure you like it and feel passionate – for him saving animals and reducing greenhouse gasses – like product, walk the talk and not be motivated by money
Do your research first, and make sure there is demand. If there are competitors that might be a good sign. Food shows and farmers markets are also great places to test out your idea and get a proof of concept.
Choose a good company name, and make it short and sweet—two syllables is often ideal.
Put together a business plan, and figure out your pricing scheme. Check and double check that you can sell it for more than it will cost you to bring it to market.
Publicize your Amazon listing, and hunt out buyers. If you'd like to sell in supermarkets, use LinkedIn pitching and be ready to send out samples.
Check out specialty food associations for events and to connect to people looking for your product.
Stay aware of the times—and for us in 2021, that means pandemic times. Make sure your big food product idea is compatible with the reality of life today, and doesn't depend on in-person sales or big gatherings.
Thomas explained that only about 10% of people who try to market a new product on Amazon make it long-term. Simply put, the odds are against you. That said, if you've got tenacity, a little bit of business knowledge, and that passion that comes with a mission you believe in, you can make yourself part of the winning statistic—like Vegky did.
I might not be ready to start selling food on Amazon, but I definitely enjoyed hearing this insiders perspective! If you're into entrepreneurship, you're going to need to make sure you listen to the whole podcast. In the meantime, all this talk about mushrooms has made me hungry— I'm going to go make up some sautéed mushrooms with thyme.
Links mentioned
Learn more about mushroom foraging as a hobby
Listen to My Weird Food Obsession Podcast – episode 18 on Apple, Spotify, or wherever you get podcasts.
More from My Weird Food Obsession