Listen to My Weird Food Obsession Podcast wherever you get podcasts – episode 7
From medicinal mushrooms to herbal tea, this episode uncovers some really fascinating studies of ancient plants and their benefits for humans. In today's chat, sisters Hollie King and Mallory Schillinger help debunk the difference between medicinal mushrooms and psychedelic mushrooms. But the conversation goes much deeper than that.
They chat about how Hollie's obsession of "food as medicine" was fueled from a desire to know what she was putting on her kids, and ultimately helped her treat a cancer scare. Her holistic approach to cancer recovery helped fuel Sweet Bee Organics all starting with pretty simple facebook ads to find consumers.
At the end we kind of geek out about how your body is literally eating every product you put on your skin. You'll also get to hear Mallory's easy recommendations for drinking more herbal teas and Hollie's daily routine, which, you guessed it, includes medicinal mushrooms for breakfast.
So let's talk shrooms!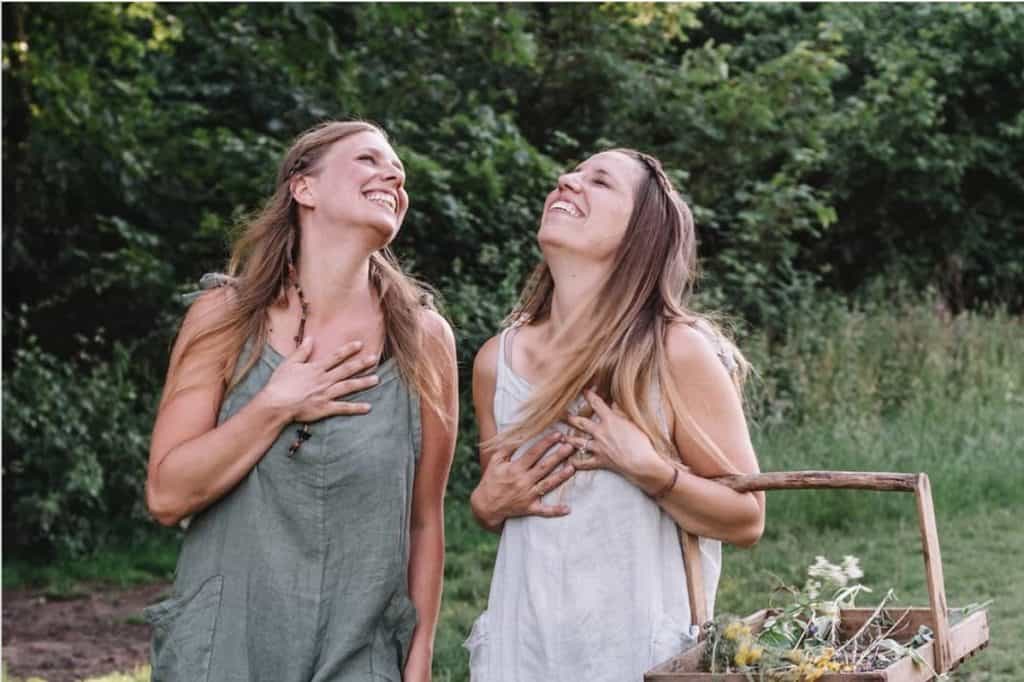 Meeting the sisters
Hollie, founder of Sweet Bee organics, is a wellness specialist, passionate about giving people the knowledge they need to take control of their own health. Her sister, Mallory Schillinger, agro-ecologist and health coach, joined the team later, and now manages all the sourcing of ingredients for Sweet Bee.
Transplants from Missouri, now living and working together in the hills of Somerset, England, they form a dynamic team: a duo which loves to brainstorm solutions for healthy living—and then share those solutions with the world. Mushrooms, which were largely responsible for a big part of Hollie's recovery from cancer, is a big part of those solutions.
"People are genuinely good people and they just want to see companies that are doing good things succeed. So there are always people there to help. I really believe that." – Hollie King
What are medicinal mushrooms benefits?
Curious about the benefits of medicinal mushrooms, I asked the sisters to share what it was all about. Mallory had a comprehensive answer for me. Growing in the soil, the mushroom you see is actually not an independent unit: it's simply the fruiting body of a mycelium network. Reaching through the worldwide web of soil, it grabs nutrients from every corner: nutrients that are essential to human well being.
But that's not the only benefit of medicinal mushrooms. These mushrooms, and the network they grow in, are always being attacked by bacteria, and they create antibodies to protect themselves. When we eat the mushrooms, we get the antibodies and that extra layer of protection against illness as well.
Some of the healthiest mushrooms for medicinal mushrooms benefits include:
Chaga mushrooms
Reisha mushrooms
Turkey tail
Lions mane
Love all things mushrooms? Check out this podcast episode where we talk about how mushroom foraging led to selling food on Amazon!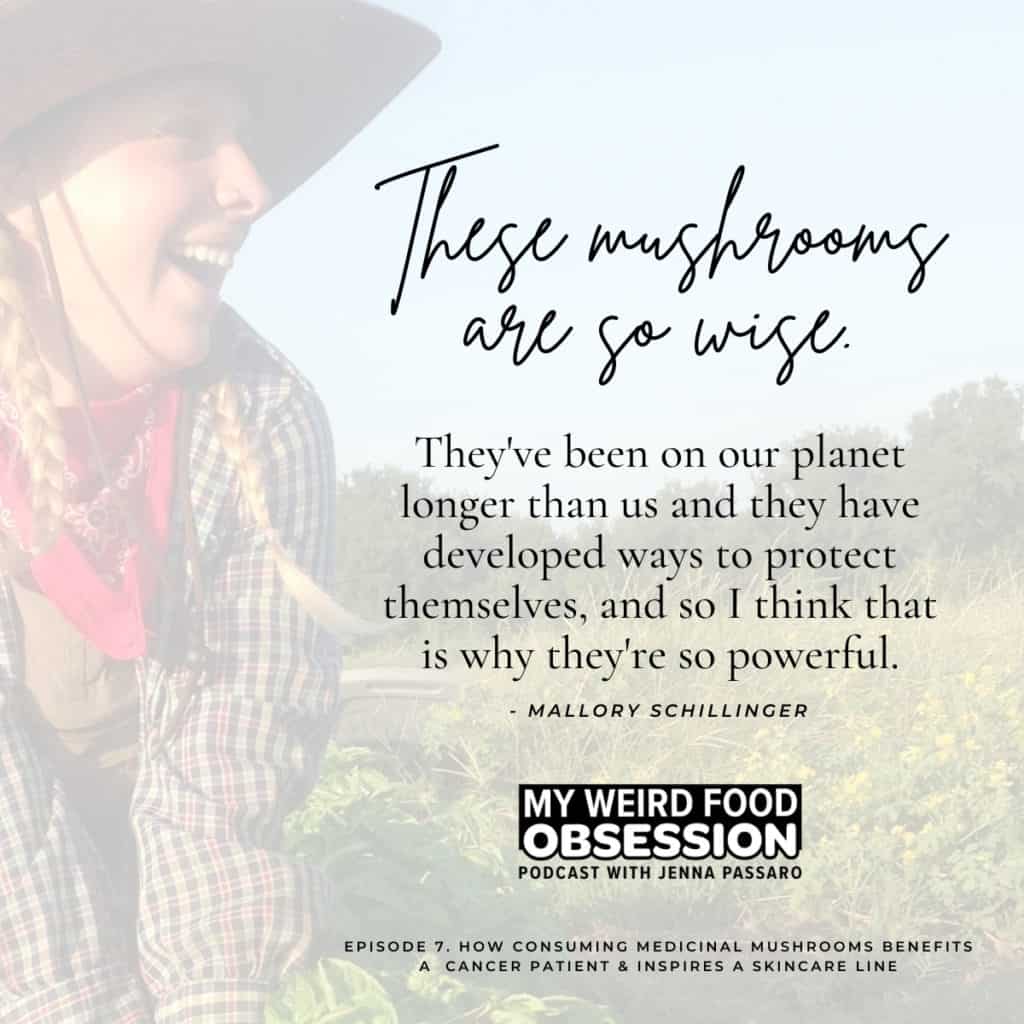 "These mushrooms are so wise; they've been on our planet longer than us and they have developed ways to protect themselves, and so I think that is why they're so powerful" – Mallory Schillinger
Hollie's daily routine for health after cancer
With the help of a whole host of medicinal mushrooms, Hollie has conquered cancer, but that doesn't mean she stopped taking care of her health and immune system.
Today, her immunity-boosting routine includes starting the day with medicinal mushrooms blended in oatmeal. A similar mix is available on her website — the inner wisdom balance — and can be mixed with any milk you choose.
But her journey to health is not just a one-and-done. She also drinks herbal teas throughout the day, and is proactive in including hidden vegetables in her regular meals like pasta sauces.
And she is intentional about all the skincare she puts on her body— skin, she explained to me, is your biggest organ, and you're not doing any good if you eat healthily and poison your body with toxins that are absorbed through the skin.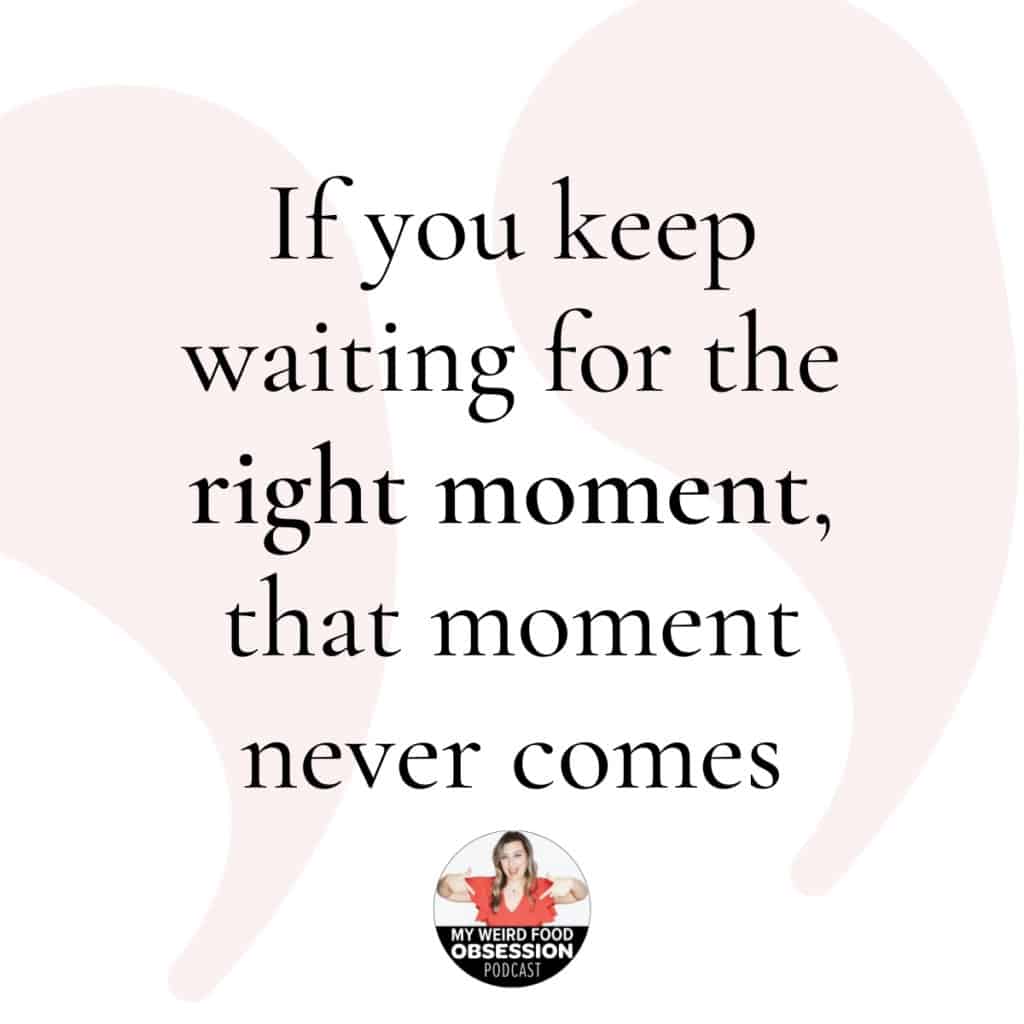 "If you keep waiting for the right moment, that moment never comes." – Jenna Passaro
Mallory's tips for drinking herbal teas
Mallory left us with a host of helpful tips for those who want to improve their health with herbal teas. She suggested you grow your own: and if you use fresh herbs, like those grown in my Aerogarden, you don't even need to dry them to use in tea.
Just clip right above the plant node, right above an offshoot of leaves, and slap the herbs to release oils. Then dunk into your almost-boiling water to create an infusion rich in medicinal properties. (I've been doing this ever since hearing her tips!)
I was glad to hear that most herbs don't have dose limits, and you can drink as many cups of tea as you like. Mallory recommends you try a variety: lemon balm, thyme, and rosemary are good places to start and will leave you with better memory and nicer nails. If you want to buy herbs online, the sisters recommend looking for the Mountain Rose brand.
Love hearing about tea? Check out this other podcast episode all about a matcha tea company!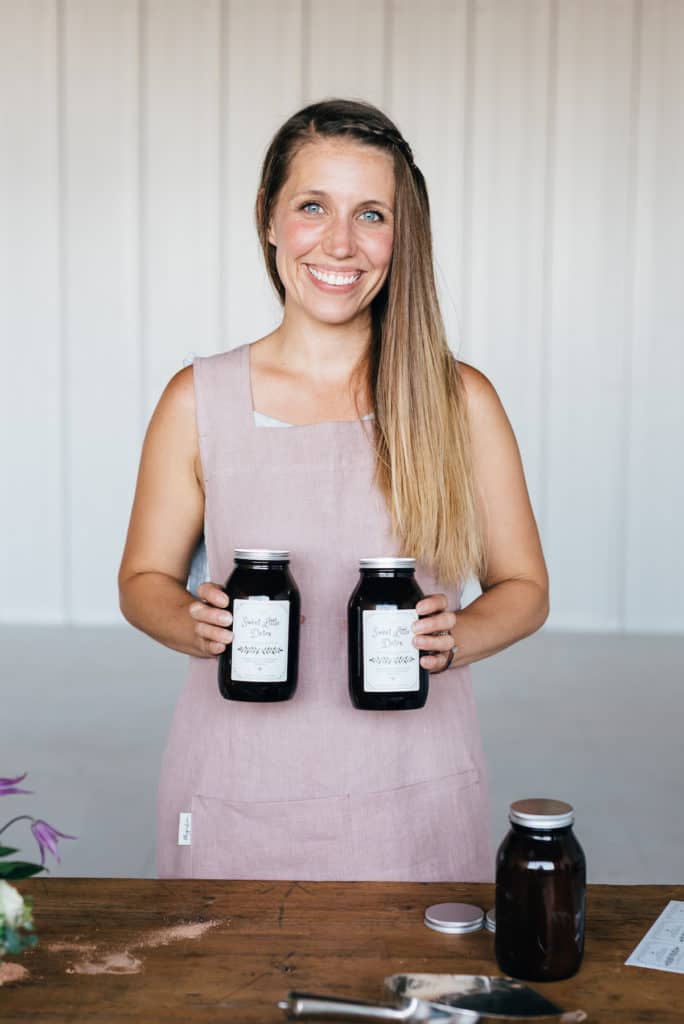 Sweet Bee Organics products you need to try: medicinal mushroom skincare and more
Mallory says she always recommends people get started with the Sacred Skin-African Black Soap Cleanser. The product description explains it's not just cleansing: this nourishing mix of organic oils will leave your skin regenerated and radiant.
If you love to be out in the sun, you're going to want to prioritize the Sweet Bee Original Sunscreen, Hollie's first health product. Created to protect her child's skin without exposing him to toxic chemicals, this is one sunscreen that leaves you healthier than you started.
The product I really want to try with my toddler is Sweet Sleep Magnesium Butter. Hollie shared how she came up with the formula after her own little boy had difficulty sleeping at night, and saw immediate results with her home-made formula. The butter is rubbed onto the soles of the feet, and that might just become part of our new bedtime routine.
I can't close a list of product recommendations without mentioning the mushroom blend that makes all the goodness of those medicinal mushrooms we've been discussing easily available every day. Inner Wisdom balance can be mixed with milk, and is suitable to be used every day for immunity-boosting and general good health.
That was one educational hour, and I'm excited about trying out some of this organic goodness! That is, after I've had a glass of fresh herbal tea—cut from my windowsill garden, slapped, and brewed.
I also gained a whole new perspective on mushrooms, and will never look at them the same way again. I was relieved to hear that cooking medicinal mushrooms isn't harmful, but is actually beneficial to get the benefits of the fungi. That means I can still enjoy my sautéed mushrooms with red wine and thyme recipe.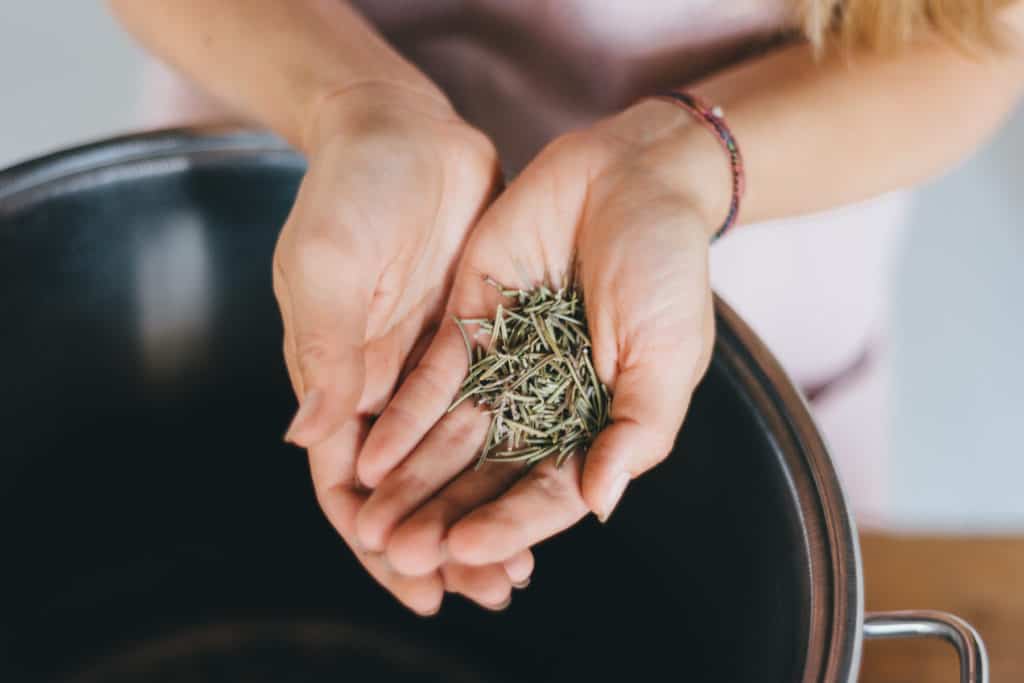 Learn more about medicinal mushrooms
Listen to My Weird Food Obsession Podcast wherever you get podcasts – episode 7
Growing up and making memories in the same kitchen
How Hollie and Mallory's "Food as Medicine" journey started.
What exactly are medicinal mushrooms and their medicinal properties?
How should you eat your mushrooms?
The processes behind Sweet Bee Organics products.
Evaluating the quality of your ingredients in your skincare products.
The difference between eating vs. putting products on your skin.
Hollie and Mallory's daily routines.
Growing your own herbs to drink in your tea.
Links mentioned
Sweet Bee Organics Facebook (has link to their Facebook group)
Sweet Bee Organics Instagram
More from My Weird Food Obsession