Listen to My Weird Food Obsession Podcast – episode 21 on Apple, Spotify, or wherever you get podcasts to hear this making matcha tea, and more, in this foodie podcast episode…
Highlights from this episode about running a matcha tea company include:
Leane's story about going full time with selling matcha tea products online.
What it's like to study to become a matcha tea sommelier.
What's to love about drinking matcha tea?
What does matcha taste like?
How do you drink matcha tea?
Her journey and tips for starting a matcha tea company (and any new food company in general).
What's next for the Kineta Tea matcha tea company (hint: they are now launching raw superfood bars).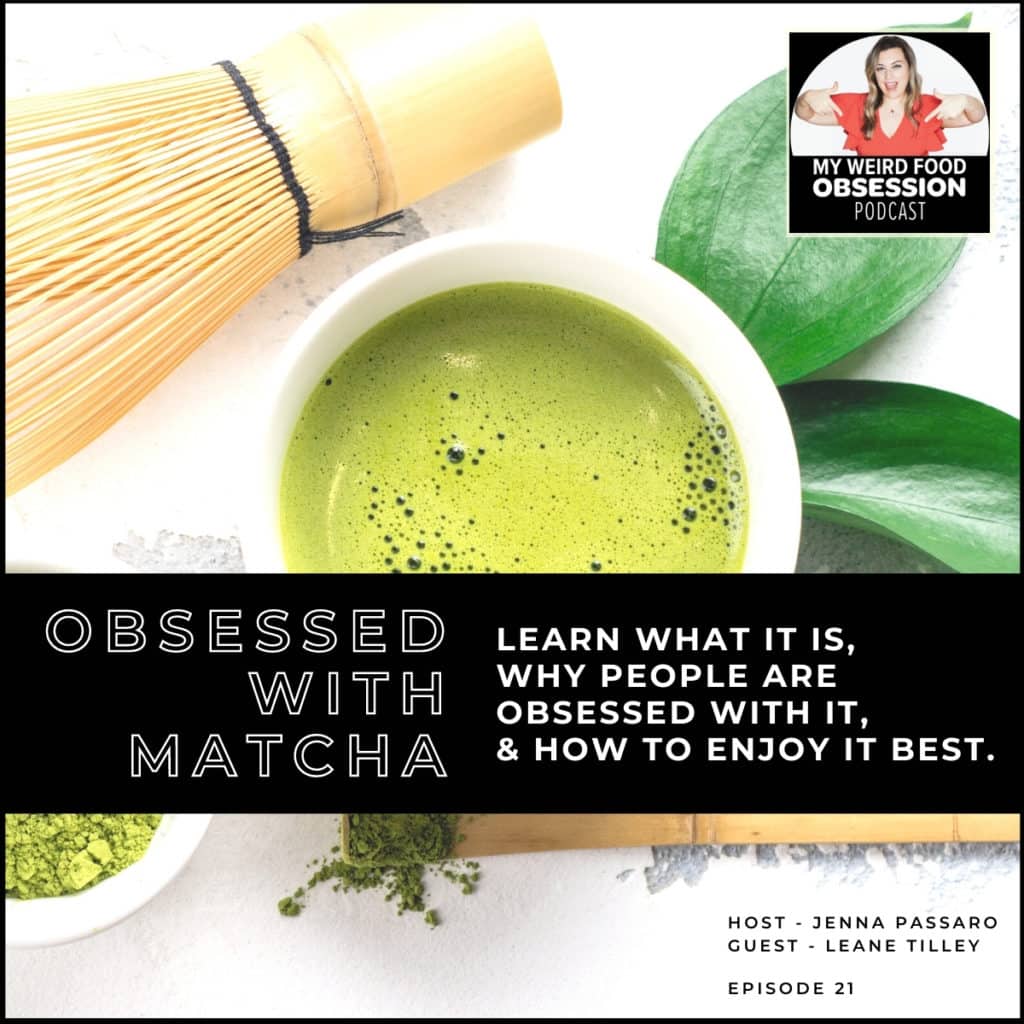 Learn about matcha tea
Today's episode is with a matcha tea expert who shares her journey from becoming a tea sommelier and launching a superfoods business online. This guest is Leane Tilley from the online I Love Matcha Tea Company, also known as Kineta Tea. The tea company is now an adventurous health and lifestyle brand based in Devon.
Starting a matcha tea company from the ground up
Back in 2015, Leane – a lover of nature, avid adventurer and keen health foodie – found herself climbing mountains that overlooked the tea fields of Japan. The vast sea of green leaves that stretched out in front of her lit the spark of inspiration, but it was the life and energy of everybody she came across that fanned this spark into a flame.
The people she met were filled with an energy that made them glow, each and every one of them swore by the green tea that they drank. This green tea wasn't just any green tea though, it was matcha green tea.
Matcha tea fuelled the rest of her trip and when Leane left, she was hooked. She wanted the same energy and exuberance that the people she met had as part of their everyday life, and knew that there were a lot of others like her who would want the same. Kineta was born. The philosophy is simple: Matchamise life with better energy.
What's to love about drinking matcha tea?
Here are some reasons Leane loves matcha tea:
It's a powder tea, which uses an ancient way of brewing tea.
You consume all of the nutrients when drinking powdered matcha tea.
The texture is amazing… because it is powdered, you experience tea in silky texture unlike regular tea bags.
So what does matcha taste like?
Matcha is green tea. Leane describes it as having a slight creamy sweetness with grassy undertones. Think Spring grass.
How do you drink matcha tea?
You can drink it au natural, but Leane recommends tuning into the weather outdoors to decide what experience you want to have. Basically: do you want to drink it hot or cold? There are plenty of ways to drink matcha.
In the winter when you want warm matcha tea, Leane suggests adding frothy coconut milk and a dash of honey. You can also add it to warm granola.
In the summer, for a chilled matcha drink, muddle matcha tea with mint and serve over ice.
What are the benefits of matcha drinks?
As she puts it, matcha tea has about half the amount of caffeine than coffee. She says it interacts with the body differently and has a lot of health benefits. Now I'm not a doctor and neither is she, but she was able to confidently share upsides to drinking the green beverage.
Reasons matcha tea is good for health according to Leane:
One well known benefit is that it is super high in antioxidants.
There have been many cases of using machta for athletes looking for various improvements to their health.
It's known for teeth health because antibacterials in the tea help with cavities.
What is a matcha whisk and do you need one?
As a kitchen product connoisseur, I was very interested in the fancy whisks used to whip together matcha tea. If you go to a tea store or browse matcha tea websites online, you'll see them in all the photos.
Here is the deal…
Those fancy matcha tea whisks are made out of bamboo. They aerate matcha to bring out flavors. The most fascinating part is that each one is carved out of a single piece of bamboo and made by hand.
Why people are afraid of matcha tea
Okay, it sounds like a pretty strong statement, but sometimes people are freaked out by a new green beverage. When I asked Leane during the interview she gave these reasons:
And I guess that's enough of a reason to freak people out sometimes!
Links mentioned
Learn more about making matcha tea as a hobby
Listen to My Weird Food Obsession Podcast – episode 21 on Apple, Spotify, or wherever you get podcasts.
More from My Weird Food Obsession