Learn everything you need to know about the Kitchenaid Fresh Prep Slicer Shredder Attachment. See a review for this Kitchenaid Attachment that will help you shred cheese and slice vegetables right on your stand mixer. Let's get to the demo…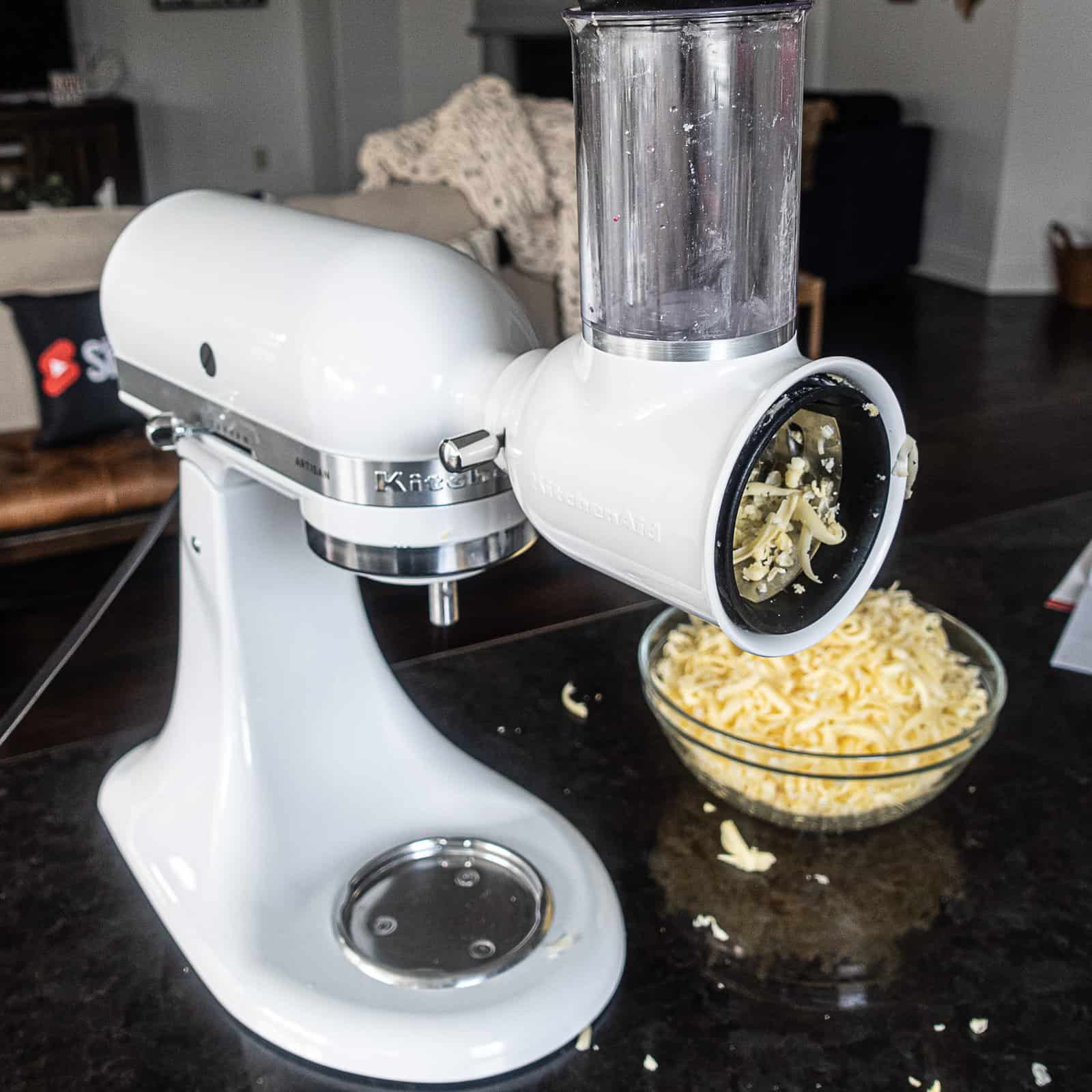 Follow Sip Bite Go on Instagram and TikTok for easy recipes and cooking tips…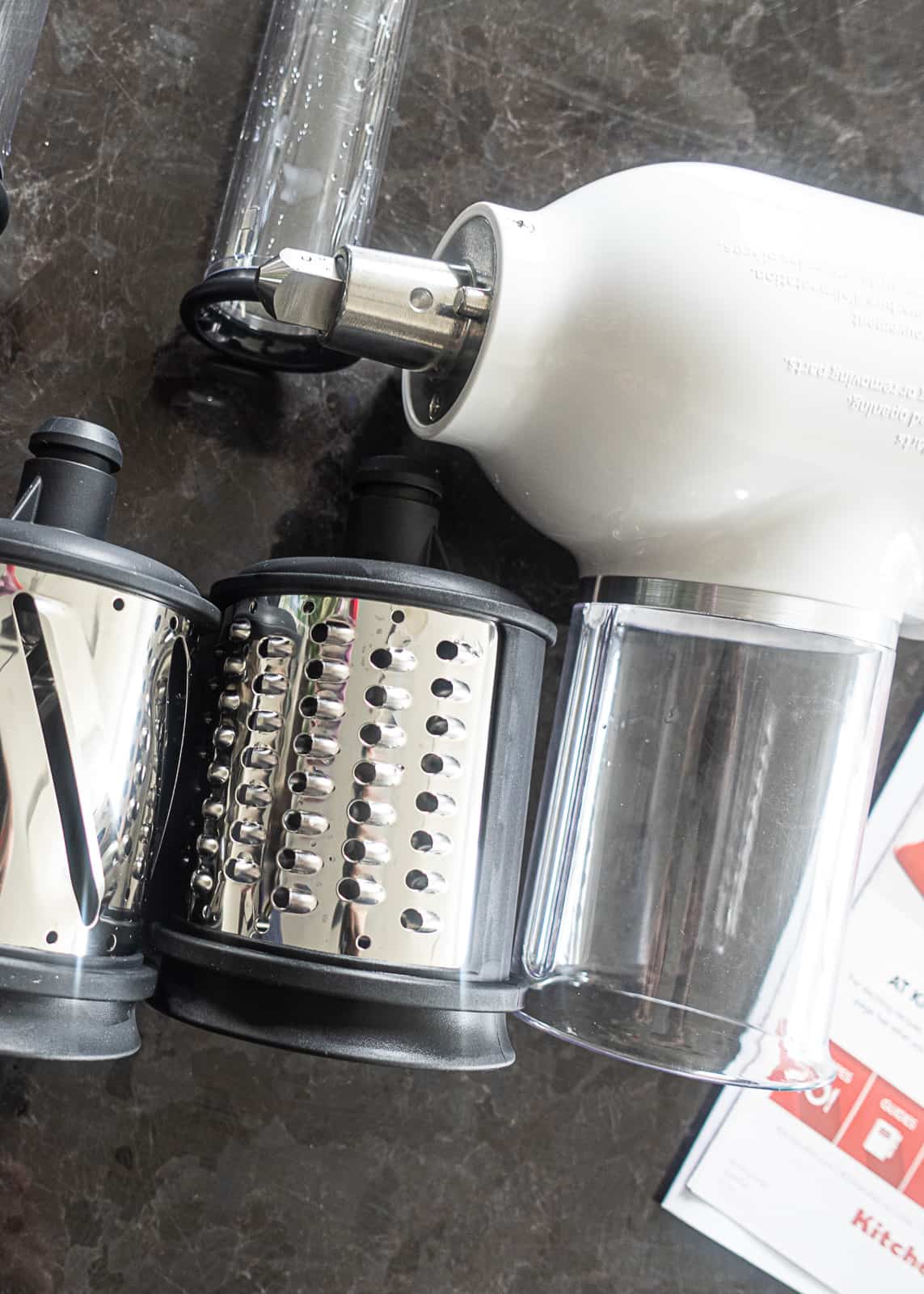 Shop the slicer / shredder attachment from KitchenAid…
See the box opening and Fresh Prep Slicer / Shredder Attachment Review
Here's a video of me opening this new KitchenAid shredder attachment for the first time and cooking with it the same day…
Here's the recipe for smoked mac and cheese you see in the video…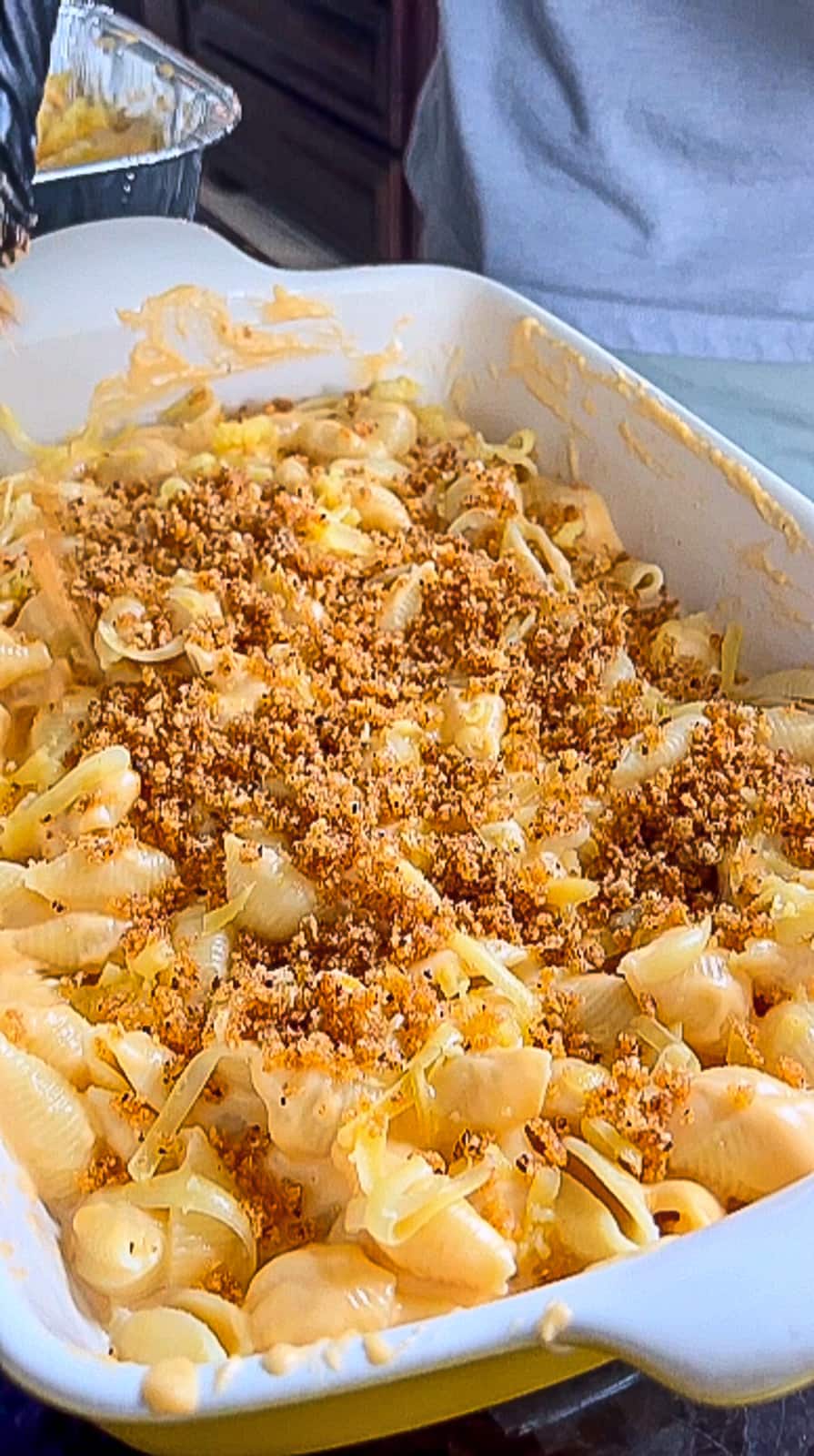 What is the Kitchenaid Fresh Prep Slicer & Shredder Attachment?
If you're looking for something to make your home cooking easier, this might be the best attachment…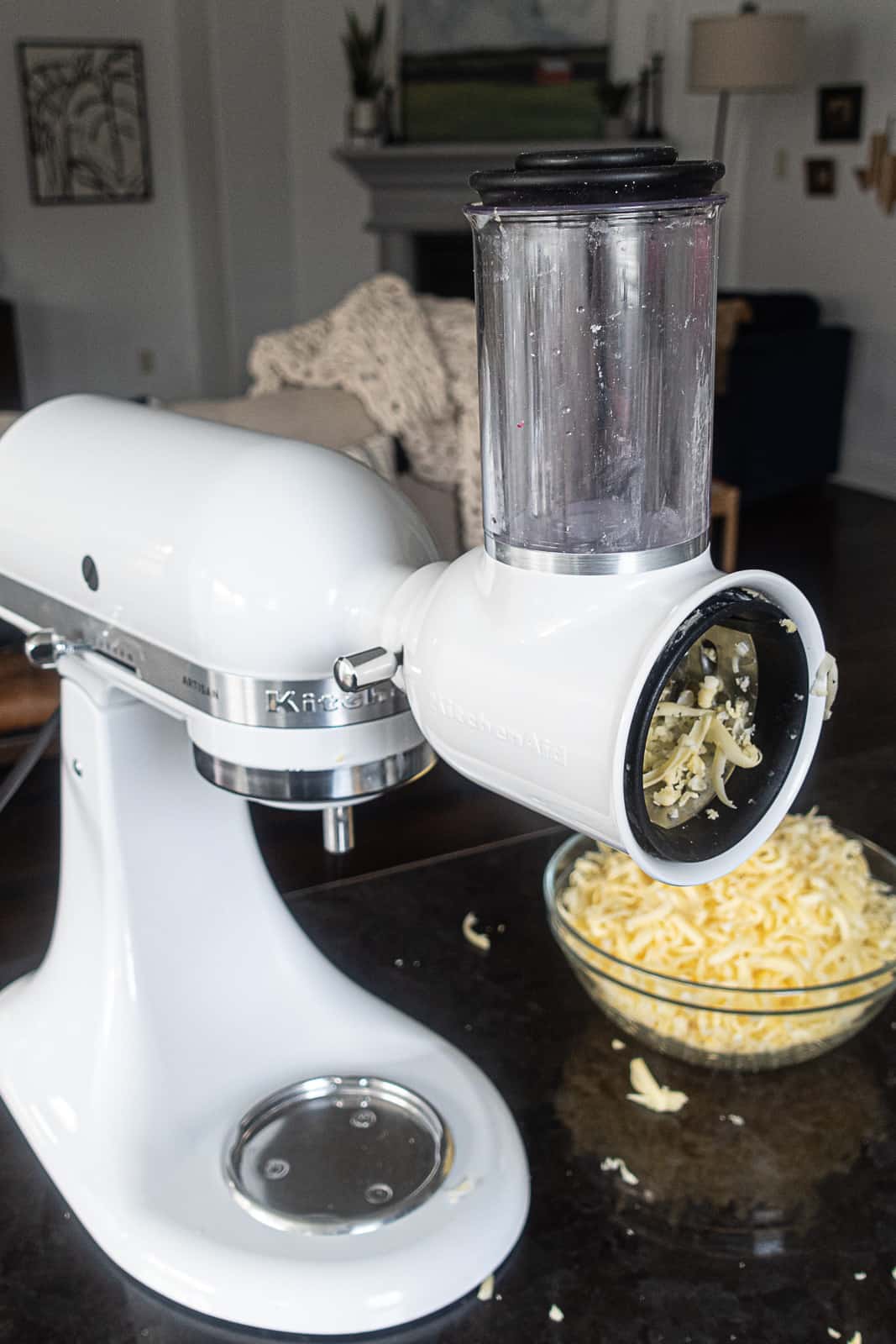 Especially if you want to chop a lot of fresh veggies and make detailed recipes that call for freshly shredded cheese…
This attachment shreds cheese and easily slices all vegetables from cucumbers to celery…
The Kitchenaid Fresh Prep Slicer/Shredder Attachment is "designed, engineered, and tested by KitchenAid".
Read on to see why I'm so impressed.
Which KitchenAid Stand Mixers does the slicer and shredder attachment work on?
Luckily, this Kitchenaid Attachment is compatible with any style / make / model KitchenAid Stand Mixer.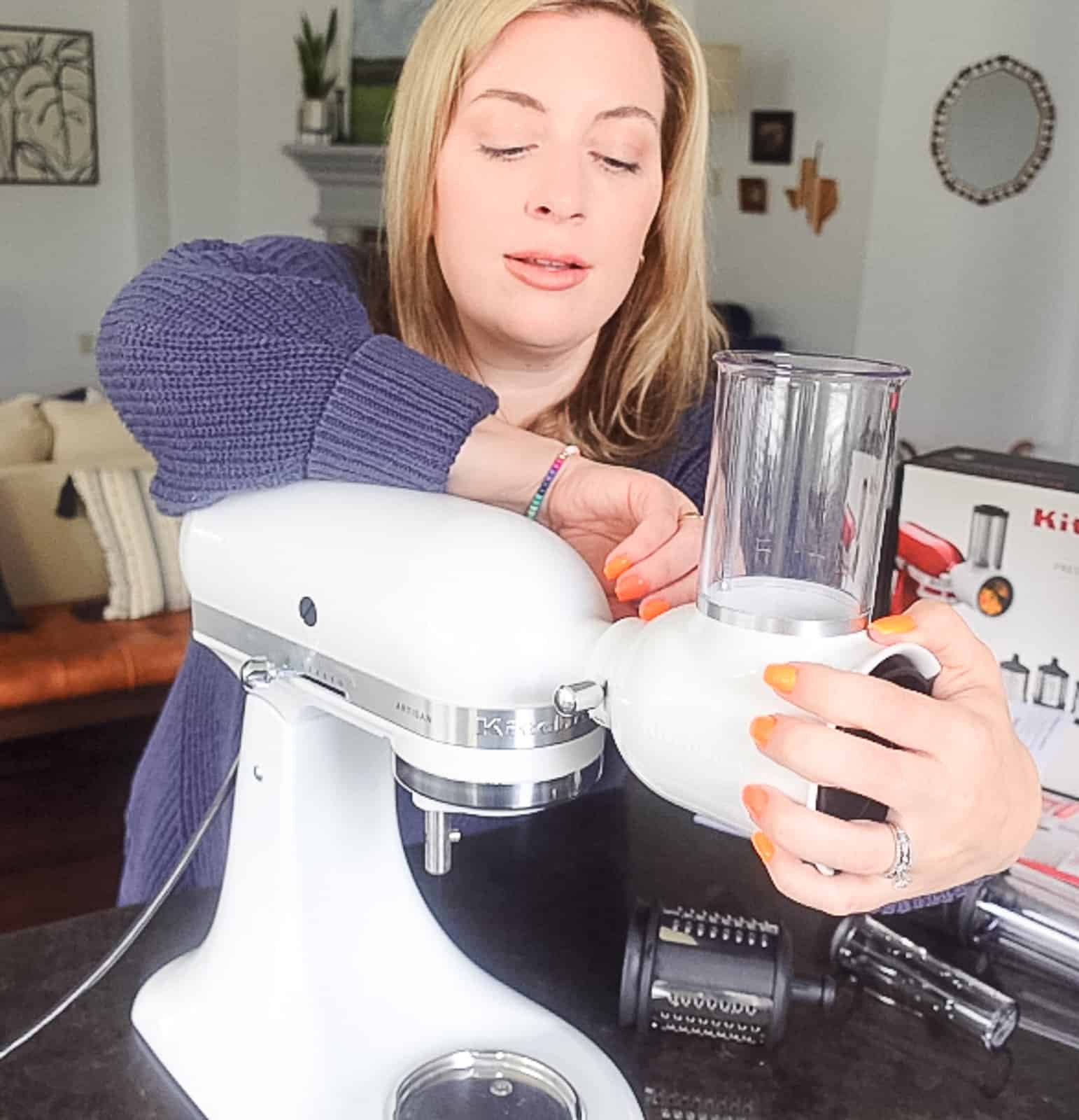 Is this a Kitchenaid Attachment that replaces a food processor?
The Kitchenaid Fresh Prep Slicer/Shredder Attachment will handle a lot of the same functions as a food processor when it comes to slicing veggies and shredding cheese.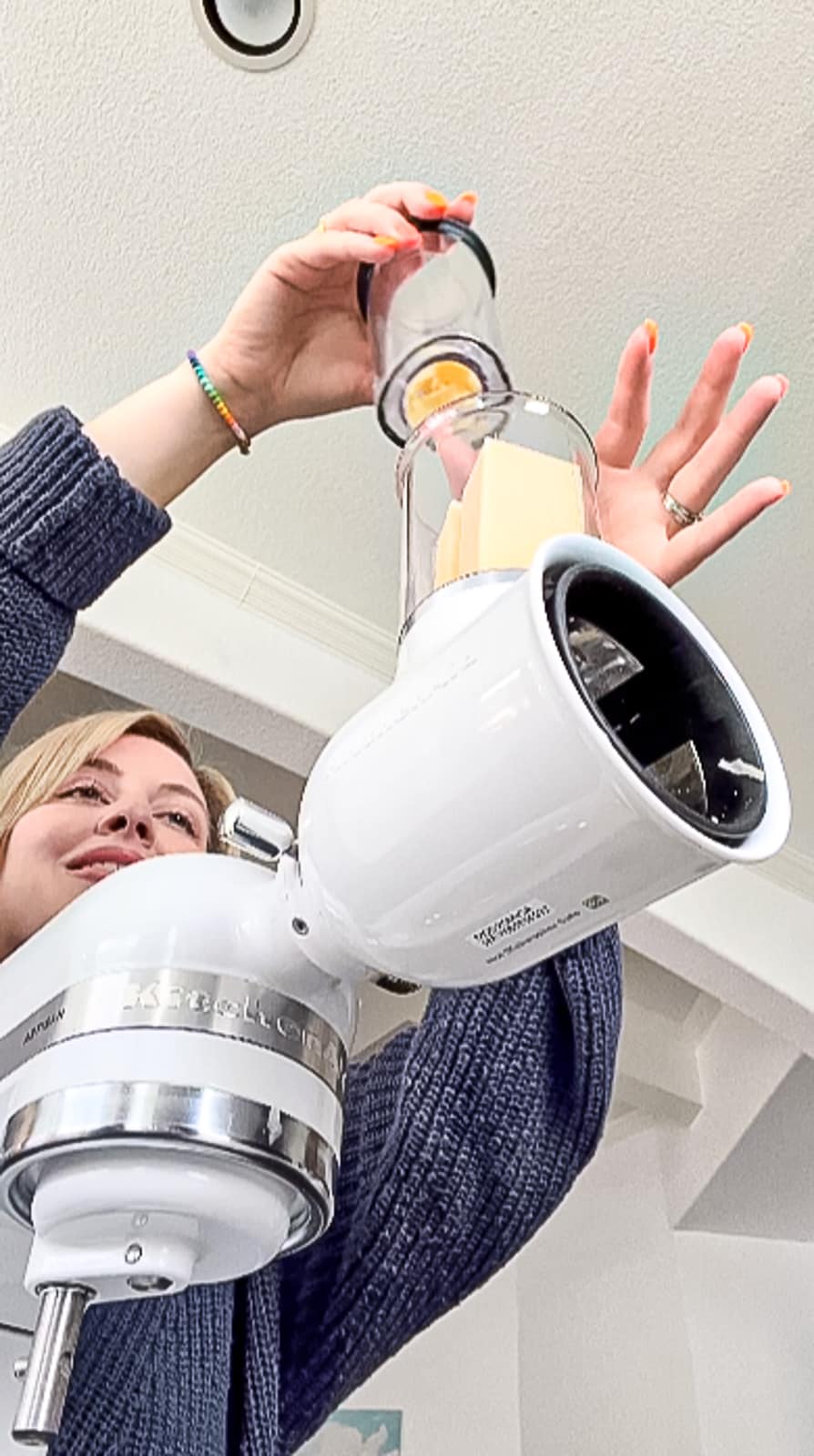 But the Kitchenaid Slicer / Shredder attachment won't replace the blending function of a food processor…
Like when you're making homemade pizza or this spinach basil pesto sauce.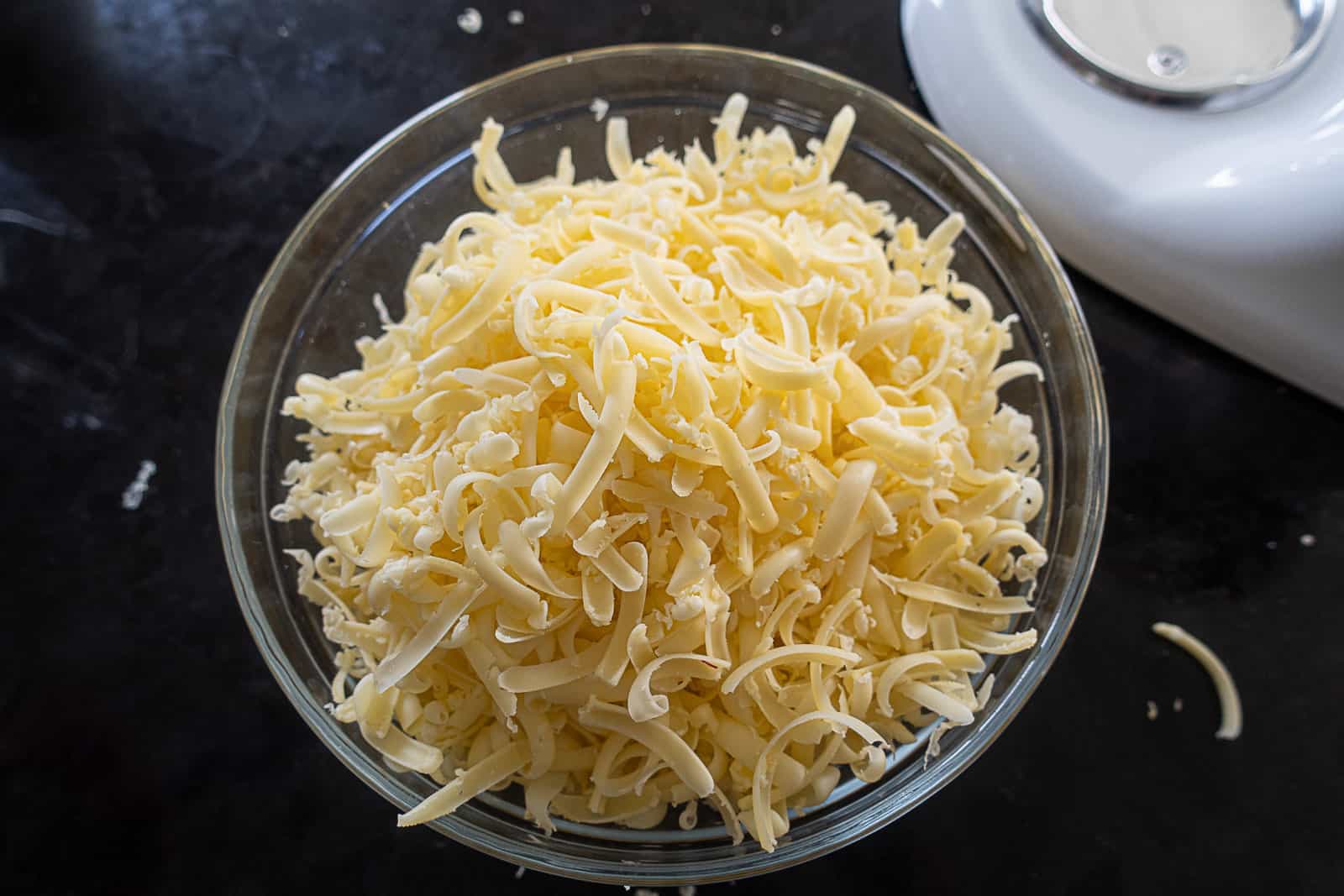 But I do personally love it for shredding cheese!
Add it to:
See how to make smoked mashed potatoes…
Shop the slicer / shredder attachment from KitchenAid…
What's included in the Kitchenaid Fresh Prep Slicer/Shredder Attachment
I was surprised by how many blades are included in the Fresh Prep Slicer / Shredder Kit.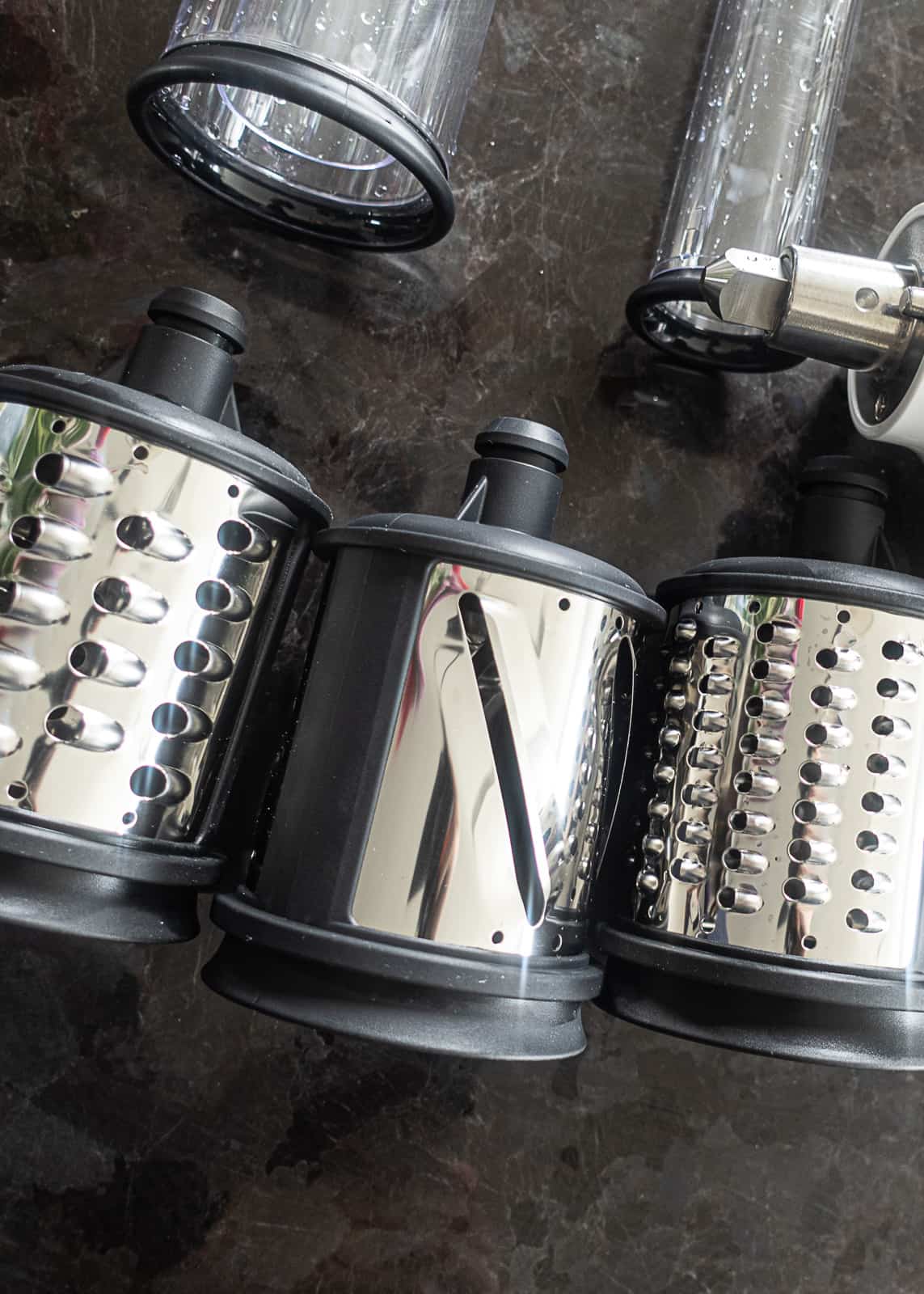 Here are the blades included…
3mm Slicing Blade
What it does: it slices veggies into disks.
Think: summer salads made with sliced cucumbers…
Slicing up carrots and celery for homemade Instant Pot chicken noodle soup…
And thinly slicing zucchini for zucchini chips.
4mm Medium Shredding Blade
This is the blade you want to shred carrots to hide in this blueberry banana bread.
It's not too big, not too small.
This would be a great setting for harder cheeses, like parmesan cheese, too.
See how to freeze parmesan cheese…
6mm Coarse Shredding Blade
This is my favorite blade for the Kitchenaid Fresh Prep Slicer/Shredder Attachment…
Because I love to freshly-grate cheese for smoked mac and cheese.
It's one of my favorite Traeger recipes…
If you're making a coleslaw, this is probably the size blade you want to shred cabbage.
If you're into Blackstone griddle recipes, you'll like this blade for making griddled hash browns from scratch to serve with griddled sunny side up eggs.
How the Kitchenaid Slicer / Shredder is better than a food processor…
As mentioned before, there are definitely some things a food processor can handle better than this Kitchenaid attachment…
Like in recipes where you need to combine the ingredients while blending them – like for this smoked salsa.
But there are a few things I specifically like about using the Kitchenaid Slicer / Shredder instead of the food processor (I use it more often than my food processor lately)…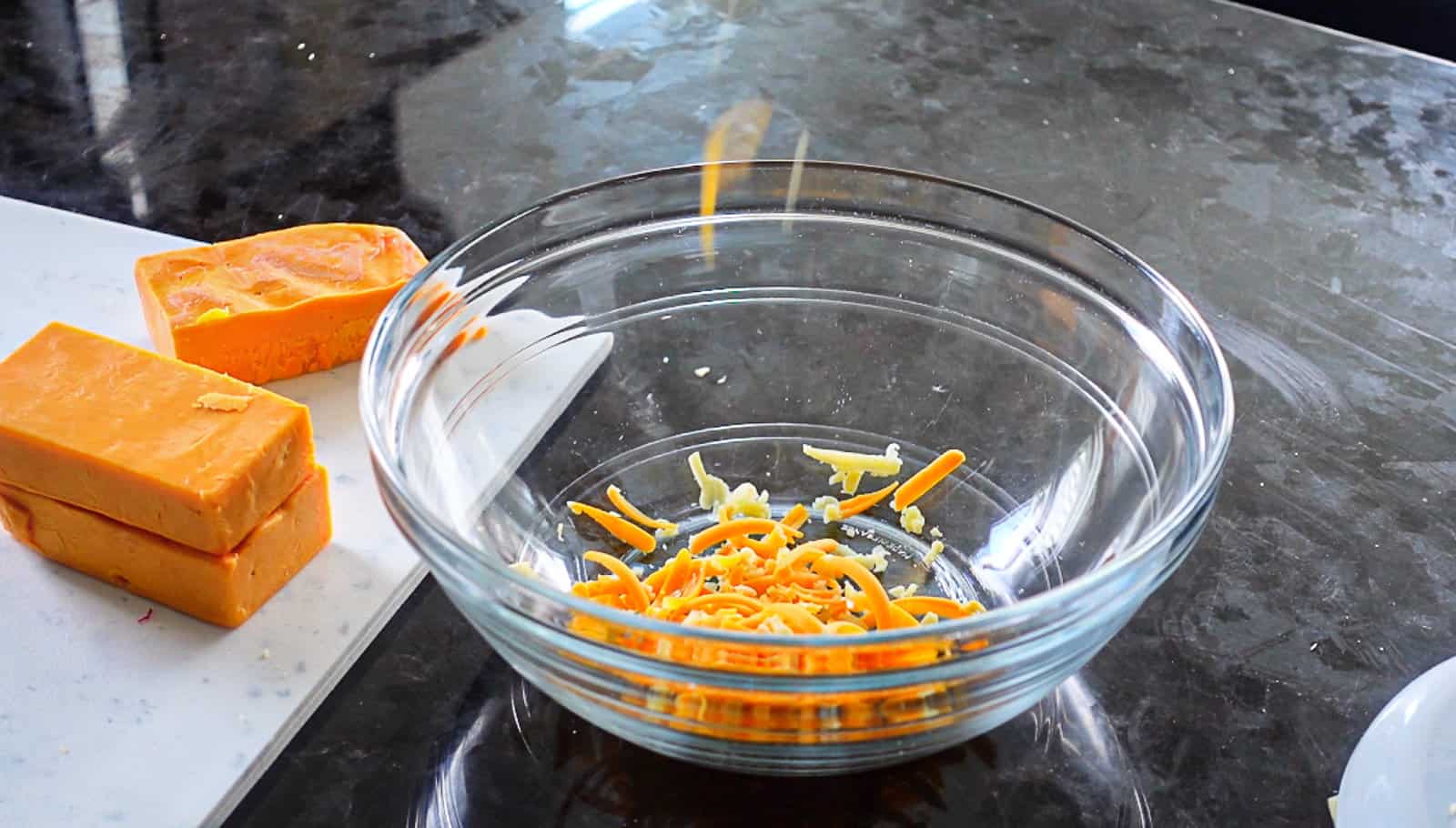 1. The size of the vegetables you can shred
First thing I like is that compared to my Cuisinart food processor, I can fit larger blocks of cheese and larger chunks of vegetables by shredding food for recipes with this KitchenAid attachment.
2. The food shreds right into a bowl
I find it really convenient that I can place a bowl below the attachment and the food will collect.
If I'm meal prepping ahead, it's handy to have the ingredients lined up and in the fridge ready to go when it's time to cook or assemble.
One thing that might be confusing here is that you don't shred INTO the Kitchenaid Stand bowl.
That is because the food pushes out of the front, so you'll need space in front of the Kitchenaid stand mixer to hold a bowl.
3. Cleanup is easy
With that said, I like to hand wash kitchen gadgets and dry them immediately after, to help them last longer.
Though the information says "All blades are dishwasher safe on the top rack for easy clean up."
4. Works on a variety of vegetable sizes
They call a tool that comes with the blades a "2-in-1 Food Pusher"…
So you can choose which size you want to use to push the veggies and fruits you're slicing.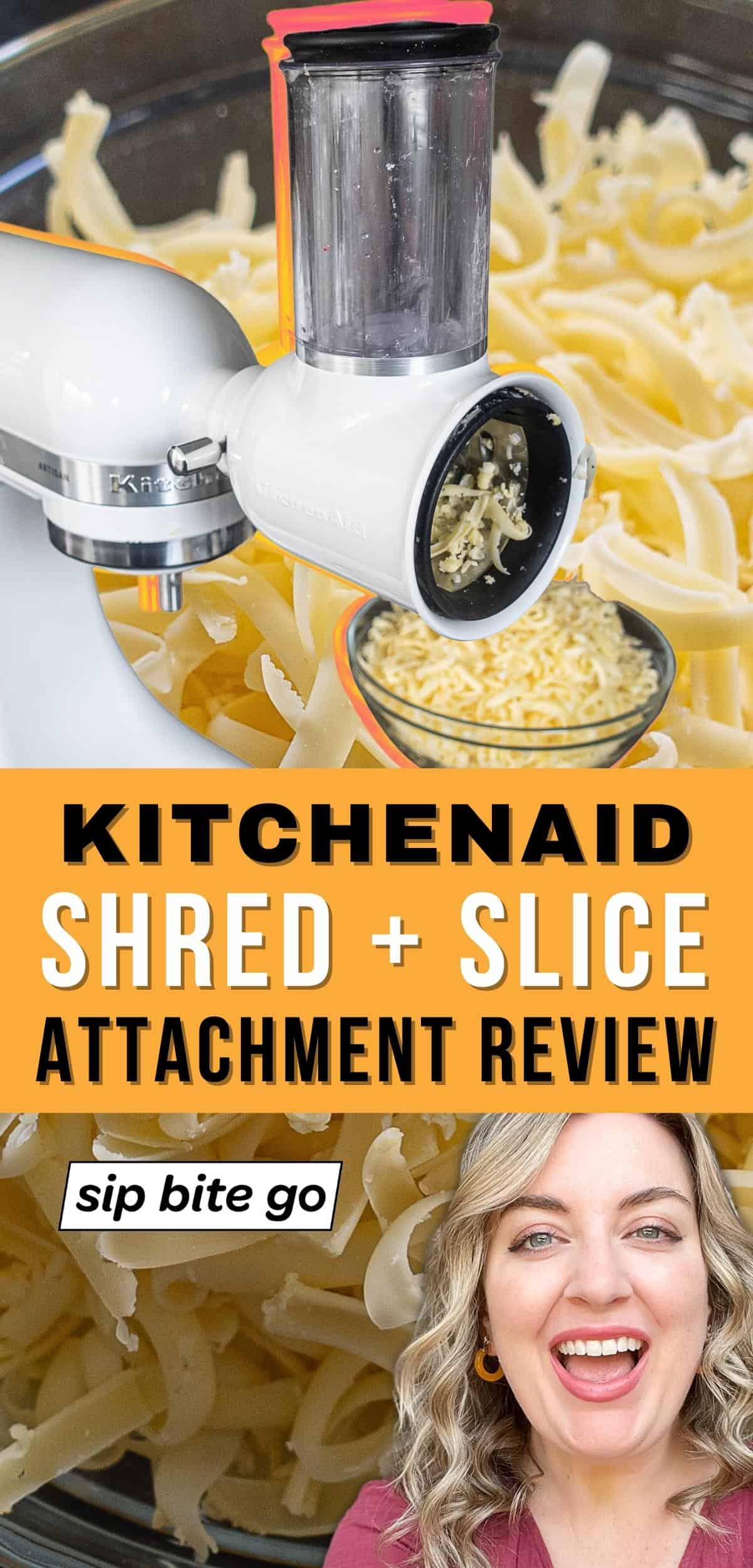 Popular KitchenAid recipe tools
Shop my go-to KitchenAid mixer equipment and accessories…
See my video on the most popular KitchenAid attachments…
Reader favorite Sip Bite Go recipes
See my favorite glass stove top cleaner…
Are you a foodie, too?
Hey home chef, hope that answers all your questions about what's to love about the slicer / shredder KitchenAid Attachment..
Enjoy cooking and chat soon on Instagram / TikTok / YouTube.
– Jenna
Next, browse the Sip Bite Go recipe collection…