Press "play" above to hear episode 6 from My Weird Food Obsession Podcast or listen wherever you get podcasts.
One day, after decades in combat, Chris Cook from Happy Hydro Farm went down to his basement to do some clearing out. There he found an old hydroponic gardening kit, a gift from a friend back God knows when.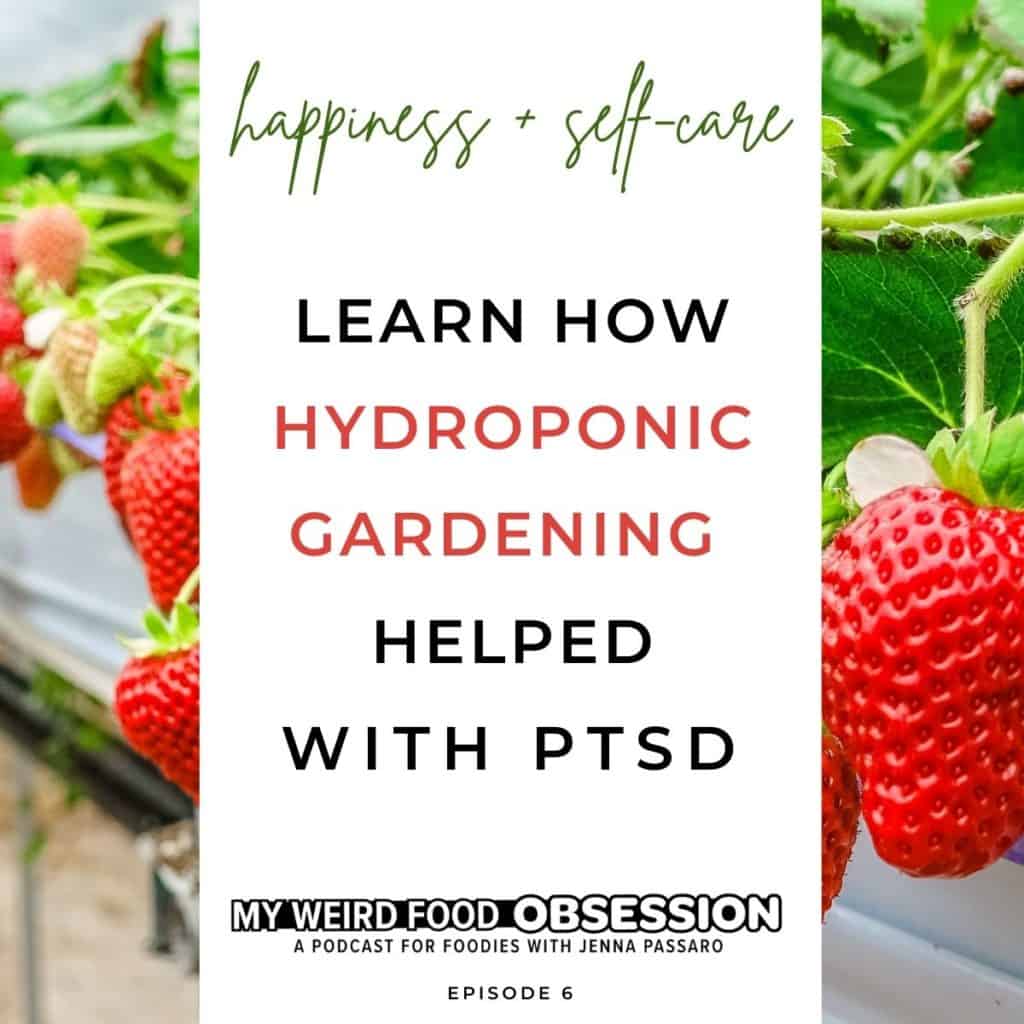 Bored and ready for experimentation, he dusted it off and followed the instructions in the kit, and just that simply began his food hobby obsession: indoor hydroponic gardening.
Along the way, Chris found his love of growing plants indoors, worked to soothe his PTSD and started a blog to share all the details with beginner hydroponic growers.
In this episode, Chris recounts how his foodie plant hobby began, makes us jealous that he has two kitchens – he has one dedicated just to his plants – and chats about his favorite foods to grow using hydro gardening techniques. You'll leave hungry and inspired.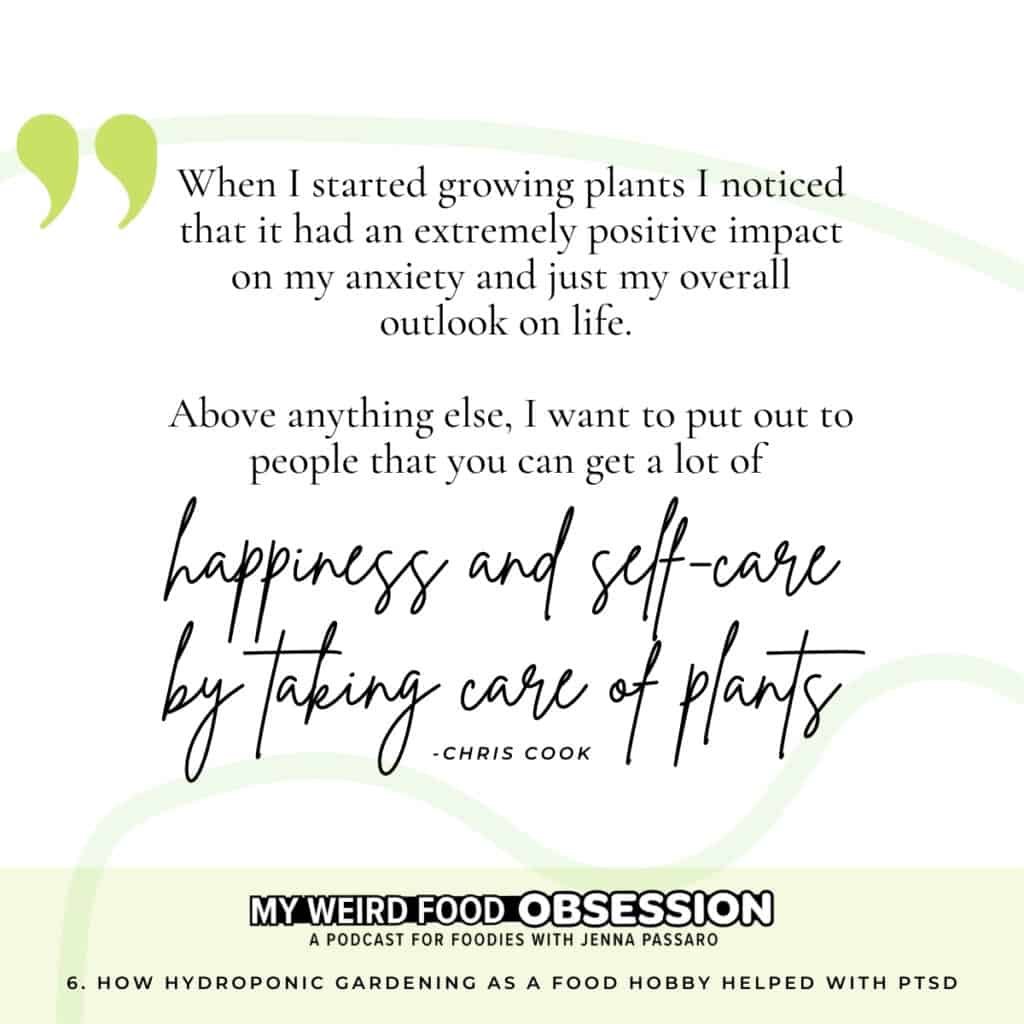 "When I started growing plants I noticed that it had an extremely positive impact on my anxiety and just my overall outlook on life. And that is definitely something that, above anything else, I want to put out to people – that you can get a lot of happiness and self-care by taking care of plants." – Chris Cook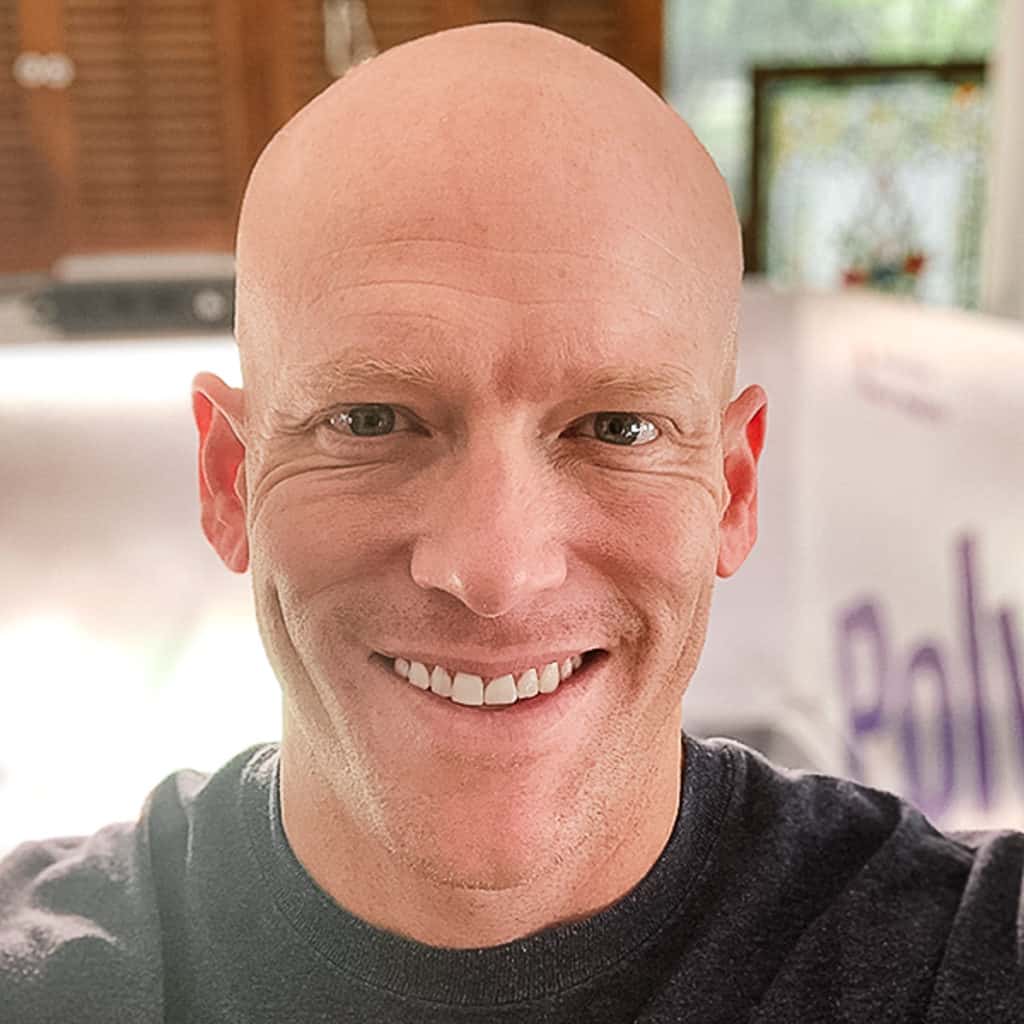 Don't overthink it
Growing veggies with science and technology rather than sweat and dirt—it sounds intimidating, to say the least, and one might expect to need a big outlay in equipment just to get started.
But when I asked Chris what one thing he would tell those interested in getting into hydroponics, he gave a surprising answer: don't overthink it.
If you want to start with a fancy, extravagant setup, go right ahead. But if you can't afford it? Switch the expensive light out for two $9 Walmart incandescent. Use mason jars to grow your vegetables.
The important thing is to start, and once you've started, you'll give yourself the chance to discover how fun it really is. Then you'll be addicted, and it won't be hard to upgrade your system till you get it where you want it to be.
"There's kind of like a meditative state that growing plants brings to you. And you're saying that you take care of the plants, but it's also growing food that's good for you – that you can decide what nutrients you're putting in front of yourself – that's your own self-care." – Jenna Passaro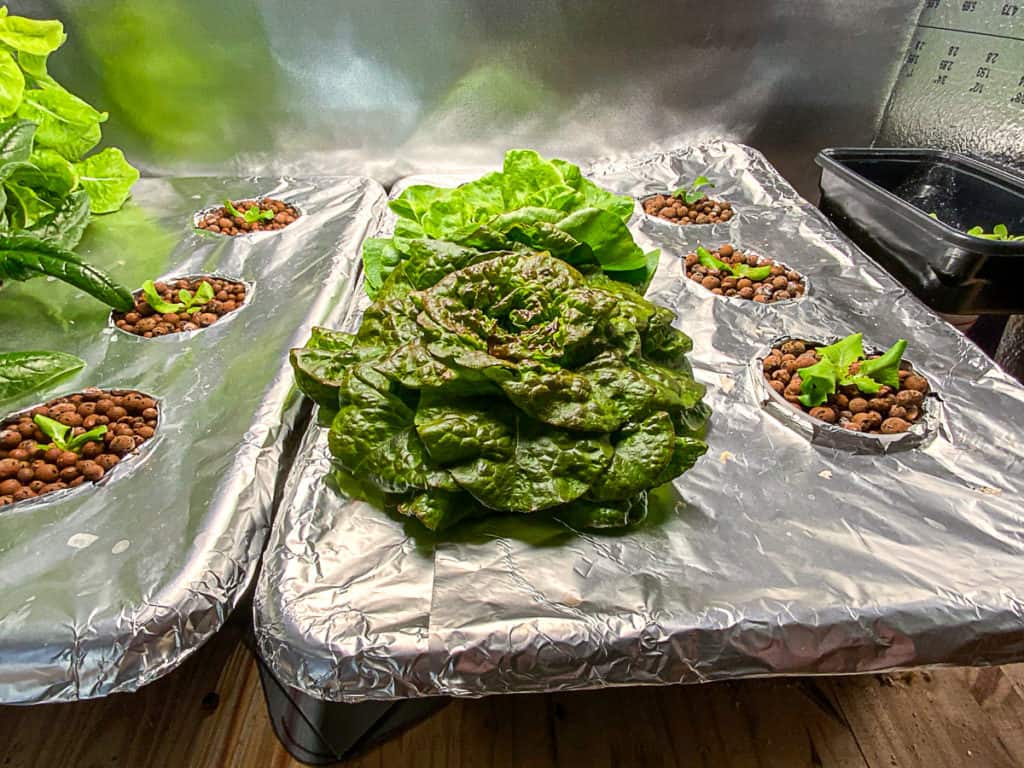 Growing plants that give you joy: the best plants for hydroponics
Hydroponic gardening as a food hobby makes the most sense if you choose plants you'll enjoy. For Chris, the best plants to grow hydroponically were simply the ones that, for him, were the most fun. Think lettuce, basil, cilantro, tomatoes, and spinach.
Growing lettuce
Want something super easy to grow and rewarding?
Lettuce grows quickly in hydroponic conditions, and he enjoys a salad every day.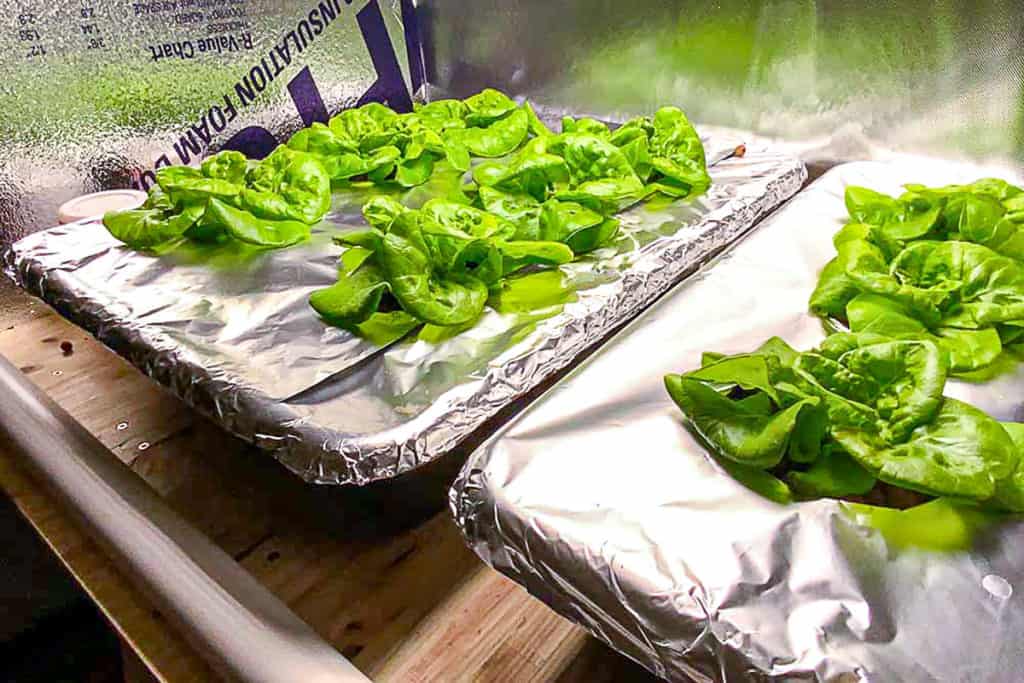 Easy herbs to grow hydroponically
Basil gives off a wonderful aroma even when it grows, and is easy to utilize in pesto, spaghetti and a dozen other delicious meals. For instance, take Spinach Basil Pesto, a delicious recipe that is only more delicious when you make it with your own home-grown spinach and basil.
Cilantro, another quick grower, has aromatic leaves which give a wonderful zing to salad and serves as an edible garnish to boot.
A safe bet: growing tomatoes
And there are tomatoes. Neither Chris nor I are a fan of biting into a fresh picked tomato, but no one can deny they look beautiful on their vines, and they are an essential ingredient in so many of our favorite dishes.
I love throwing together this sauteed cherry tomato side dish – it takes 5 minutes to make and brings pastas and frozen pizzas to the next level.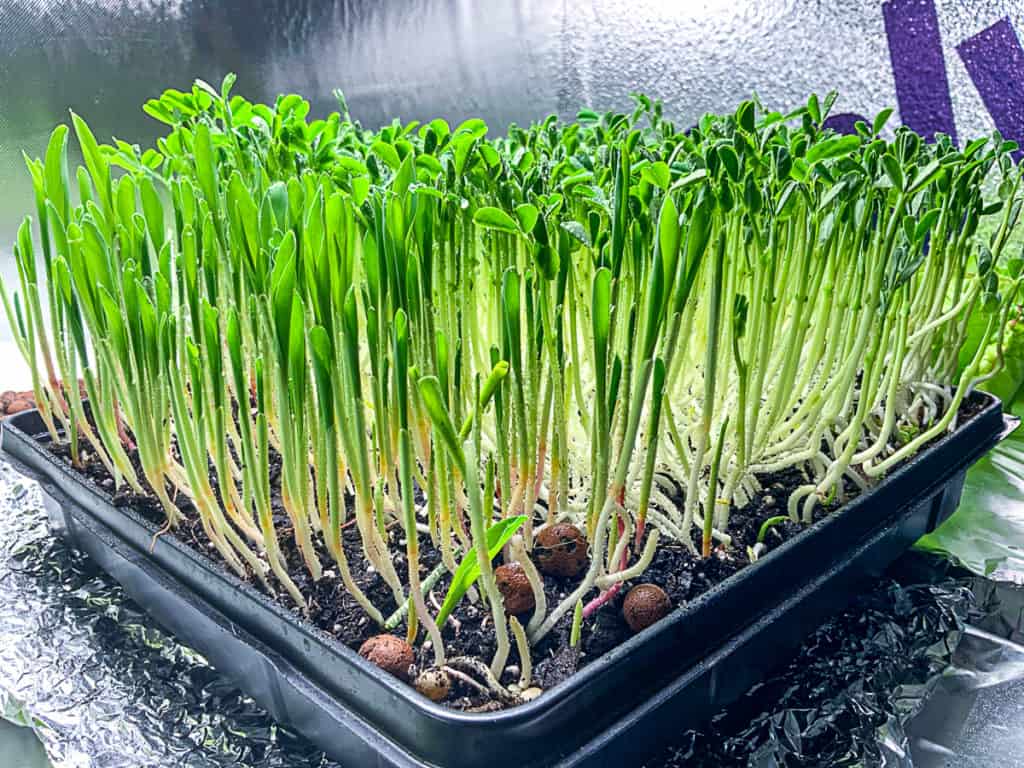 Hydroponics as a road to mental health
But it's not just about putting good food on the table. Chris will often say that his plants do more for him than he does for them: pulling him into the now, requiring an attention and patience that pulls him out of his own thought world and into a new world of wonder, appreciation, and slow gratification.
Then, too, there's the satisfaction of having created something of real value that can be shared with the world: fresh, vitamin-rich produce that is bursting with flavor.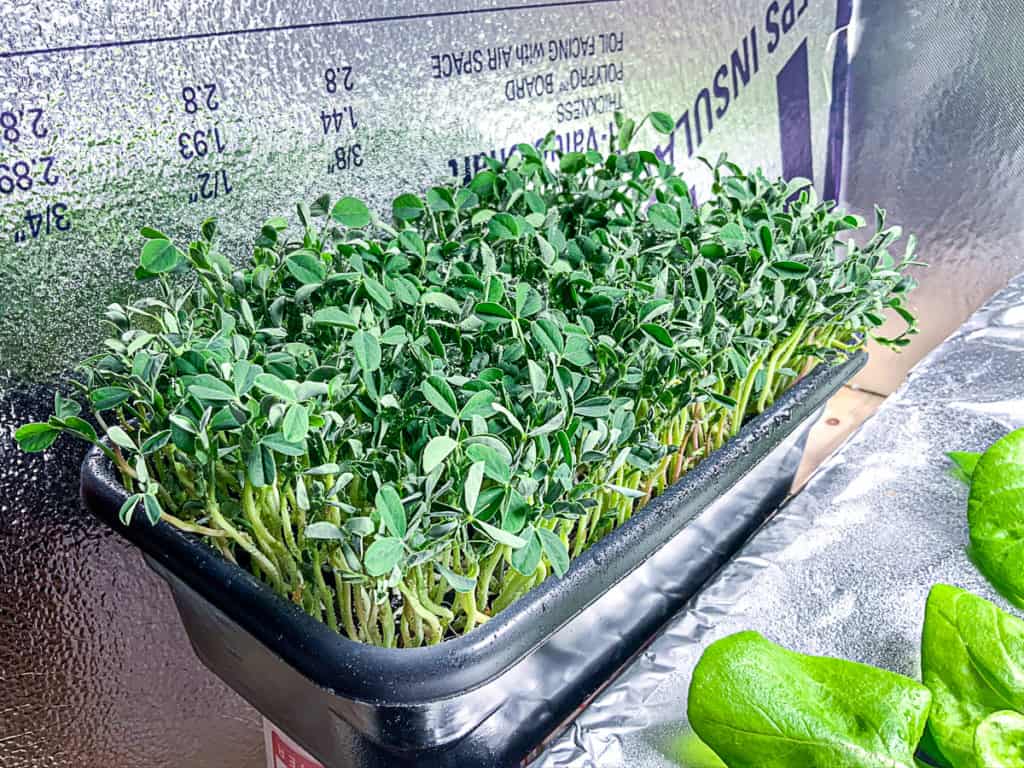 That's a wrap
Isn't it amazing to think receiving a gift (like a hydroponic garden) will change your life? That's exactly how I got into sous vide cooking and went on to write and publish my sous vide cookbook. Yes, I didn't intentionally get into cooking this way. One of my favorite food hobbies actually came to be because we received a sous vide machine as a wedding gift from the CEO of my husband's company. I literally had no idea what it was at first.
It may seem trivial to some, but for those of us pursuing food passions, these hobbies and sometimes businesses bring deep meaning and value to our life.
And other times, they just bring deliciousness to your dinners – like how Chris grows basil and then makes pesto.
Do you want to try an indoor garden? You have many options, but it can help to compare a couple. Check out this AeroGarden Harvest review to start!
Learn more about hydroponic gardening as a hobby
Listen to episode 6 from My Weird Food Obsession Podcast or listen wherever you get podcasts.
Getting into hydroponic gardening: how it all started for Chris.
How web design turned into a hobby of its own.
Chris's current indoor plant system.
What is deep water culture?
Choosing your hydroponic gardening equipment.
Chris' relationship with grocery shopping as a hydroponic farmer.
Happy Hydro Farm – what is it and who is it for?
How gardening can improve your mental health.
Chris' favorite things to grow.
Links mentioned
More from My Weird Food Obsession