Listen to My Weird Food Obsession Podcast – episode 17 on Apple, Spotify, or wherever you get podcasts to hear more about hosting online cooking classes and:
What does a freelance recipe developer do?
How Caroline transitioned from catering to recipe development.
The business pivots made in light of COVID.
Juggling cooking classes with being a full-time mom.
Building real online communities through cooking classes.
Tips for joining an online cooking class.
Creating multiple streams of income through new online platforms.
Thinking about hosting online cooking classes?
If you've ever wondered about how to start an online cooking class, this post and podcast episode is for you.
Imagine building a successful foodie career you love, and then having the pandemic come and suddenly wipe out your income. Imagine taking that disaster and turning it into triumph by using your time and skills in a way you'd never had a chance to explore, discovering new abilities and talents in the process.
Imagine seeing your life change into something you'd hardly have been able to imagine possible, where you get to spend your working hours doing something you are completely passionate about.
That's what happened with Caroline Chambers. She pulled herself up by her own bootstraps and, with a lot of hard work and persistence, built herself a solid career in recipe development.
Then, overnight, all her contracts dried up. The pandemic hit and no-one had a marketing budget to spend on recipe development any more. An empty schedule, and no money coming in meant it was time to think different.
But if the big corporations weren't willing to spend on recipes, the people were. Everyone quarantined in their homes without ready made food suddenly wished they knew how to cook—and Caroline decided to help them.
Through her website, a weekly newsletter, and eventually teaching online cooking classes with Airsubs, she soon became a go-to for people wanting to learn how to make simple, delicious meals with basic ingredients and a limited amount of time. In return, they payrolled her through subscription services and pay-per-seat online classes.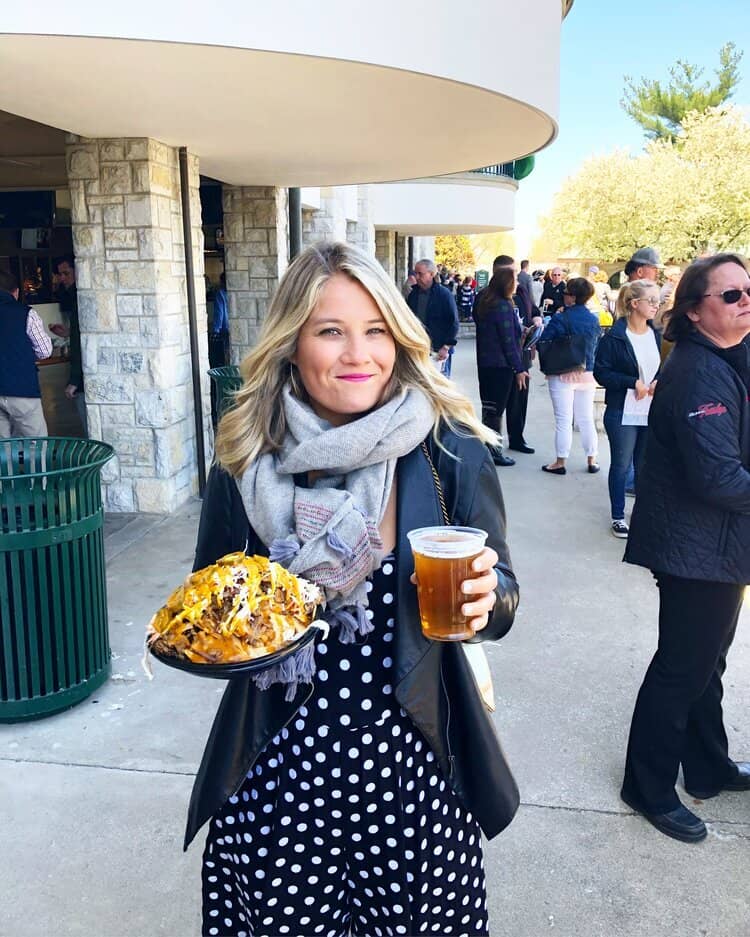 Teaching online cooking classes during the pandemic
In our chat, Caroline reminisced fondly about her first cooking class. It was a near-disaster— terrible audio, terrible lighting— but somehow at the same time an enormous success.
As she put it "The vibe was just amazing…we were all so excited to have something fun to do. It was like escaping from our homes that we had been confined to by that point for a month.
And we were creating a beautiful meal for our families, completely separate all over the world, all over the country….. creating a beautiful meal for our families together. It was so cool."
This first class was a charity class with all proceeds to go to No Kid Hungry, and people were asked to pay as much as they could or were willing to. Some paid $1. Some paid $500. The 100 places in the class were all taken, and when Caroline asked if they wanted to do another, they all said yes. They meant it too: when the next class details went online, the places were sold out in two hours.
Six weeks later, Caroline and her attendees had raised money for many more charities and were still excited about the community they were creating and the beautiful meals they were cooking, together and apart.
It was her husband who suggested she start doing it as a business: keep the charity class, once a month, but do paid classes as well. She floated the idea to her followers, and it was jumped on eagerly.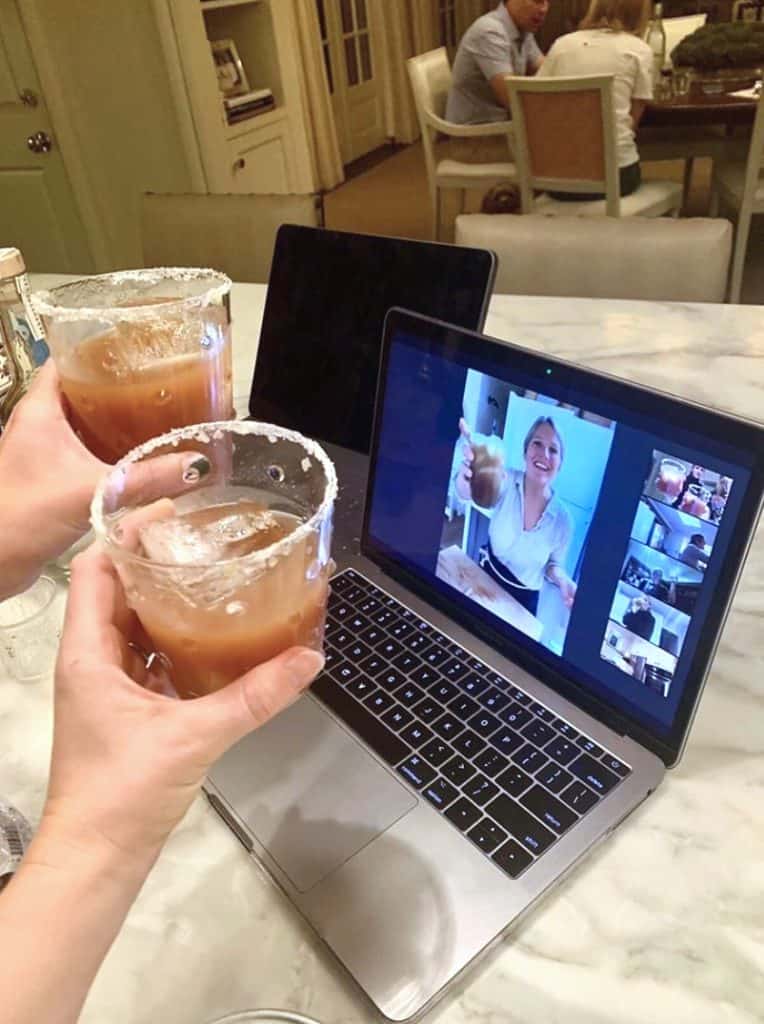 "Some people would find it awkward to talk about finances and talk about income and money. But I think especially women working in a non-traditional space, I think it's really empowering to share wins like this." – Caroline Chambers
One pot meals for busy people
While some online cooking instructors ask their attendees to prep all the ingredients before class time, Caroline believes in doing it all live. It might mean a little less time to focus on cooking technique, but it also makes it that much easier for busy people to fit the class into their schedules. Many of her attendees are parents of small children, and with two little boys of her own, she knows just what that looks like. Put in two words: structured chaos.
Her husband plays an important part in managing their own structured chaos: when three o'clock class time comes around, he'll take the five month old, pick up big brother from school, and go hang out at a park till cooking time is over. Many of her attendees rely on spouses or babysitters as well, and she knows this time carved out of their day is like gold to them.
So she makes it worth their while and plans meals that are fun to make, delicious to eat, and manageable even by unskilled cooks working in less than ideal circumstances.
Learning how to sell cooking classes online
She took to hosting online cooking classes like a natural, and enjoys the community and give and take that come through working together in homes across the country. It's a no-pressure setting: although it's gallery view class, where everyone can see into each other's kitchen, she tells her attendees they can turn the camera off or on, as they prefer.
They're also always free to ask questions, making it more of a conversation than a lecture.
One pot meals is her new obsession: not throw-it-all-in-the-cooker meals, but carefully crafted one pot meals that bring every ingredient to ideal tenderness all at the same time, and leave the cook with a minimum of dishes and cleanup after the meal is over.
These one-pot-meals have been the main thrust of her newsletter, and she shares a new one with her followers every week.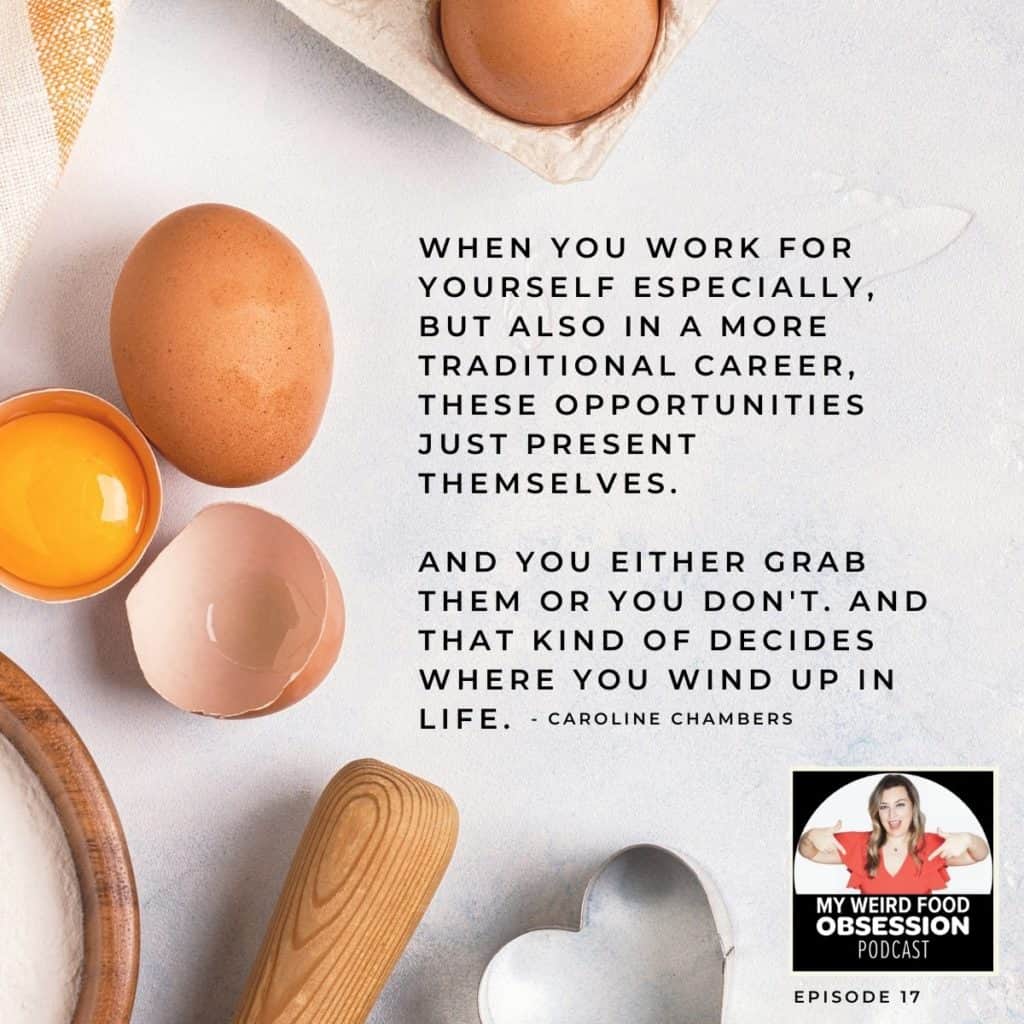 "When you work for yourself especially, but also in a more traditional career, these opportunities just present themselves. And you either grab them or you don't. And that kind of decides where you wind up in life." – Caroline Chambers
Juggling mom life and date night cooking classes online
Once she figured out how to do online cooking classes, she wanted to bring her partner in.
There's one class that her husband doesn't watch the children for—a date night in classes together happens once a month.
Here attendees join as couples, and on her side of the camera, Caroline and her husband work together to make a special meal they'll enjoy after class time. Last date night, she shared, they made homemade pasta with brown butter tomato sauce and chocolate covered strawberries.
I couldn't help thinking this class sounds like lots of fun— a chance for partners or even close friends to get together, make a five star dinner, and then enjoy it after!
My favorite date night meals include sous vide porterhouse with a side of sous vide fingerling potatoes and this delicious creamy peppercorn sauce.
Caroline's cookbook, Just Married, was focused on couples as well: this time, couples who were just figuring out their housekeeping and want to know how to get yummy, easy to make food on the table every day—not just on date nights.
I had so much fun talking to Caroline, and found it super inspiring to hear how she literally created her foodie career out of nothing!
Community— whether through a podcast, a class, or a newsletter—is where it's at these days, and I'm glad to be part of a foodie community that stays connected.
Still wondering how to start online cooking classes?
Here are some links from the show conversation to help you take the next step.
Airsubs online cooking classes
Learn more about teaching online cooking classes
Listen to My Weird Food Obsession Podcast – episode 17 on Apple, Spotify, or wherever you get podcasts.
More from My Weird Food Obsession