Shopping for a foodie? See my list of gifts for foodies 2021 edition. There's plenty on here for Christmas ideas, birthday presents, anniversaries, etc. These are fun gifts for food lovers are fun and creative. Let's see the list…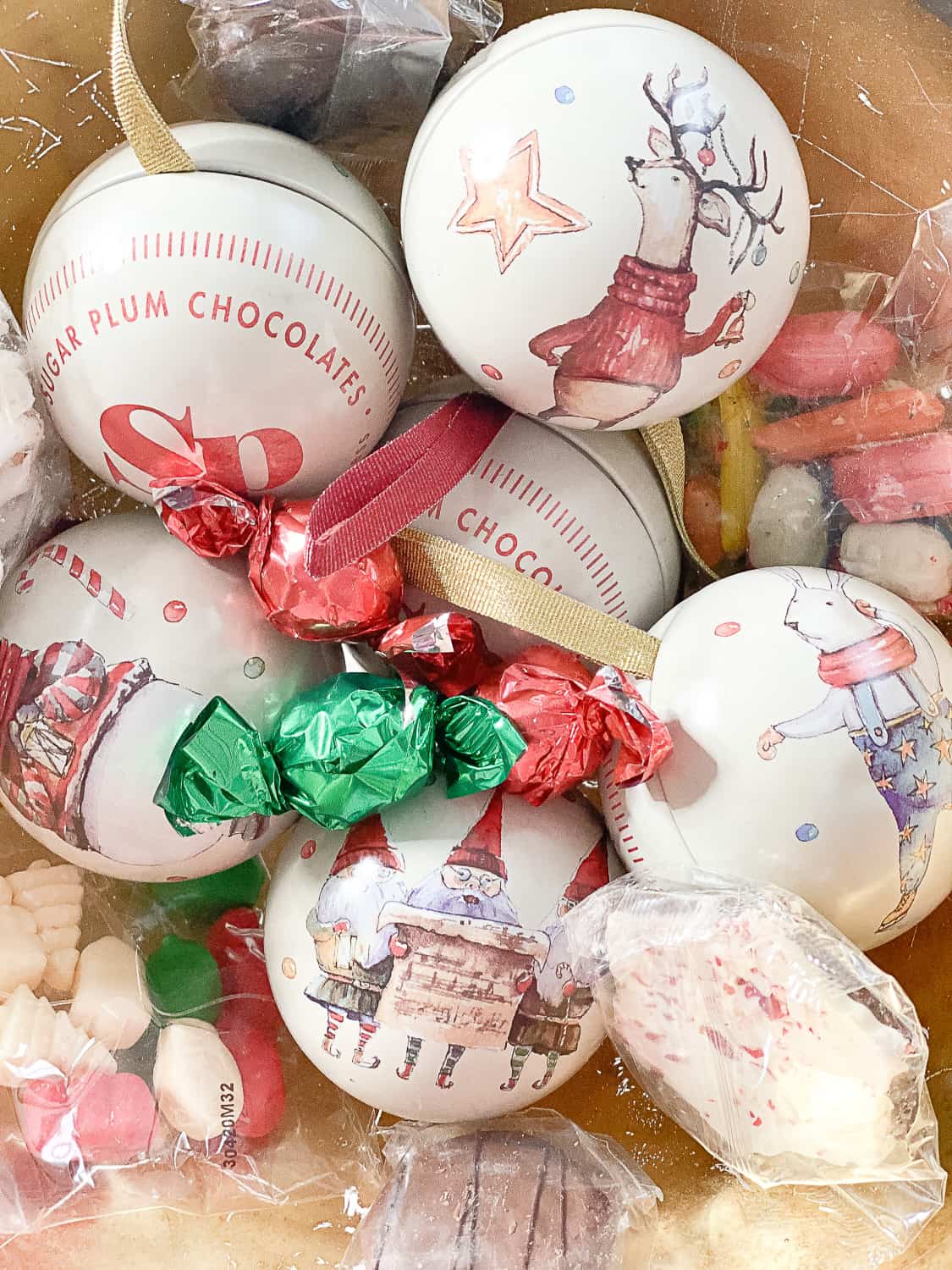 Fun gift ideas for foodies
Disclosure: Some products have been gifted and some items from the food gift list include affiliate links.. All thoughts and opinions are my own. 
These gifts are mostly great ideas for any time of the year… But especially birthdays and holidays like Christmas.
Here you'll find chocolates, food sampler boxes, condiment gifts, and gourmet foods and more.
Chocolate lovers gift for Christmas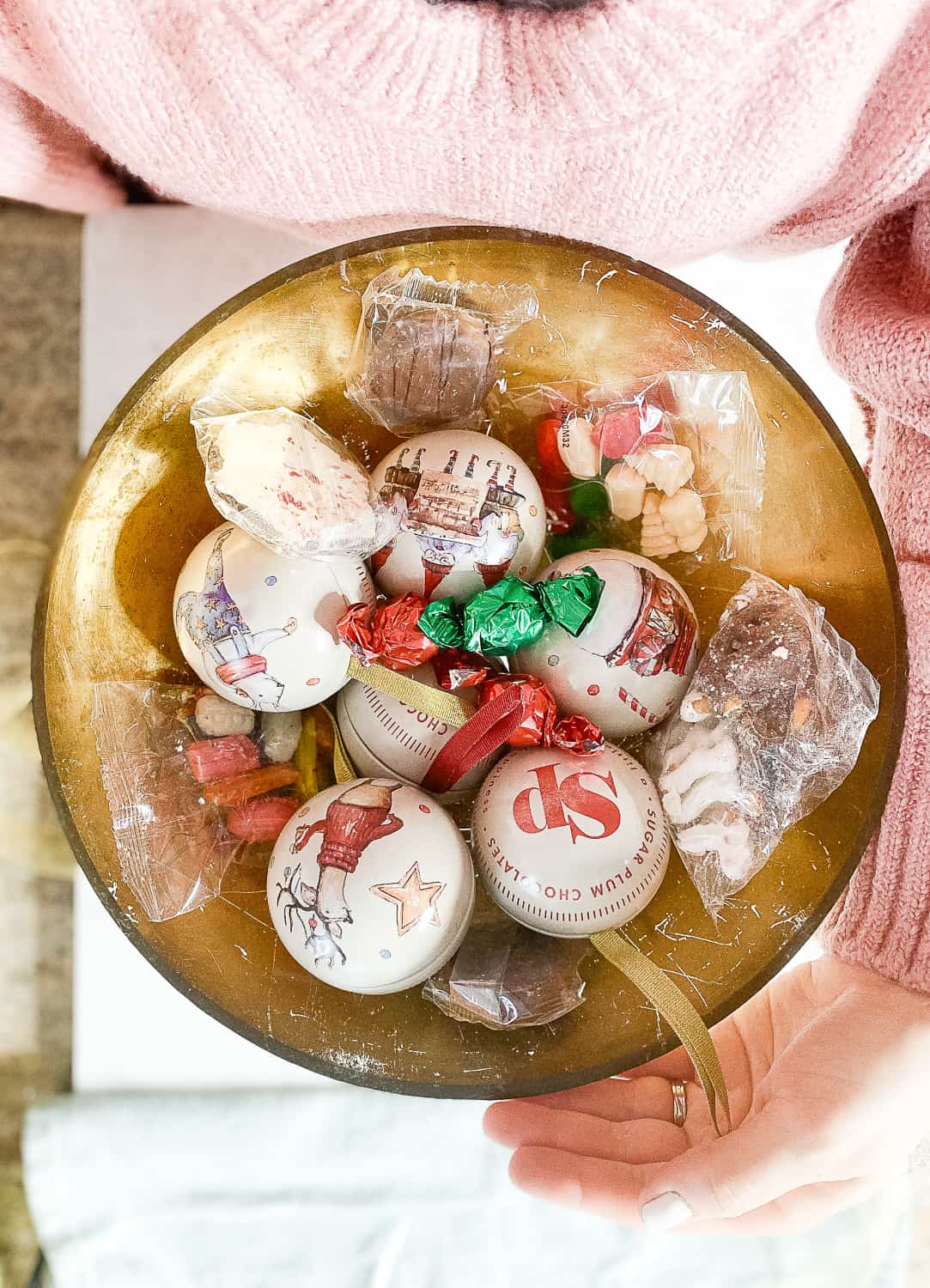 If you're looking for gift ideas for foodies around the holidays, this package from Sugar Plum Chocolates – their Christmas Ornaments gift – is perfect. It's filled with candy, cookies, and treats. The metal tin balls turn into hanging Christmas tree decorations. See the unboxing video on Instagram reels.
You'll see the treats in some of my upcoming charcuterie board posts – they are going to look great on everything from a cheese board to a holiday dessert board. You can shop this gift on Gold Belly.
Greek Food Sampler Chocolate Lovers Box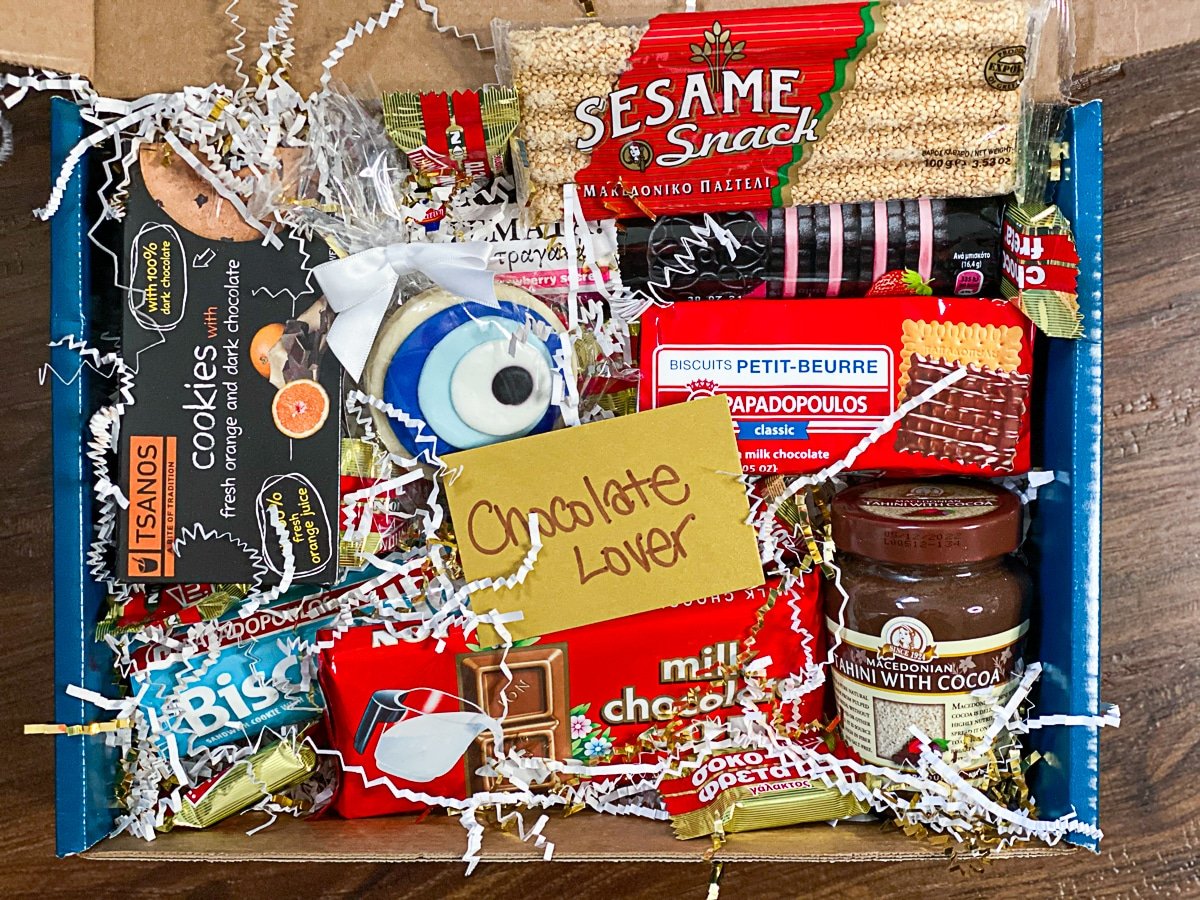 Imported chocolate, fancy cookies, and other Greek treats? Yes, please! Send all the chocolate lovers in your life this Greek Chocolate Lover's gift basket from my partners at the Greek International Market.
It's stuffed with tasty treats like:
Tahini with cocoa
Evil Eye cookie
Greek stuffed cookies
Greek sesame bars with honey
Blue candies flavored with ouzo
ION chocolate bars (they've been part of Greek life for about 85 years!)
Prepare to immediately want to send your best friend, mom, extended family, teachers, neighbors, and everyone else you know this tasty Greek chocolate gift basket.
Maine
Lobster Rolls By Mail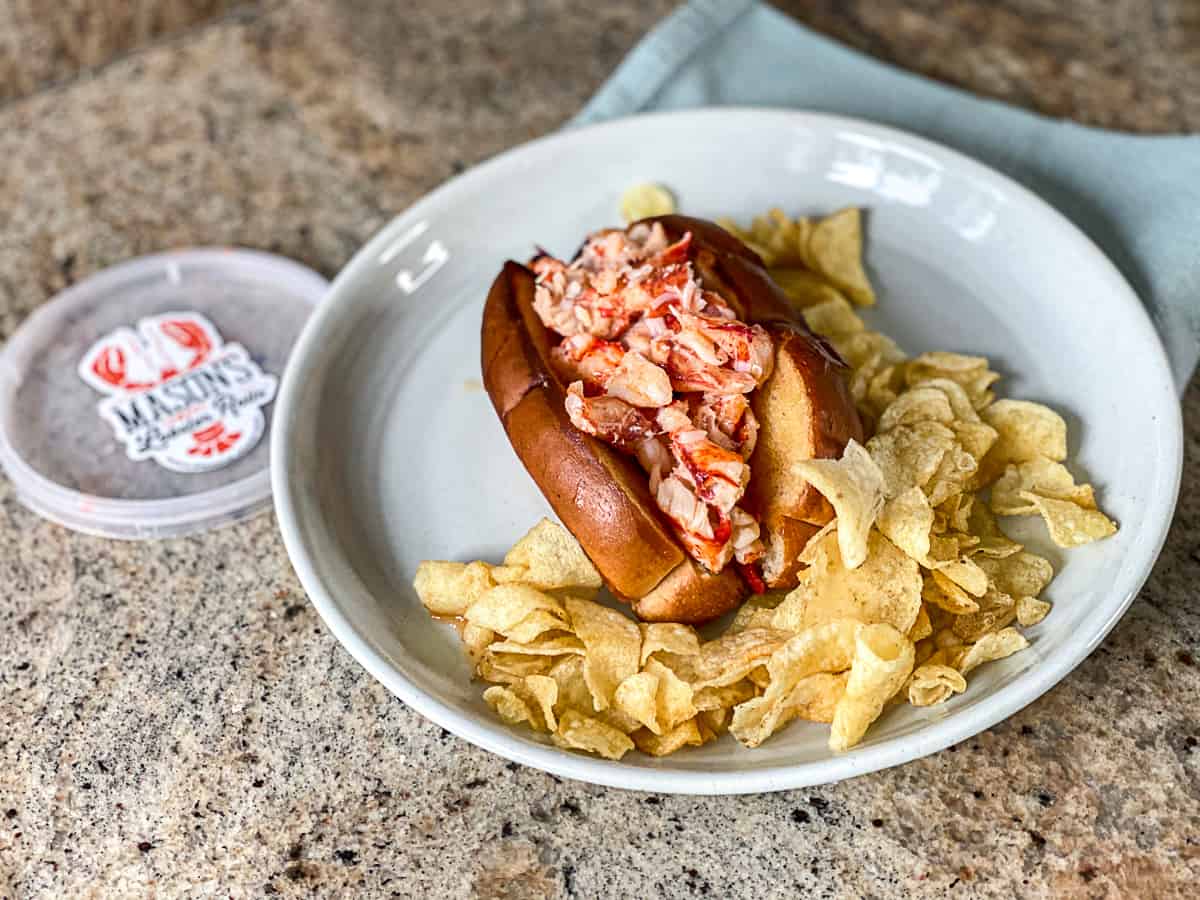 Need a gift for seafood lovers? Send them a super-fresh lobster roll kit. The lobster is overnighted from Maine — we were so impressed how fresh it arrives… See this video of our lobster roll lunch. 
A kit for four is packed with beautiful Maine lobster, fluffy, buttery rolls, Fancy Irish butter, mayo, a fresh lemon, a packet of seasonings, Cape Cod Chips, and whoopie pies. Check out Mason's At Home Kit.
Snack box

gift idea for chip lovers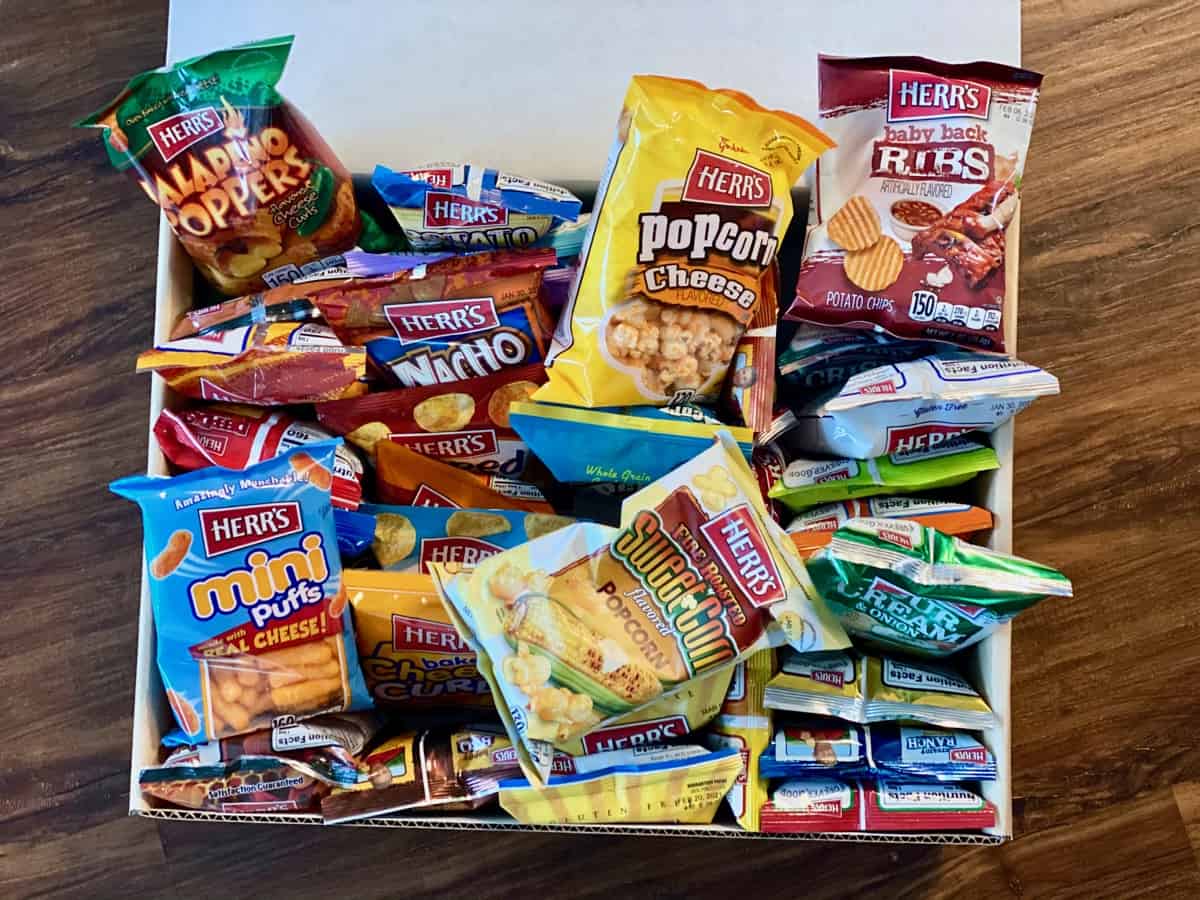 Inside a variety pack you'll find Herr's famous chips, pretzels, cheese puffs, popcorn, and more. The holiday gift box option comes in a cute box and was so fun to discover the box with my family. 
If you're a fan of The Office TV show like me, you might recognize this company from references to Herr's snacks in several episodes. Shop Herr's snack box.
Gift box with seasonal ice cream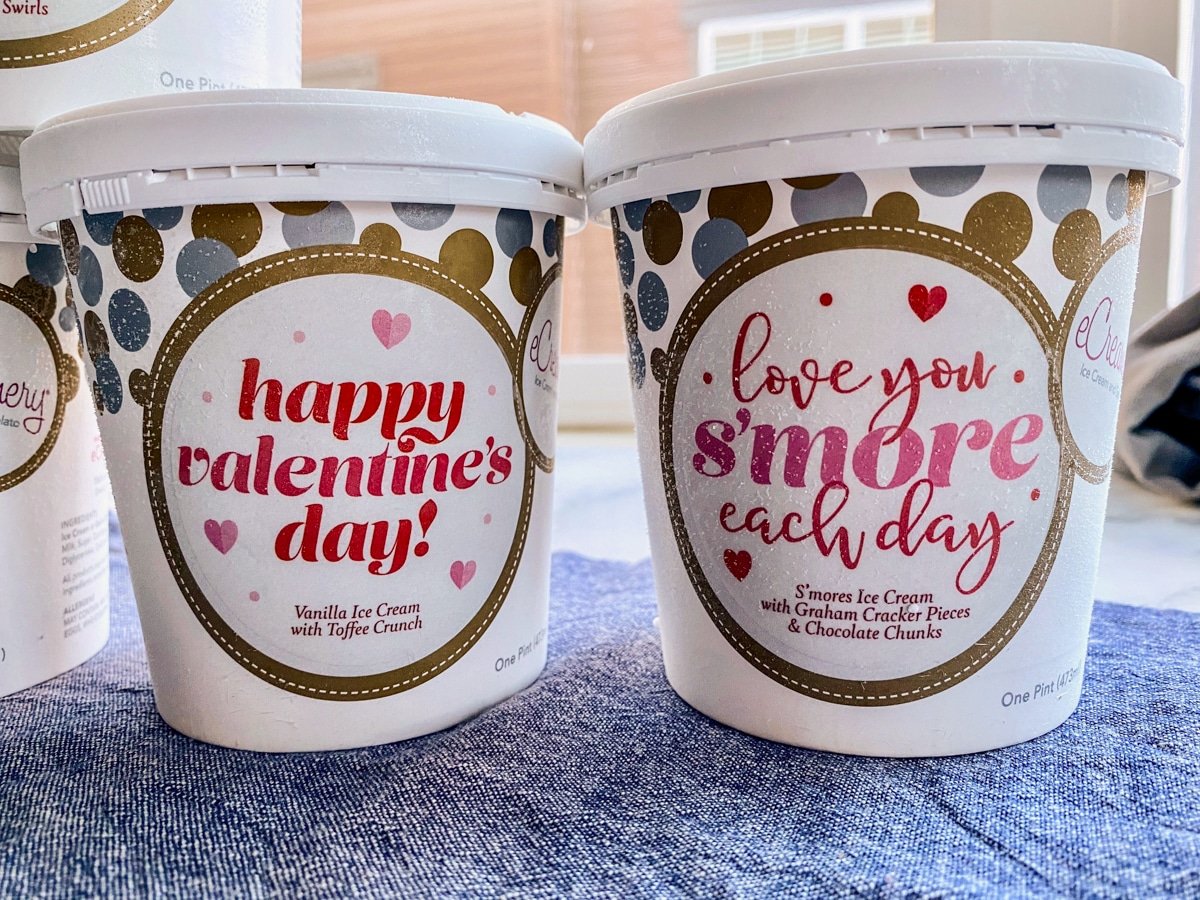 Any season or holiday has it's own special ice cream flavors to try with this company. This particular photo features the Valentine's Day package.
There's also a Christmas ice cream gift box you can send family and friends. And also a "pregnancy cravings" box. Love it. See all of the eCreamery ice cream options.
"Taste of Greece" foodie gift basket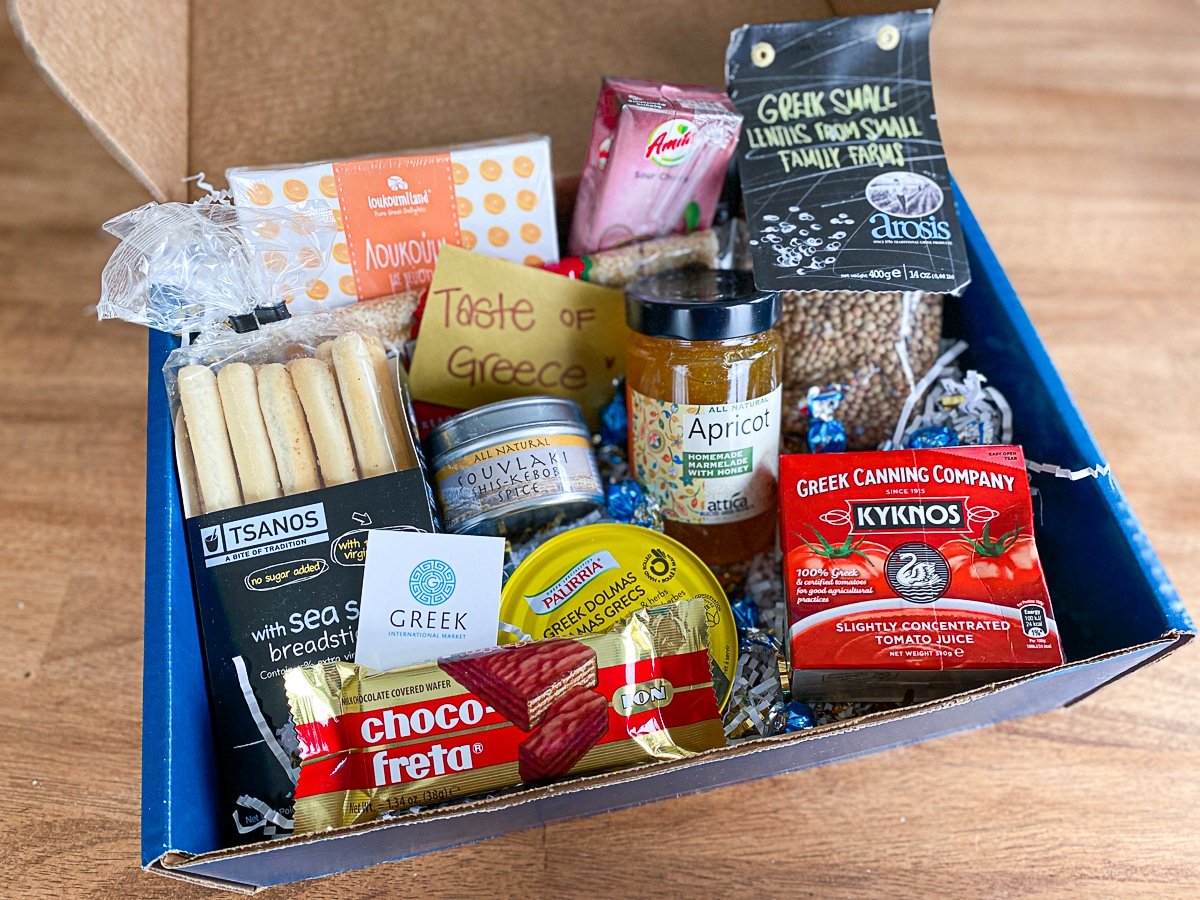 Indulge someone with a plethora of gourmet Mediterranean ingredients from Greek International Food Market.
Choose a dollar amount and one of their Greek food experts will prepare you a box with tasty imported ingredients like pasta, crackers, juice, beans, olive oil, tahini (use it in this kale pear salad), canned dolmas, and more. Order a custom Greek foodie gift basket here. 
Luxe caramels for candy lovers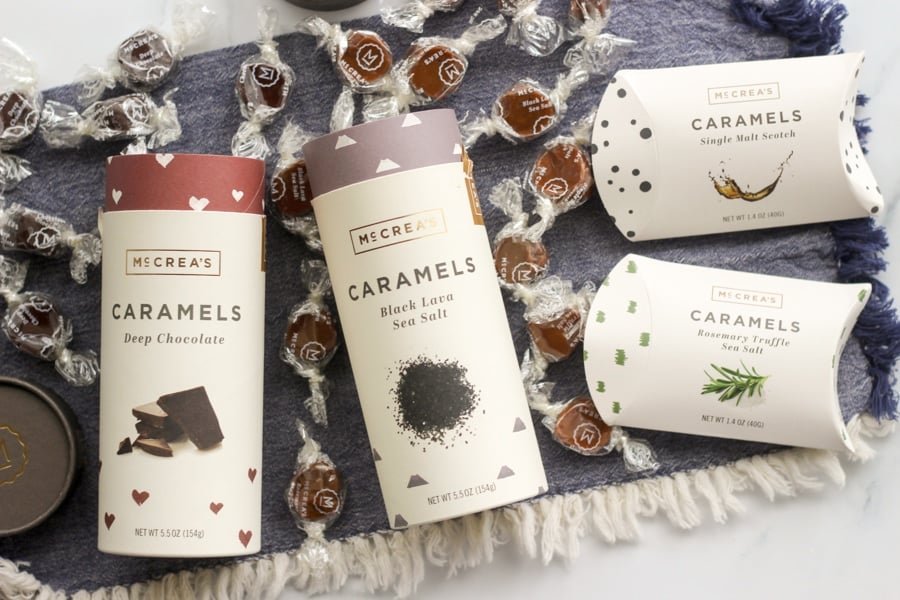 Everything from this candy gift pack is delicious: scotch caramels, black lava sea salt, rosemary. It's a great gift idea for a food lover with a sweet tooth. Shop McCrea's Candies Luxe Caramels.
Italian food gift box for foodies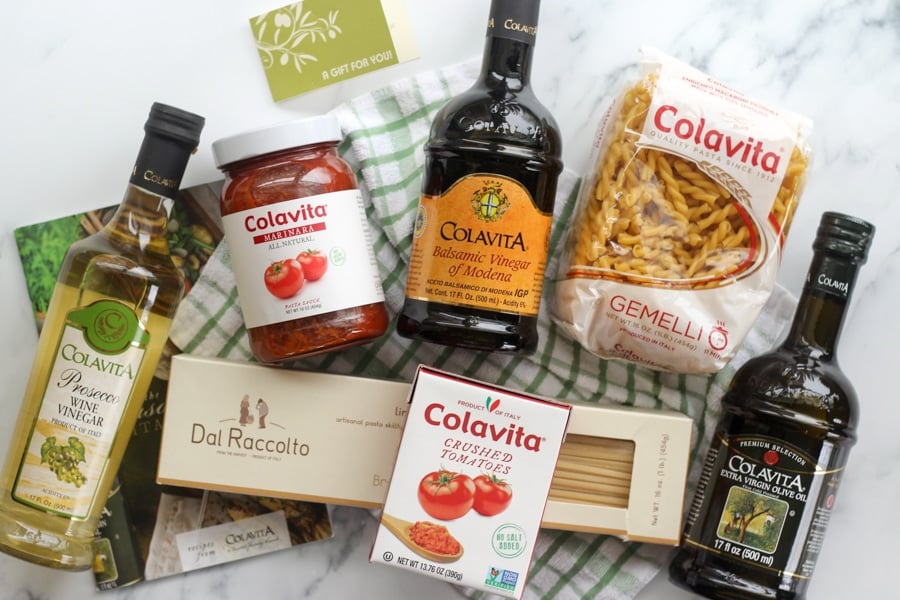 Want to gift an Italian meal, ready to cook? Then try this foodie gift idea – the quintessential Colavita sampler. It includes all the basics: olive oil, wine vinegar, balsamic vinegar, red sauce, linguine, crushed tomatoes (which are perfect for homemade pasta sauce), and homemade pasta.
With ingredients from this kit, you can easily make homemade pizza taste like it came straight from Italy. Everything is high quality, and I love the classy vinegar and oil bottles. Shop Colavita Sampler Tote Gift Bags.
You might also like Vineyards and Wineries That Ship Gifts
Maple syrup, fresh from Maine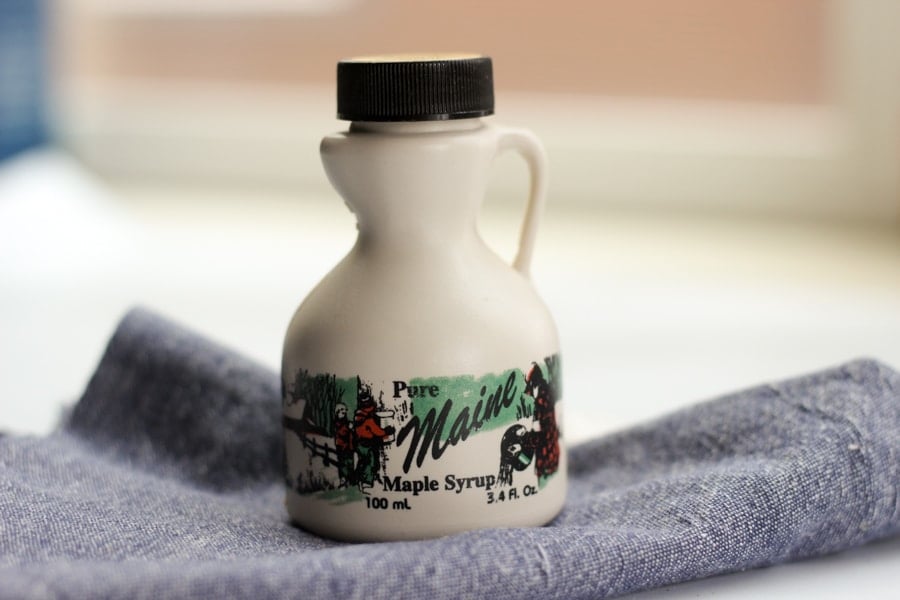 The grade A amber has a rich, full body and is sweet but natural tasting. It can be used as syrup on breakfast breads or pancakes, in holiday baking, or as healthier sugar substitute in any recipe. Shop gourmet Maine maple syrup. 
Gourmet coffee gift box for foodies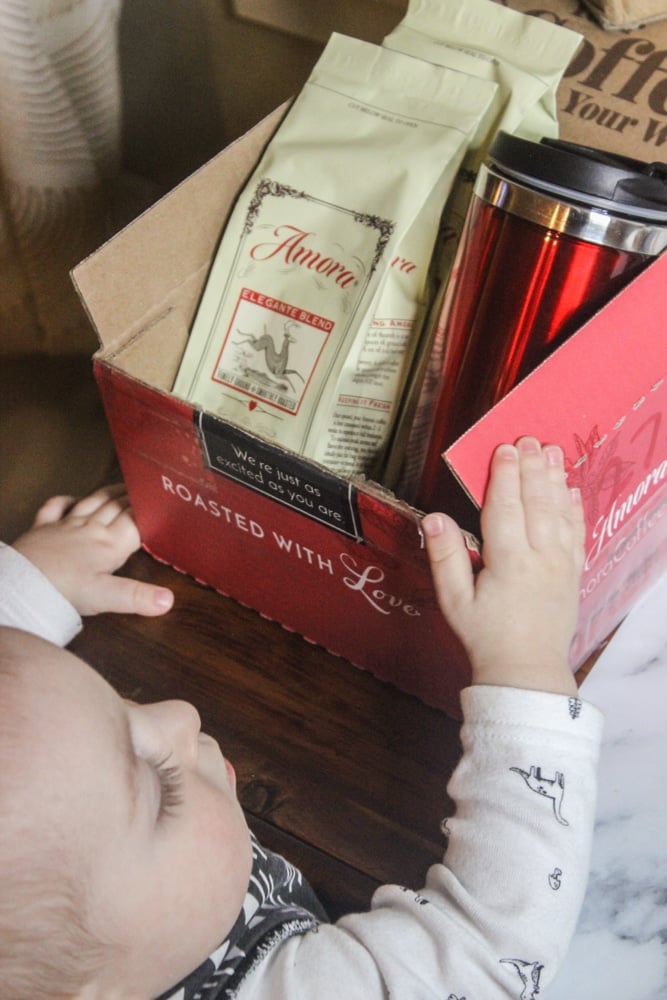 There are people who love their food, and then there are people who love their coffee. This company offers a monthly coffee subscription. Shop Amora Coffee.
Fine Italian coffee gift box
Do you need a gift for a foodie who loves the finer things in life? This coffee can be found in high end establishments like select Four Seasons and the Bellagio in Las Vegas.
Caffé Umbria from Seattle makes a smooth medium roast coffee with notes of fig and milk chocolate called Gusto Crema. It's great as both espresso or coffee by the cup.
Shop Caffé Umbria coffee on Amazon or visit their site for monthly subscription gifts.
Gourmet K-cups gift box for coffee lovers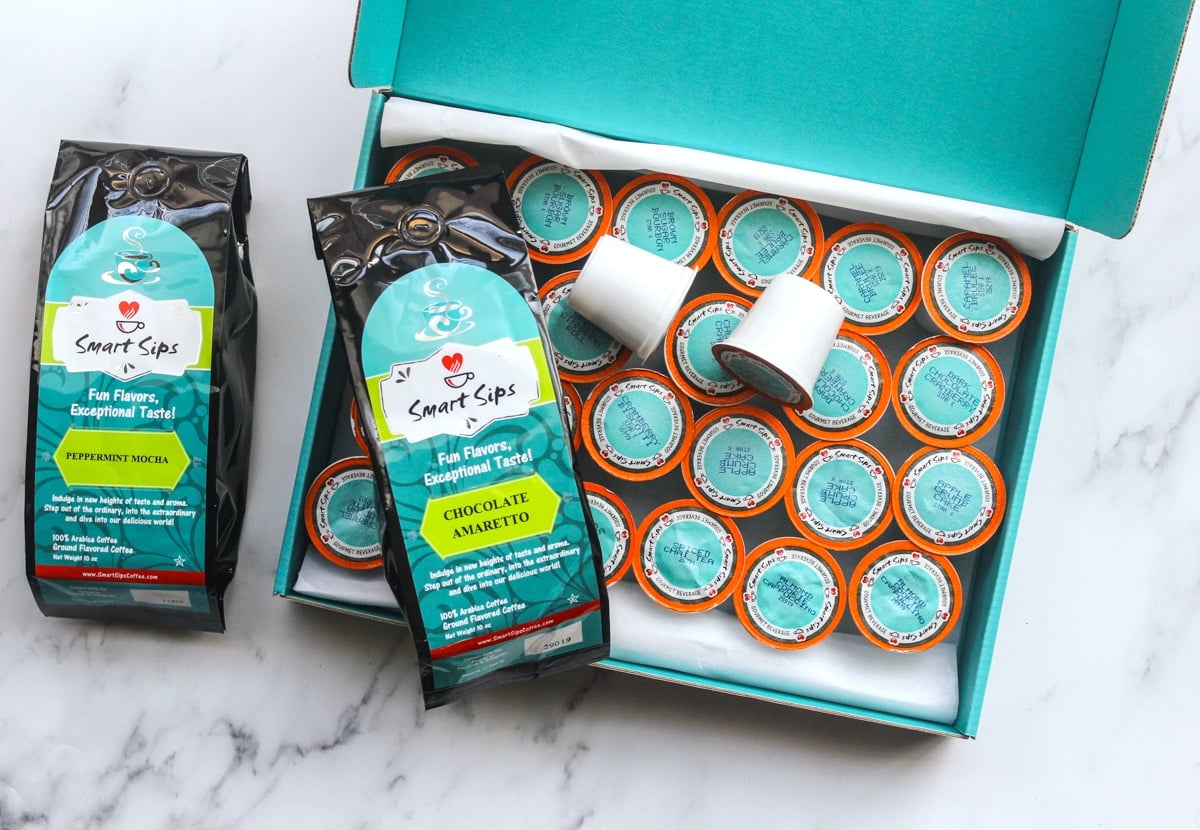 Smart Sips sends gourmet coffee in either grinds or pods to caffeine lovers. Order a one-month supply of coffee pods in a sampler pack filled with chocolate and fruit flavored coffees and cappuccinos.
Shop gourmet k-cups like their Brown Sugar Bourbon on amazon.
A gift for a foodie who likes to cook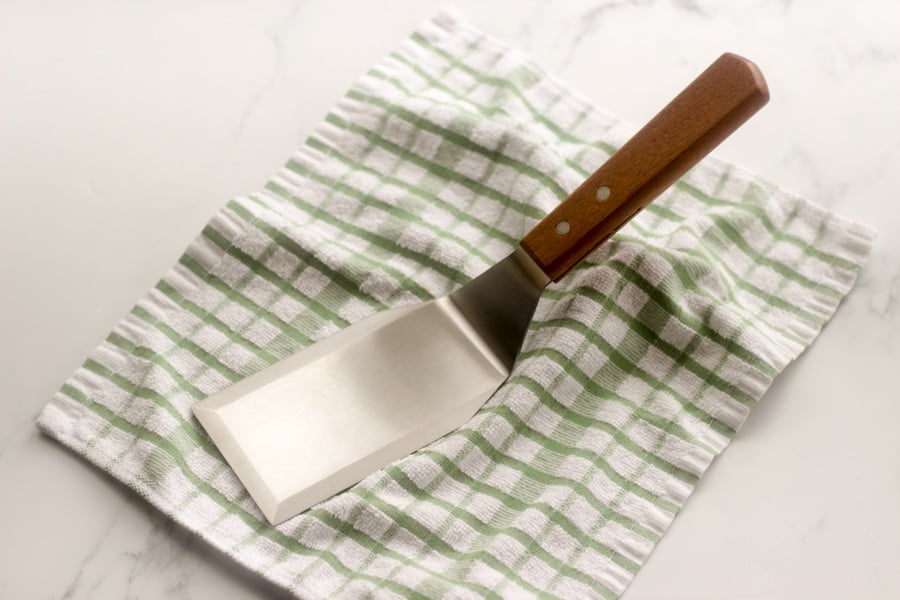 A spatula made for nonstick pans like cast iron skillets? Yes, please! Shop this heavy duty spatula. 
I interviewed the owner of this kitchen equipment company on the Sip Bite Go Podcast on an episode on how to launch kitchen item crowdfunding campaigns with tips from MannKitchen's founder!
Drinks for foodies (beer, wine, spirits)
If your foodie friends are more into drinks than eats, here are some suggestions that may make their day.
A stash of Prosseco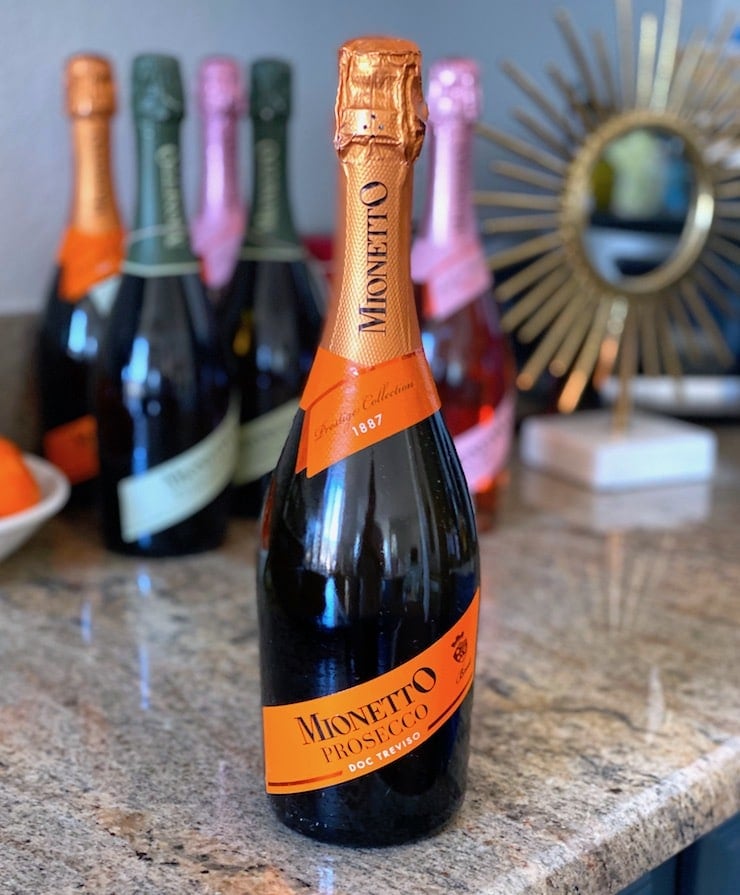 The foodie in your life can throw a fancy brunch any time when they have a stash of Mionetto Prosseco at hand. This brand is very widely available and they make tasty bubbly. Get a sampler of their flavors, including my favorite – the rosé.
Drink them straight or make a cocktail with Mionetto Prosseco – like these pineapple mimosas.
Wine glass gift "Shiraz On The Shelf"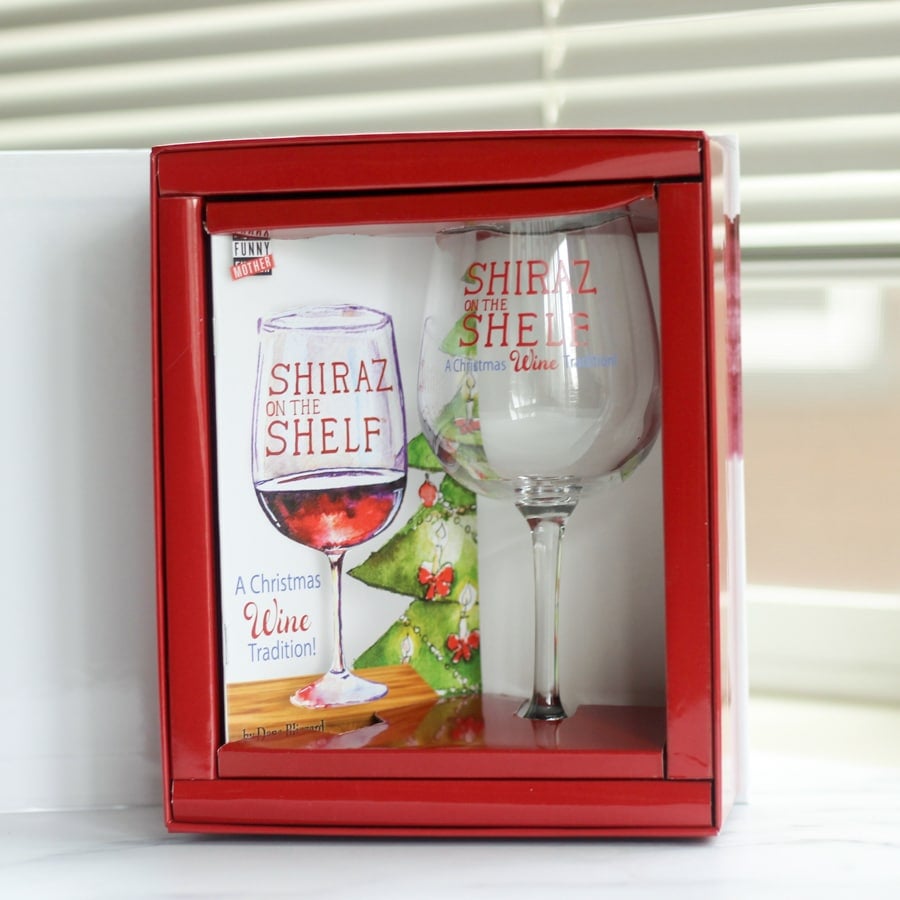 This perfectly packaged gift set includes a designed wine glass and hilarious illustrated booklet with your new favorite inappropriate Christmas poem. Shop Amazon for Shiraz On The Shelf.
On-the-go wine glasses
These glasses actually keep your drink to within two degrees from when it was poured, ensuring it tastes the way it was meant to be from start to finish. Shop Snowfox wine glasses.
Use these for a backyard BBQ so you can safely sip Chardonnay while grilling sous vide shrimp kebabs.
Cookbooks for foodies
No foodies gift guide would be complete without cookbooks! Here are a few interesting cookbooks for foodies…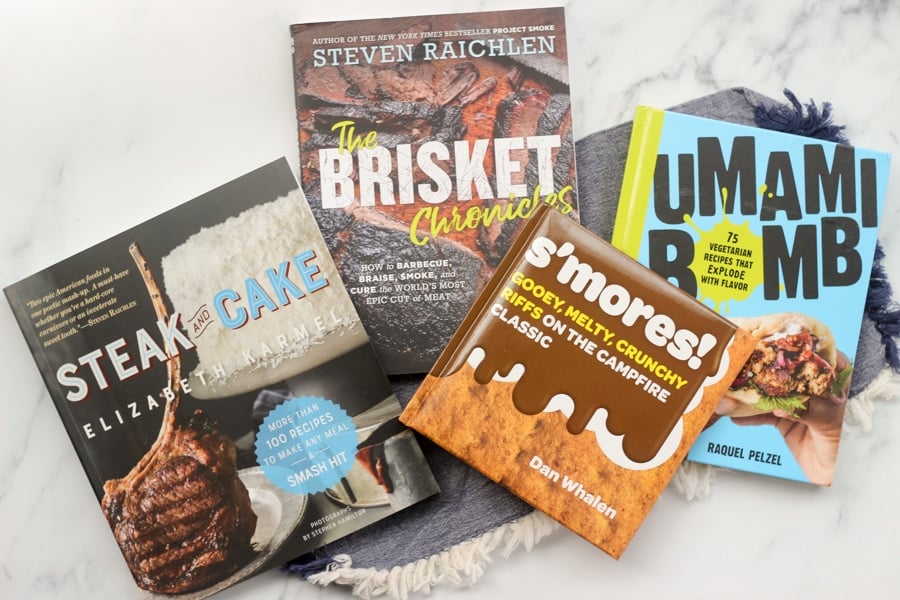 Get them my cookbook: The Home Chef's Sous Vide Cookbook
Foodie tech gift idea: sous vide cooking tools
If you're unfamiliar, sous vide cooking is done underwater and is a fun hobby for foodies, especially people who love perfectly cooked steak.
Here's what you need to sous vide…
A 

sous vide bucket

to hold the water "sous vide bath" that the food cooks inside.

Vacuum sealer

and bags or

plastic gallon bags

to cook food. 
A sous vide machine like the

Anova

,

Joule

, Instant Pot Slim
A couple sous vide recipes to check out here: sous vide turkey, sous vide chicken wings, sous vide Brussels sprouts.
Multipot with sous vide function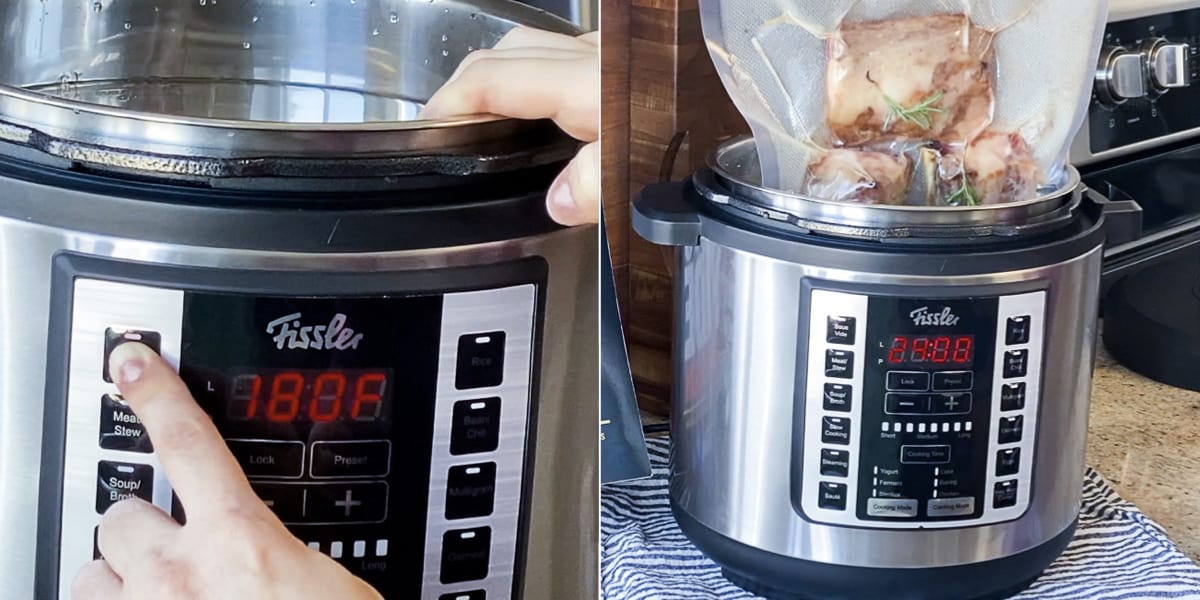 Make anything from bread to yogurt in just a matter of hours! You can even sous vide too and pressure cook rice and soups. Check out the Fissler Multi-Pot on Amazon.
Love to sous vide? See my favorite sous vide recipes like sous vide chicken wings and sous vide turkey breast.
Maple syrup gift for whiskey lovers
This syrup is aged in whiskey barrels for a flavor like no other! The foodies in your life will be shocked at how scrumptious it is! The flavor is unbelievable on pancakes, waffles, and even bacon. Check out this syrup from Finding Home Farms.
What looks good to you?
Hope this helped you find the perfect gifts for people who love cooking, hosting, and eating good food.
Let me know if you have more ideas for the best gifts for foodies! And don't forget to sign up for the Sip Bite Go newsletter for the latest foodie news.
See tasty recipes for holidays