If you've never had frozen food in an air fryer, well, you're missing out. There are so many frozen foods that you can air fry and turn into a delicious meal! Today you'll learn how to cook frozen foods in air fryer machines.
In other words, the answer to the question "can you put frozen food in an air fryer", is YES!
Air fryers are a quick and convenient way of preparing food, whether you're wanting to whip up some restaurant-worthy meals or just grab a quick snack. These nifty machines make things even more convenient by enabling you to cook foods from frozen!
If you're interested in cooking frozen food in an air fryer, you're in the right place. We've put together a quick guide on how it's done!
First, a quick air fryer introduction
Were you recently given an air fryer, and haven't quite figured out how to make it do your bidding? It's not as complicated as it looks! My tutorial walks you through everything you need to know when it comes to how an air fryer works to make healthy, delicious meals at home.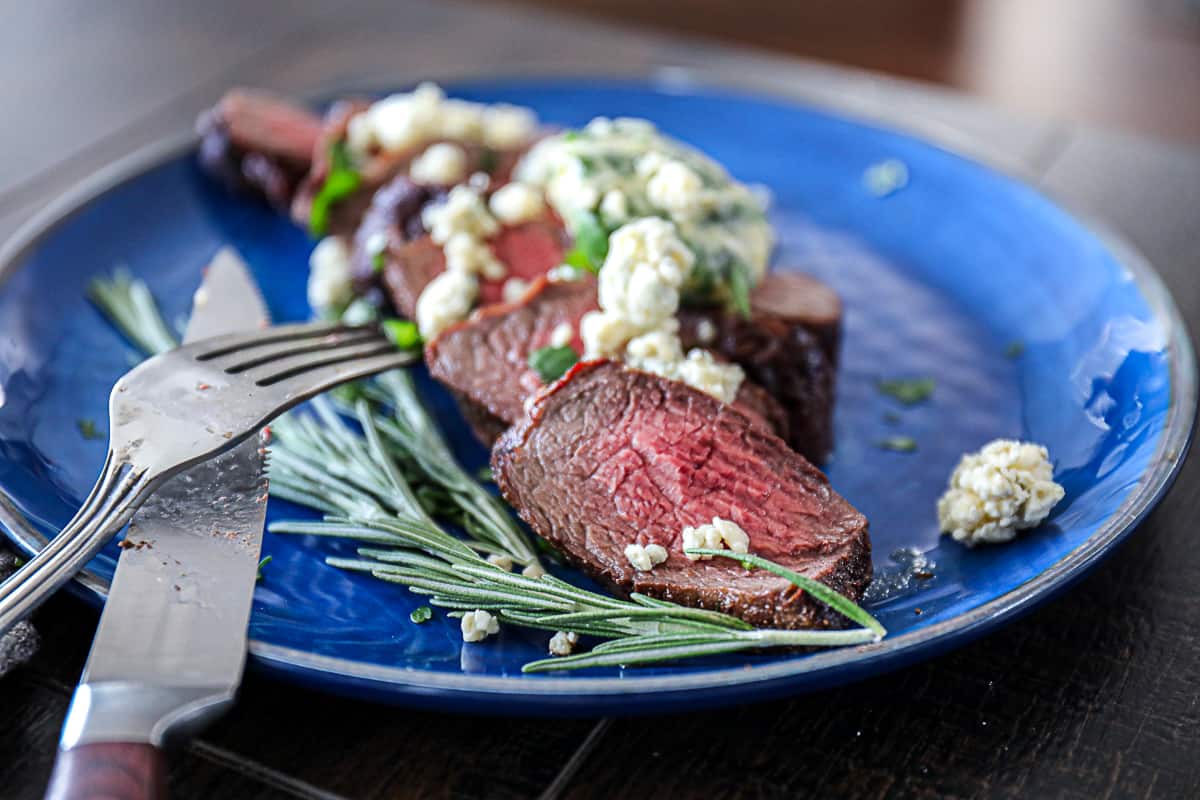 The gist of it: food in the air fryer comes out crispy on the outside and soft, juicy and tender on the inside. It's amazing but you can even make air fryer filet mignon that's super juicy like sous vide filet mignon.
Warning: see why air fryer sucks up food.
Adjust Your Air Fryer Settings
One of the first tips on how to cook frozen food in air fryer machines, whether it's frozen holiday turkey leftovers or from a package, in the air fryer is to make sure that you adjust your settings. Since air fryers work faster than conventional ovens, you'll need to tweak your settings to make sure you don't burn your food.
Typically, you'll use the same temperature that you would if you were cooking your foods in a conventional oven. However, you'll cook the food for half the time that it would take. Using frozen food in air fryer charts can help you make sure you get the right time and temperature for each food.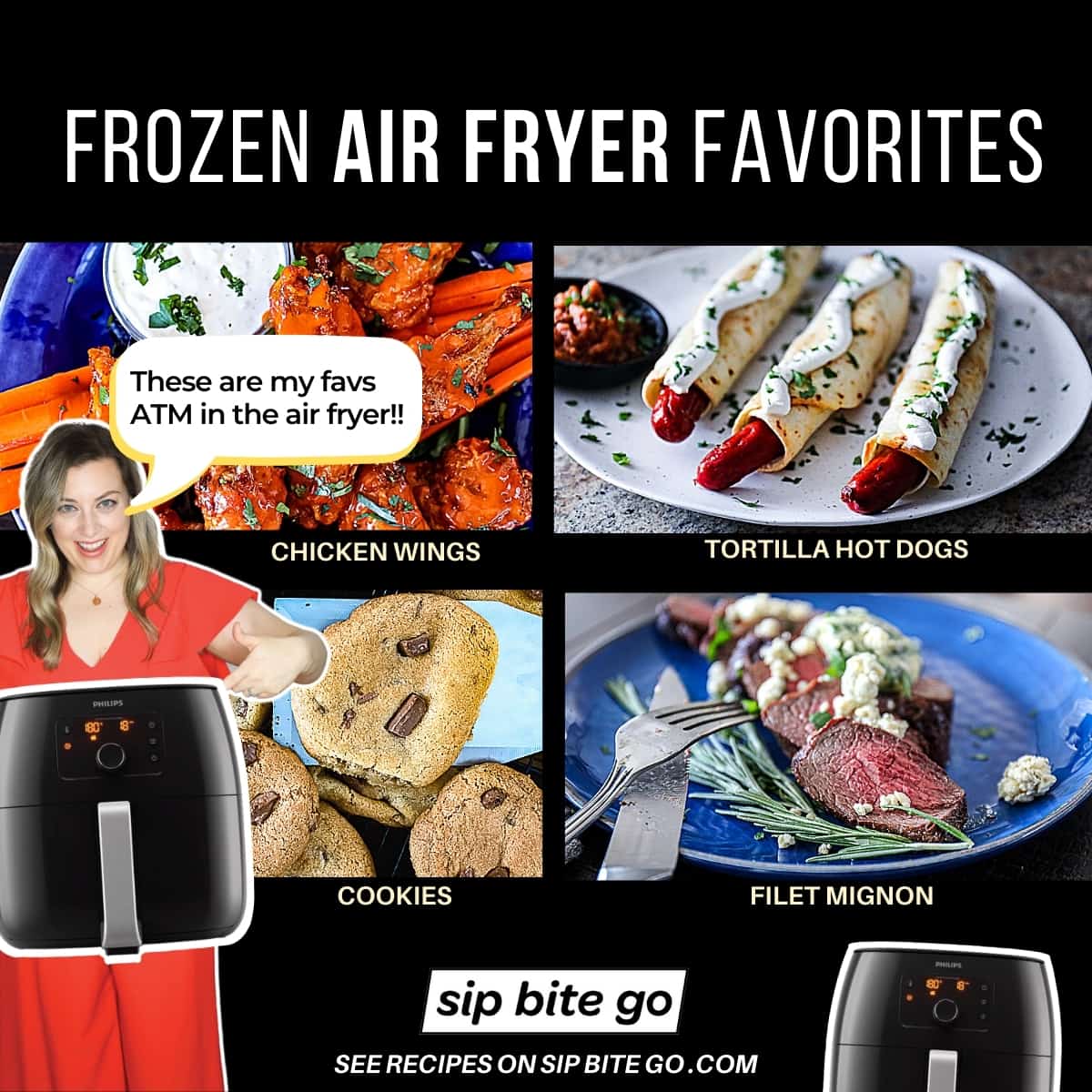 Don't Forget: Space Out Your Foods
Air fryers, while great machinery for cooking up tasty treats, can sometimes cause food to clump or stick together. If you're cooking in an air fryer, you'll want to make sure you spread out each piece of food for proper cooking.
You'll also want to continuously check on your food throughout the cooking process. Shake the basket every now and then to make sure that the food doesn't stick.
FYI: Some Food Is Soft After Air Frying
Once they harden for a couple of minutes, air fryer cookies become hardened (yet still super soft inside). But before they harden, if you bump them with a spatula, they'll completely change shape.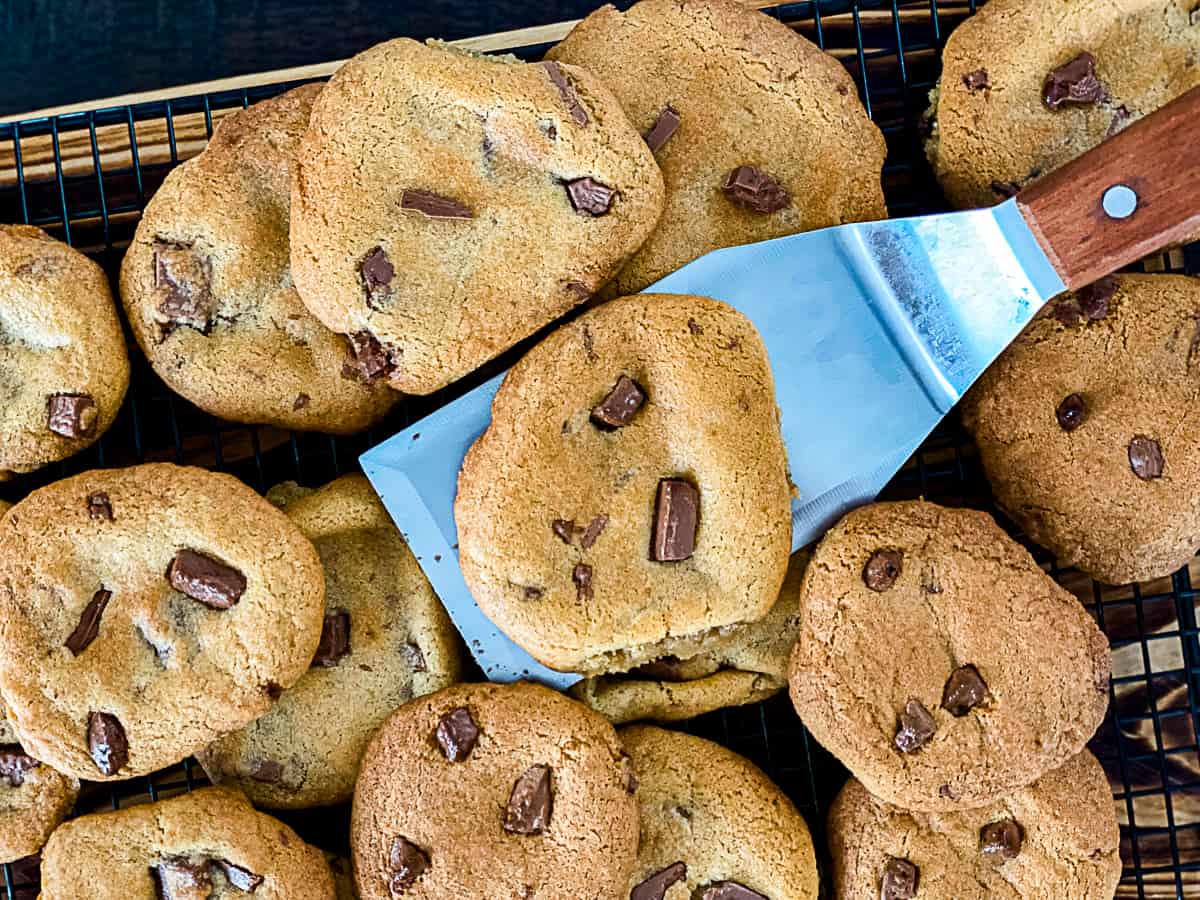 This was pretty surprising to me when I first started using the air fryer. I made some delicious — no let me restate that — possibly the best at-home cookies ever… air fryer chocolate chip cookies. They completely bake right in the machine, but are so soft and delicate, I almost didn't believe they were done.
Another recipe that turns out softer than expected? Air frying frozen sweet potato tots. Sweet potato tots from frozen turned out so soft the first time that a spatula crushed them. So I had to lightly toss them in the air fryer and use a spatula very sparingly. The results were delicious, light and fluffy tots, and after a minute or two cooling they hardened up a little.
Do you need to add oil to air fryer frozen foods?
While breaded foods such as air fryer mozzarella sticks or air fryer chicken nuggets cook up great in the air fryer, foods without a coating or a wrap can sometimes lose their texture. The easiest way to prevent this is to add moisture to the food before putting it in the air fryer.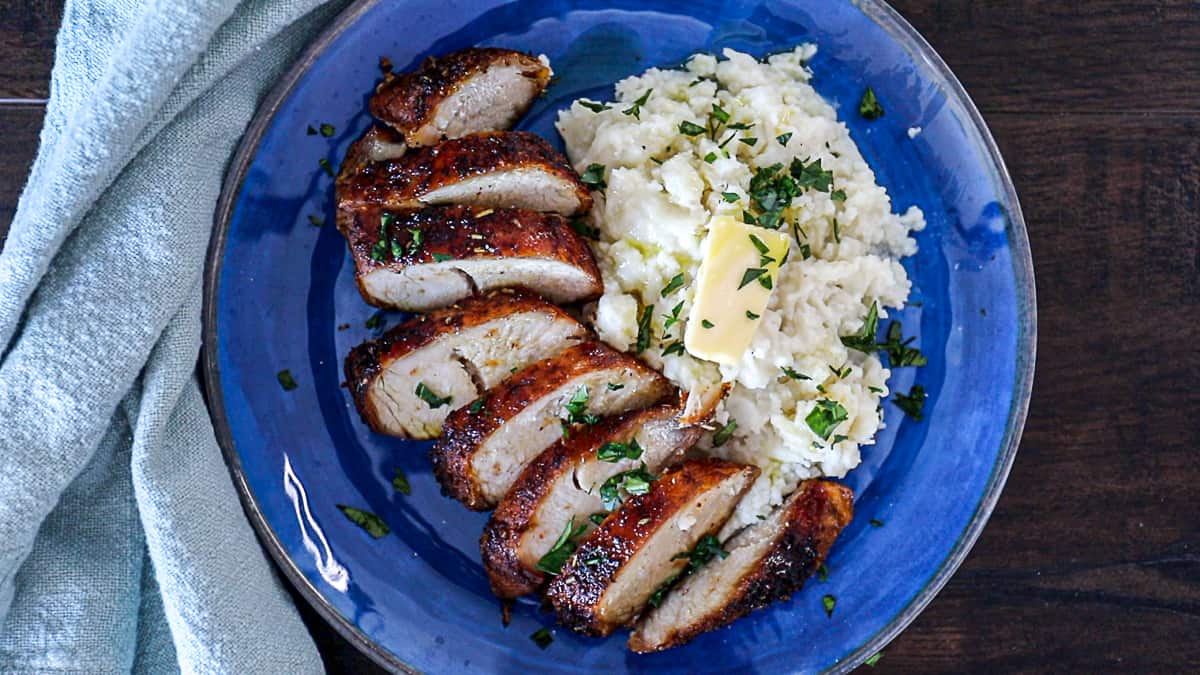 For example, in this recipe for air fryer turkey breast, I make a rub and add a little olive oil to the outside of the turkey.
You can do so using water, or you can serve food with something like this jalapeno ranch dressing or a peppercorn sauce. Using a sauce is a great way to not only retain the texture but also add a little pizzazz to your air fryer recipes!
Ignore the Microwave Instructions
Since most food packages don't have directions for air fryers, it can be tricky to know what to do with them. You may even find yourself tempted to use the microwave directions!
However, while a microwave might seem like the closest relative to an air fryer, these directions will not work. Instead, use the same temperature and half the time rule that we mentioned before. That way, you'll be cooking frozen foods in air fryer machines in no time!
Read more about how the air fryer compares to other appliances in this post about air fryer vs convection ovens.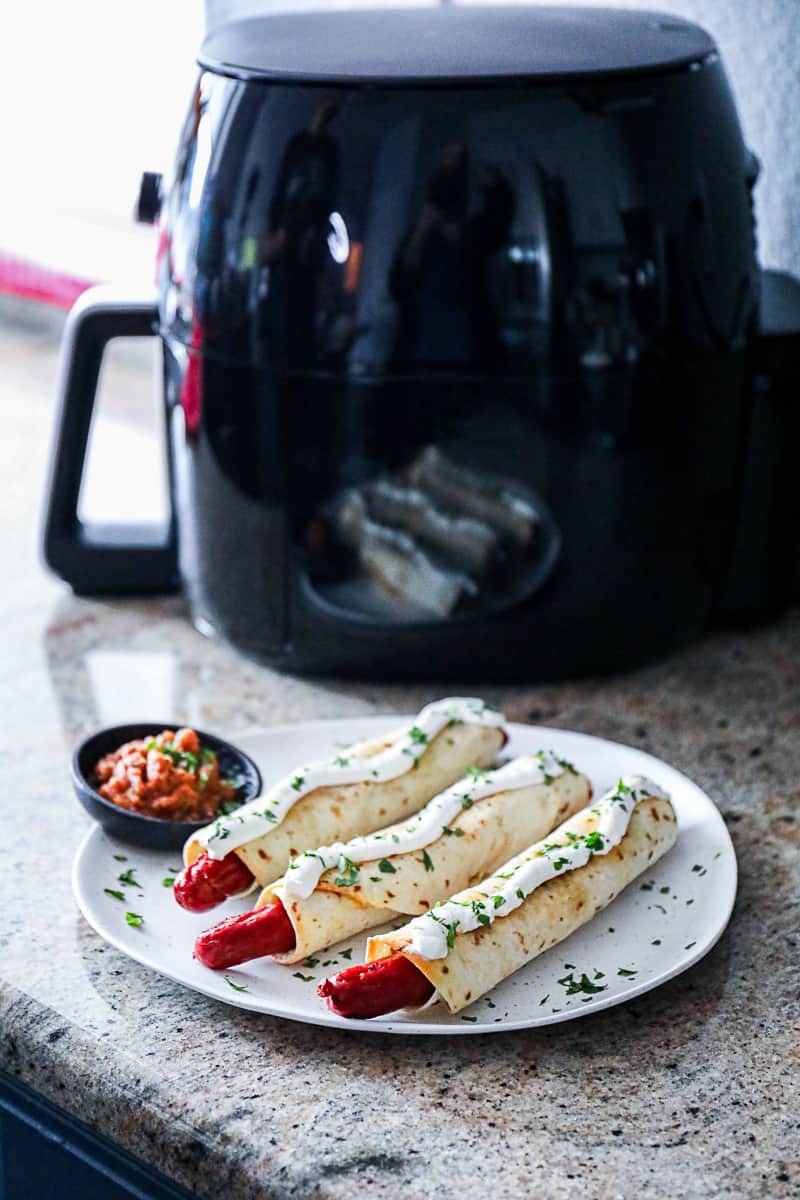 Whip up Tasty Frozen Food in the Air Fryer
With these easy tips for cooking up the best frozen food in the air fryer, you'll be ready to serve up a quick feast in no time! Using these tips helps make sure your frozen meal is a success.
Next time someone asks you, "can you cook frozen food in an air fryer" – 99% of the time, you'll be able to say yes! And, you can show them your recipes with help from Sip Bite Go to prove it.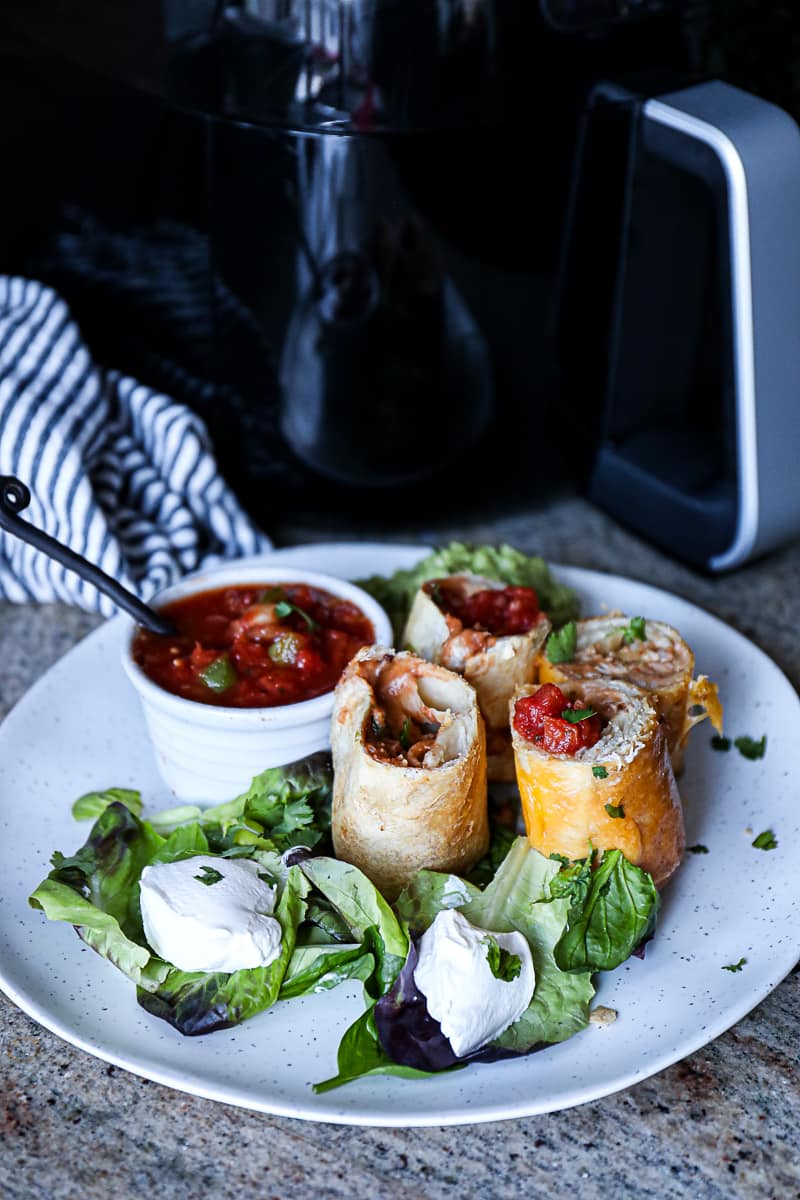 Favorite frozen foods to air fry
Here are some things I love to cook in the air fryer…
Are you a foodie, too?
I want to know what you think and see photos of your air fryer frozen food! Find me on Instagram @sipbitego to tag me and connect.
Want to make restaurant-style food at home? I teach you how here on Sip Bite Go and with in-depth video guides on the Sip Bite Go channel.
What you need to air fry food
Easy air fryer recipes