Listen to My Weird Food Obsession Podcast – episode 20 on Apple, Spotify, or wherever you get podcasts to hear this food influencing, and more, in this foodie podcast episode.
Learn about becoming a food influencer
Today we chat about:
What it's like to become a food influencer.
The food scene in Portland, Oregon.
The food scene in San Francisco (where Taylor lived previously).
The best Portland restaurants for influencers to visit.
JoJo's PDX Instagram account and epic chicken sandwiches.
What it's like to become a Yelp influencer.
How the pandemic changed Portland's food truck scene.
What it's like to attend foodie restaurant events (spoiler: it's not about getting free food).
How to always be a partner to restaurants.
PDXCCC bike delivery program and it's involvement in the Portland Oregon food scene.
Foodie restaurant influencers on Tik Toc.
And more on PDX restaurant influencers and food.
Who's Taylor Scoma and what's her influence on the Portland food scene?
@ScomieTheSnack helps people find their own ideal places to eat, drink and play in this gorgeous City of Roses.
And now with Top Chef Portland coming to town, I'm sure tons of new enthused PDX foodies and out of town travelers will be flocking to her feed. Especially for her epic roundup of perfectly cooked and excellent medium rare temp burgers in the Portland area.
So who is Taylor Scoma? Also known as @scomiethesnack on Instagram, Taylor is a nonbinary Latinx foodie living in Portland, Oregon where she is currently working in cannatech. She brings an unmatched perspective on the PDX food scene to Instagram followers and tons of encouragement to Portland restaurants, thanks in large part to having a decade of experience working in the restaurant industry.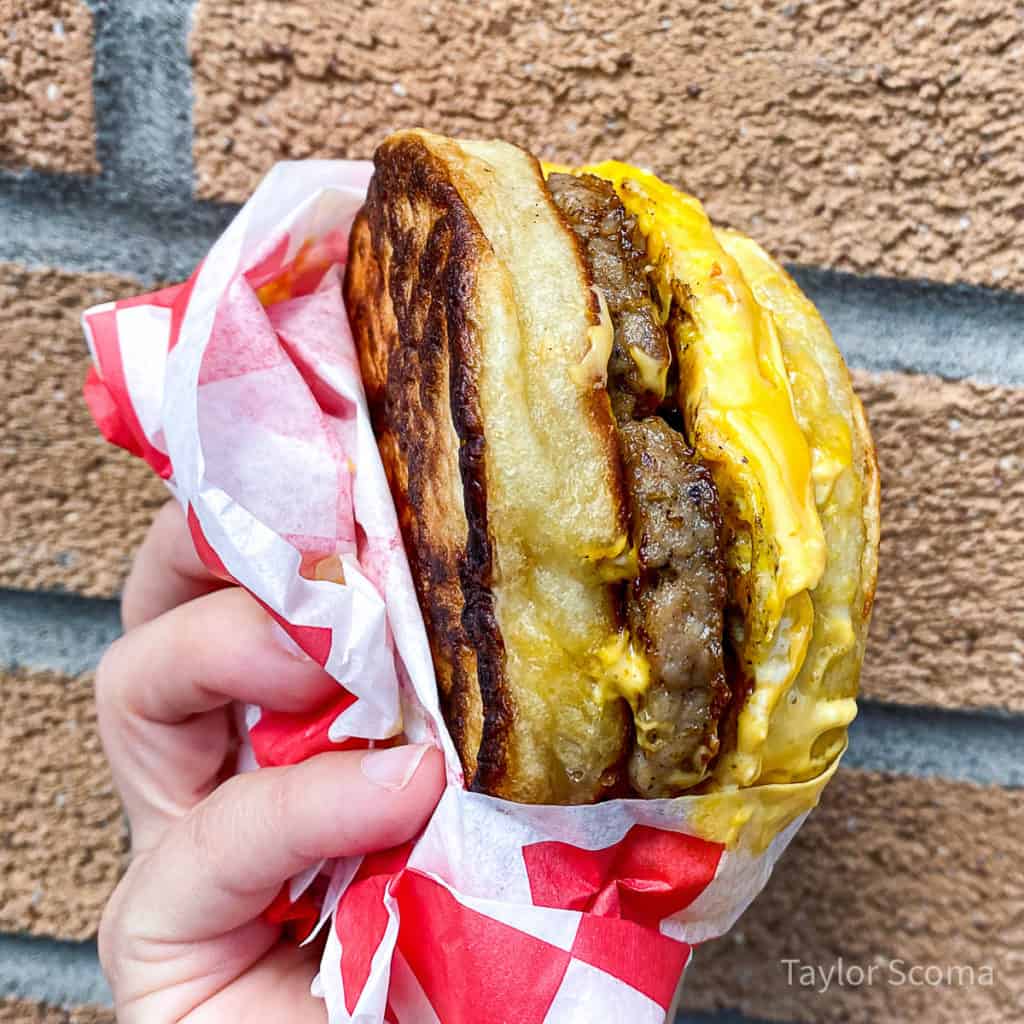 New to the PDX food scene? Stop here first:
Here are some of Taylor's favorite spots — she recommends these to foodies looking to get a taste of the wide range of food Portland has to offer.
Inspired to check out all the different types of restaurants PDX has to offer?
Thanks to Taylor for all the info about the food scene in Portland. The conversation went deep into how restaurants are listening and making a difference in awareness to the community, and how local PDX food Instagram accounts can follow @scomiethesnack's lead in helping support restaurants.
Special thanks to Nicole from @Mrs.MFTasty for suggesting Taylor as a guest.
Photos from this article feature Portland restaurants, including:
Pizza from Pizza Doughnais PDX
Chicken from Mama Bird PDX
Brekky sando from The Pie Spot PDX
Don't forget to connect with @scomiethesnack on Instagram
Listen to more podcasts with Portland food influencers
After all that talk about burgers, I can't help but recommend another podcast with Portland Smash Burger Food Cart owner – have a listen!
I have also recorded podcast episodes with Rollin Fresh, Mid City Smash Burgers (mentioned above), Moto Perpetuo, and French Kiss PDX.
Also a place called Mason's Famous Lobster Rolls is working on opening a location here and they're on too. Yay for lobster!
Learn more about food influencing as a hobby
Listen to My Weird Food Obsession Podcast – episode 20 on Apple, Spotify, or wherever you get podcasts.
More from My Weird Food Obsession