Listen to My Weird Food Obsession Podcast wherever you get podcasts – episode 4
Becoming a parent completely changes your life. If you've been through a pregnancy, you know exactly what I'm talking about. It impacts everything from your energy level, to your ability to stomach different foods, to preparing to adjust your job for maternity leave.
So what happens when you're a pregnant food blogger? When you all of a sudden can't eat certain foods for safety of the baby, have food cravings readers won't be able to relate to, and have food aversions during pregnancy?
And what happens when you're a new mom running a food blog and working for yourself? How do you get back to work, managing time between taking care of a baby and running a blog, and adjusting to your new norm?
If any of what I've said resonates with you, you're going to love today's chat with Karen Young from The Tasty Bite. She and I have so much in common, including writing a cookbook with Callisto Media, a well-known book publisher, running a food blog, and adjusting to becoming a new mom — all in the same year, and all during a pandemic.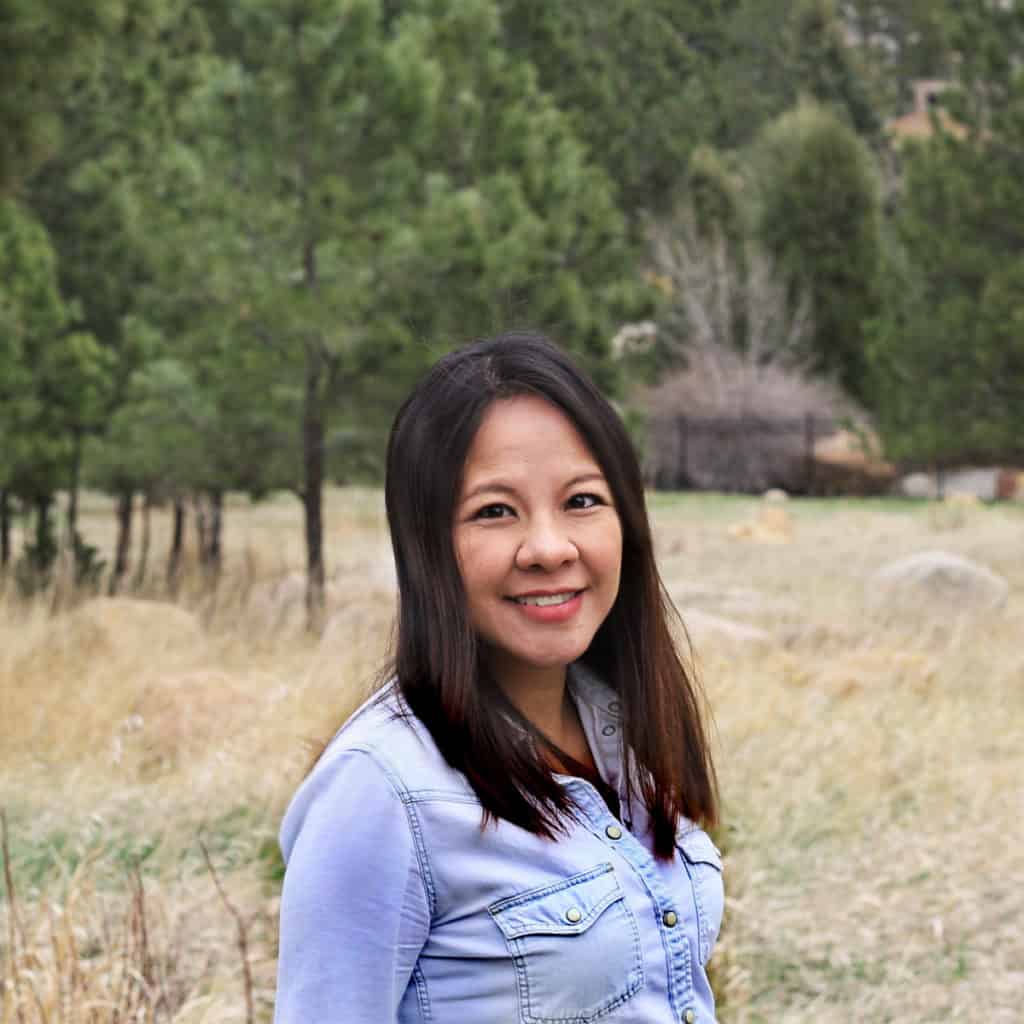 Karen focuses her blog on making cooking from scratch simple and easy for anyone. The Tasty Bite is just that. Her cookbook, "The Electric Pressure Cooker Soup Cookbook: 100 Fast and Flavorful Recipes" was published in August 2020, one week after her daughter's birth.
Together, Karen and I went over what a nine-month pregnancy and adjustment to a new baby looked like as a food blogger and cookbook writer, from first trimester food aversions to fourth trimester sleep deprivation and working around undependable newborn sleep schedules.
Food blogging while pregnant: the first trimester
For Karen, her first trimester may have been her hardest. Running a cooking blog is great when you can post about the delicious food you're already making your family— but when the thought of meat makes you sick and the only thing that sounds good, for weeks at a time, is a bagel and cream cheese, it's a lot harder.
There was just one thing that saved her: a treasure trove of unpublished posts waiting for editing. In her words:
"The good thing was that I actually had a huge backlog of unpublished posts for my blog… I tried to work about two or three months ahead. I always have posts that are kind of in the backlog and not ready to publish yet. So I was able to grow about two months without cooking anything specifically for the blog." – Karen
Spacing them out, editing and publishing one post a week, she managed to get through the worst of her food aversions, and when the second trimester started was able to get back into the kitchen and to her regular two new recipes a week schedule.
Two years ago, when pregnant with my little boy, I had much the same struggle. Under normal circumstances I am a pink steak person, but during my pregnancy my tastes were so different that, after the baby was born, I ended up needing to go back and make changes to my pregnancy contributions.
As I explain on the podcast: "I have ended up editing some recipes that I had published while pregnant because I publish a lot of meats like steaks and things like that, and the level of doneness desired for my meat was different with changing tastes… my own preference was like, not that pink of a steak."
Extra energy and a second trimester
The second trimester is usually the easiest for pregnancy: the end of food aversions, new bursts of energy, and a bump that is not yet too big to carry around comfortably. But there was a new complication now: the pandemic began.
Karen shared: "We were living in Texas at that time. And, you know, we had a lockdown in our county, so that made it a little difficult to go food shopping; everything on the shelves were empty. At one point, to finish testing the recipes in my cookbook, I had to order rice and beans off of the internet to have it delivered to my house so I could finish writing.
The grocery order was kind of a new thing; I just never had that done before. Coupled with that, we were moving to Colorado at the time. So even though I had that extra energy, it was over a little bit overwhelming to kind of juggle everything."
As if that wasn't enough, Karen discovered that when the move was over that the high altitude of her new home completely messed with the cooking times she was used to. Food that in Texas had cooked to perfection in 15 minutes still wasn't done in an hour. She found herself taking much longer in the kitchen, and then having to convert back to standard sea-level temps when writing recipes for the book and blog.
One bright spot, though, was that all the cooking at home gave Karen the opportunity to try out more recipes and sous vide dishes like those you'll find in my recipe index. Not being able to go out for a steak dinner makes you want to cook a really nice one for a date night in—and sous vide porterhouse or sous vide prime rib, for example, can be made perfectly right at home.
"Take it one piece at a time. Being pregnant is already super hard. And I think sometimes, as women too, you want a lot on your plate, and people have expectations about what you can do. But if you're having problems like vomiting or nausea or you feel like you have some sort of food preference during your pregnancy, just give in to it." – Karen Young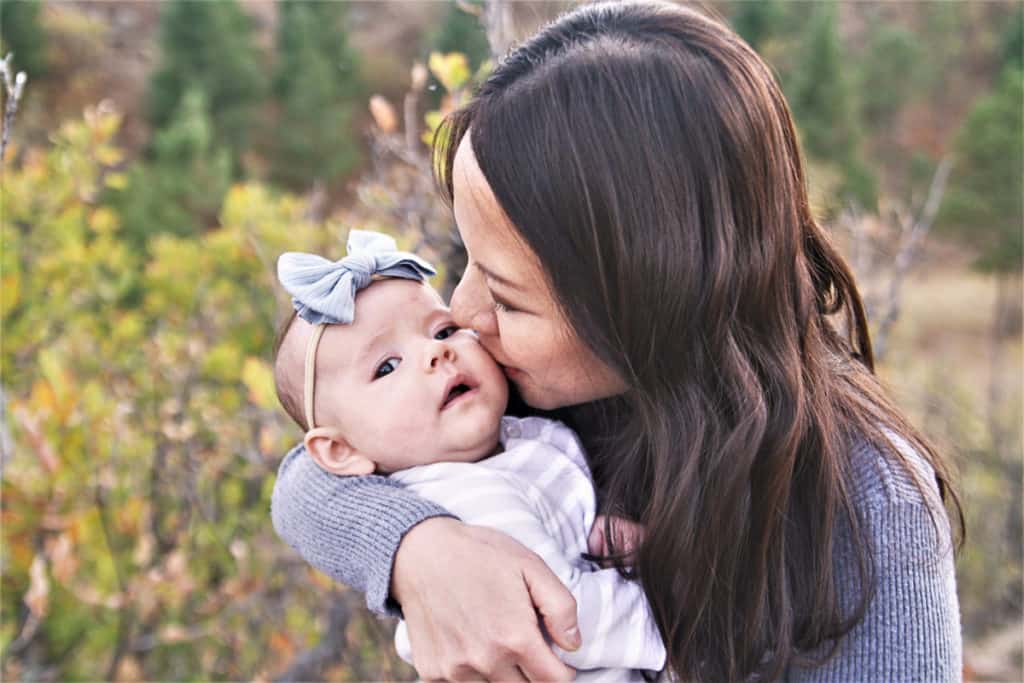 The third trimester as a food blogger
As my second trimester drew to an end, I found I just couldn't do as much as I used to—and my body began to ache from the strain of long cooking and photography sessions. Third trimester exhaustion was about to work a number on me.
As was shared in the podcast: "I was finding it was becoming more difficult as I went into the third trimester, standing, and then you add in that holding a heavy camera over food for a long period of time in an awkward position to get the right shot. And really weighed on me, because, yeah, I have all this energy. But I'm awake more hours during the day, and my body is aching."
Karen had a similar experience. Her feet would start to ache when cooking. And climbing a step stool to get that perfect picture from above went from super easy to a difficult and potentially dangerous maneuver.
She had spent two months writing and testing recipes, and got a well-deserved break during her third trimester as the publishing team worked to finalize everything. The publishing date for her new cookbook was set for 1 day after her due date, and she kept the publisher updated on going into labor. A marketing promotion was scheduled for the end of her third trimester, and she wanted to make sure she didn't leave her team stranded at a difficult spot.
Sourcing ingredients for recipes had continued to be a difficult issue for both of us during the pandemic. I'd begun to rely on my Aerogarden to have a supply of fresh herbs at home. Karen became an expert at grocery orders, ordering whole foods from Amazon prime as well as scheduling deliveries from local supermarkets. Sometimes food was rationed—four meats per person, for instance— and she had to put recipe testing on hold.
In Portland, Oregon, I had discovered the secret to a steady supply of meat for my recipe testing: mail order butcher services. I found it the perfect way to get interesting cuts of meat, and I loved the ease of it: just click purchase and get whatever I needed for the recipe I wanted to make that week, sous vide beef short ribs for instance.
"You can't not change as a person once you have a child. You're going to grow into another person. But I think now, being two years out from having my child, just knowing that it will take time but you will get back to who you are and what you're about." – Jenna Passaro
Fourth Trimester and Blogging With A Newborn Baby
Karen's baby was born a week before her due date: just eight days before the launch of her book. She took 36 hours off when she was in the hospital, and then she wrote her team a message: if you need me, I'm back!
But the Tasty Bites social media didn't even take a break. Scheduled posts, set up in advance, let her keep in touch with her fans on Facebook and Instagram even when she was busy birthing her little daughter. The new baby turned out to be a good sleeper, and she took advantage of newborn nap times to catch up on correspondence, answer questions, and write blog posts.
In my fourth trimester, I'd hoped to be able to write with the baby strapped on to me in a baby carrier, but my son did not appreciate that arrangement. He enjoyed being on me, but wanted to be actually held. So I found other blogging tasks I could do… with one hand.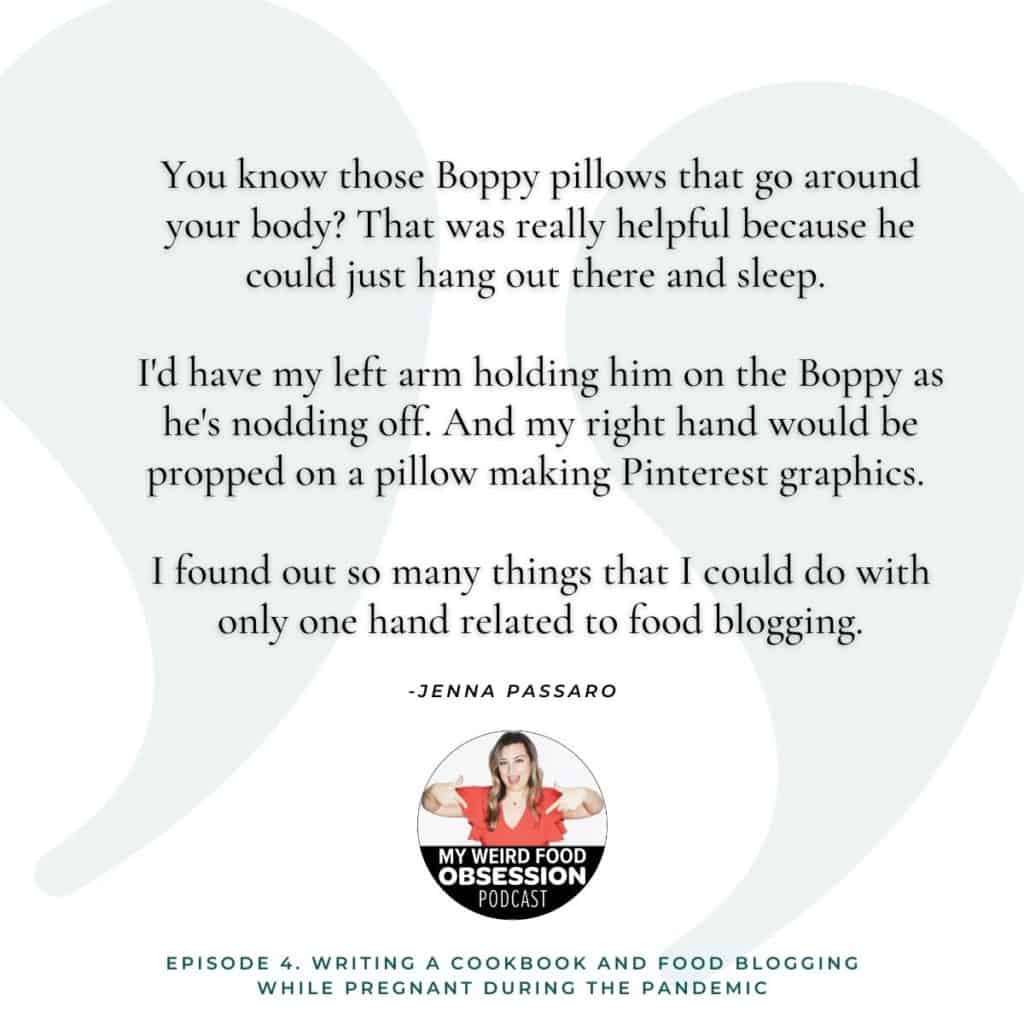 In the podcast, I share one hack that earned me a few more working hours:
"You know those Boppy pillows that go around your body? That was really helpful because he could just hang out there and be sleeping. I'd have my left arm holding him on the Boppy as he's nodding off and he would just chill; he really liked the sense of touch. And my right hand would be propped on a pillow making Pinterest graphics. I found out so many things that I could do with only one hand related to food blogging." – Jenna
My son is a toddler now, and taste-testing many of the recipes I create for Sip Bite Go.
Karen's baby is five and a half months old, and starting to get on a schedule; her mom has become an expert at working around nap times and planning ahead for fussy hours. Both of us are enjoying this period of our lives, but it is definitely not without its challenges!
When I was looking up photos for this post, I came across this… it still rings pretty true today…
It was so fun to connect and talk about food blogging, cookbook writing, and becoming a mom during the pandemic. So few people can relate to having all of those things going on at once. I hope this episode has reached someone preparing for their own baby, or adjusting to new mom life.
Learn more about food blogging and publishing a book while pregnant
Listen to My Weird Food Obsession Podcast wherever you get podcasts – episode 4
Karen's pregnancy and cookbook journey.
Creating recipes with pregnancy cravings and aversions.
The process of writing a cookbook through the different trimesters.
Food safety during pregnancy and COVID.
Cooking for your baby as a new mom.
Food photography routines.
Juggling food blogging and motherhood.
Links mentioned
More from My Weird Food Obsession