Wish I had better things to say about our stay at Hilton Embassy Suites Austin Central in a king room, but we actually left a day early. I've stayed in the Embassy Suites in other cities outside of Texas, and had great experiences. But here's what happened this time…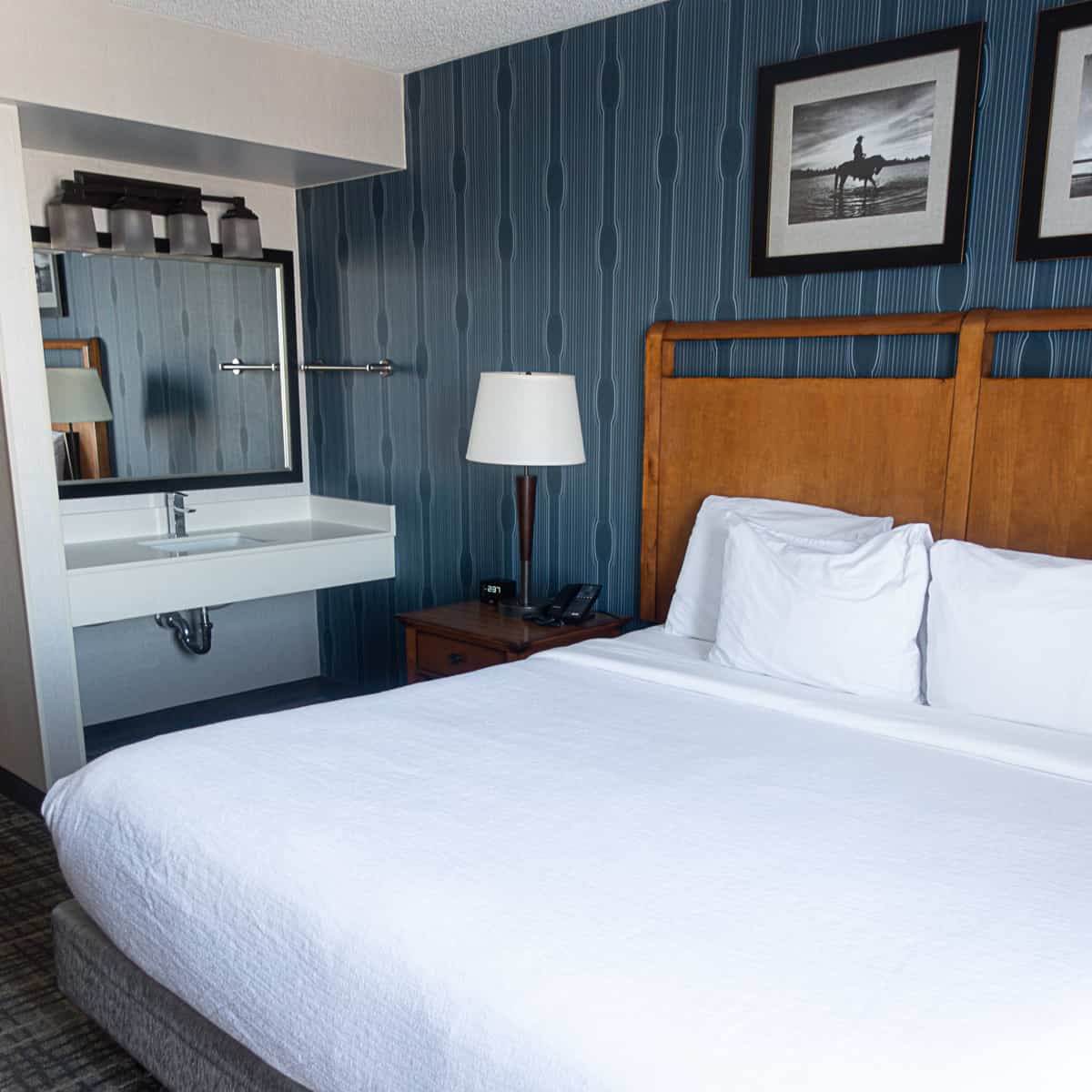 HEY THERE — Follow Sip Bite Go for food and travel guides on Instagram / TikTok
Staying At Hilton Embassy Suites Austin Central
As part of this road trip guide to Austin from Dallas, I planned to do a "best Austin hotels" feature…
When I researched where to stay, I was specifically looking for hotels in Austin Texas for a family trip. And I was set on Hilton because I have a long-time relationship with them.
Though I've stayed at other budget friendly and luxury versions of Marriott and Sheraton hotels at various times in Maui, for instance…
Unfortunately, I didn't love staying at the Embassy Suite Austin Central on our road trip.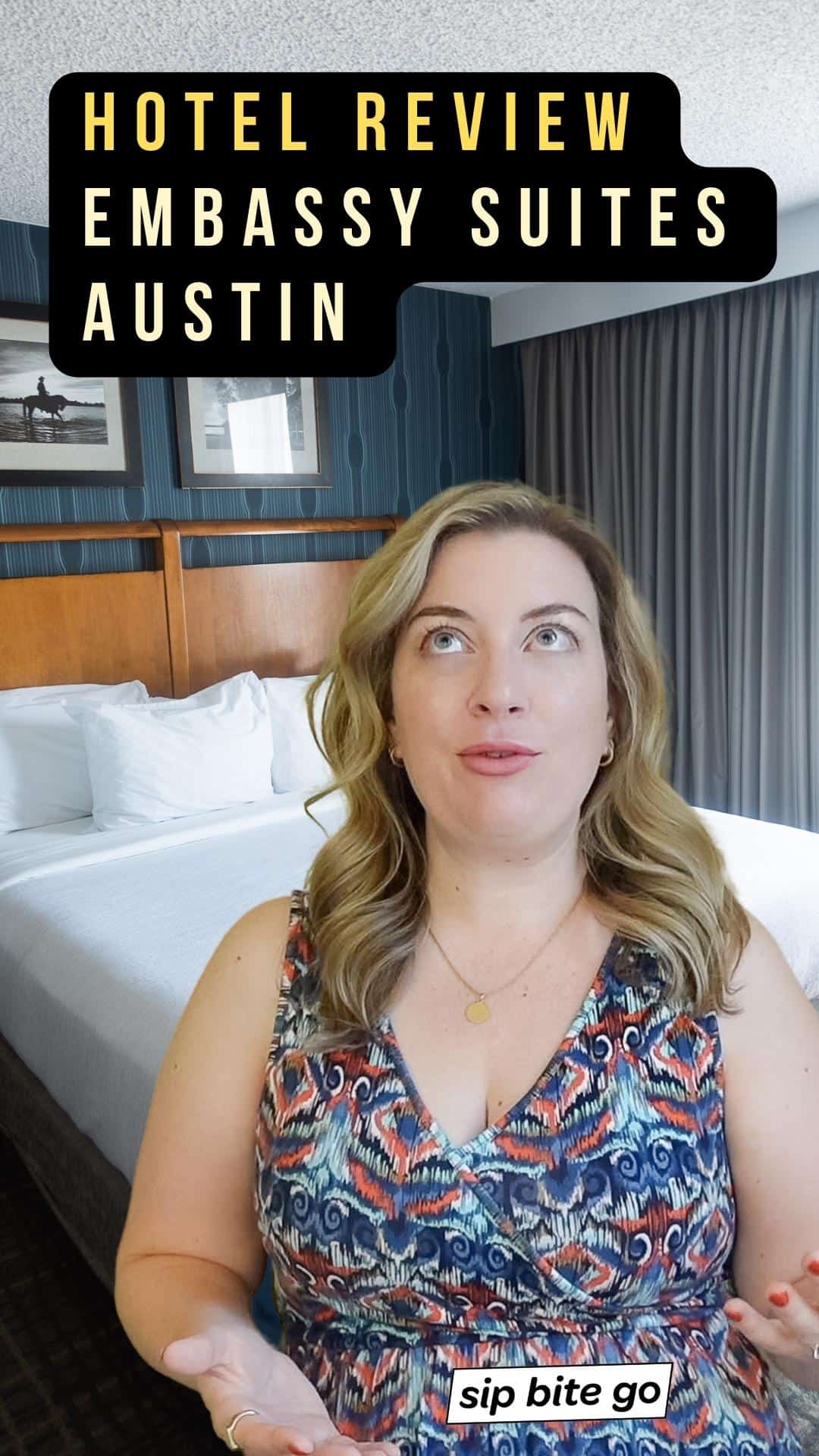 The lobby of the building has great hangout spots and it is clean…
Location of Embassy Suites in Austin, Texas
​​There are a few main Embassy Suites in Austin including…
Embassy Suites by Hilton Austin Central – what THIS review is for
Embassy Suites by Hilton College Station – closer to the University of Texas
Embassy Suites by Hilton Austin Downtown South Congress – It's MUCH more expensive (2-3x the price of the budget Austin hotel locations). It is near the convention center in Downtown Austin, which is a convenient location to the Texas State Capitol if you're interested in that scene.
The location of this Embassy Suites hotel review is in Central Austin, a bit further outside the city, but within 15 minutes to the Thinkery (kids museum) and bars, music, restaurants of interest for a weekend trip to Austin..
A few nice things to say before my negative review
I would say my overall experience was negative, because I definitely won't stay there again.
But I wanted to shed light on some positives…
Early check in was available.
We got free parking as Hilton Honors members.
The front desk concierge guy gave us a Hilton Honors bag full of snacks and water.
Hilton Honors points go a long way at Embassy Suites.
There is a fridge and sink in the room.
There are actually 3 sinks in the whole suite, which is convenient.
The hotel is pretty conveniently located on North IH-35.
If you like to hang out in the hotel lobby, there are plenty of private-feeling sitting areas.
It seems to be a popular hotel for business travelers looking for cheap hotels for a business trip.
I think that's it!
Room photo of Embassy Suites Austin Central king standard
But the room at Hilton Embassy Suites Austin Central smelt horrible, like an old musty basement filled with soggy books…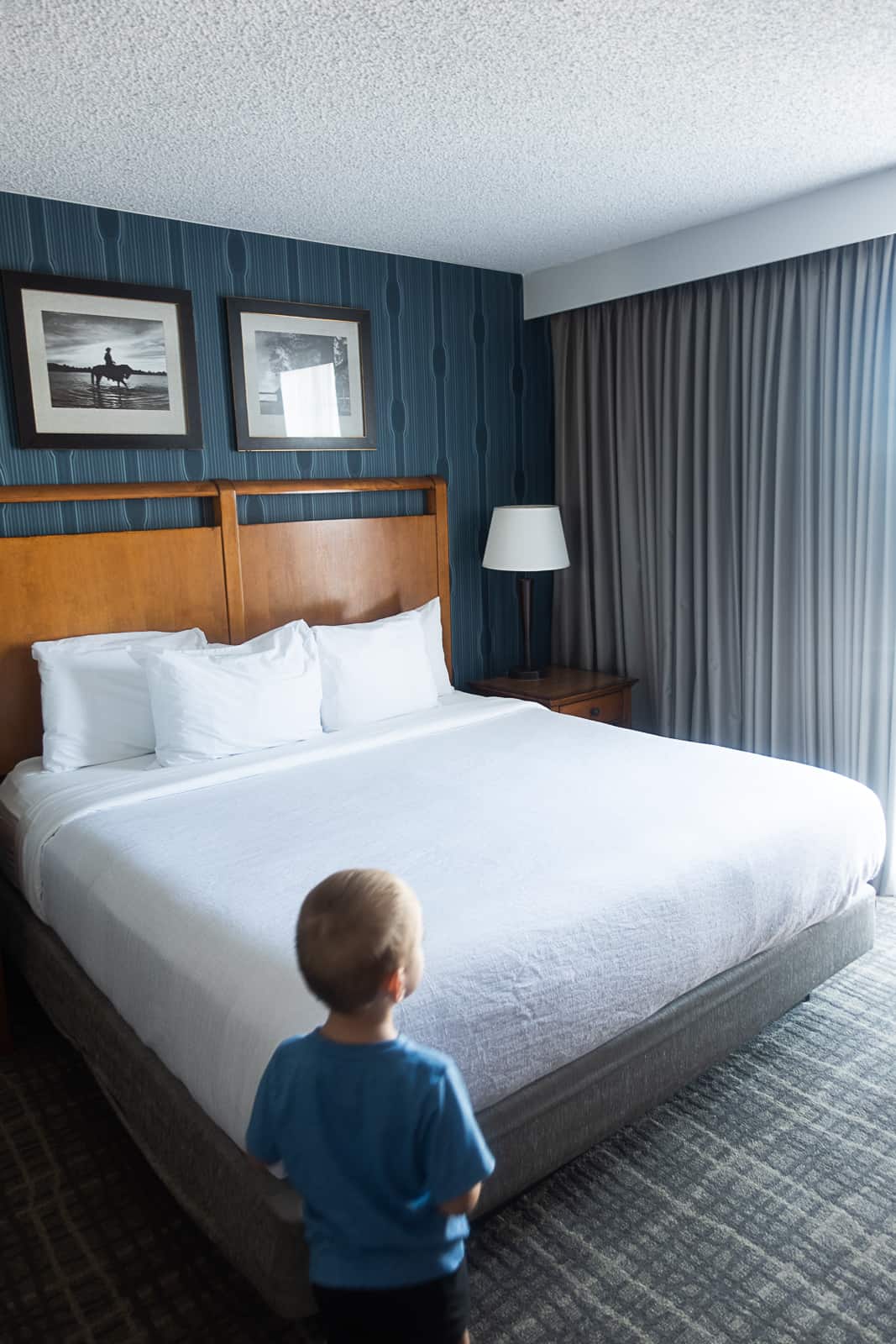 I thought it would be manageable because the king suite had clean linens, and the bathrooms and sink in the bedroom were updated.
Room tour / review video of Embassy Suites Austin Central hotel…
Such a bummer that the beautiful photos in the room tour for Hilton Embassy Suites Austin Central do not line up with my overall experience of the room.
And so I didn't complain about the room, since we didn't plan to be in it much, and probably should have requested to change it.
Even if we changed rooms, the rooms at Embassy Suites by Hilton Austin Central were still not super sound-proof (you could hear things dropping all night long, and noise from traffic outside was loud).
My toddler was on the pull out couch which was more insulated and he slept fine.
And I didn't feel very safe with the parking lot situation at night (more on that below)
A bathroom photo at Embassy Suites Central Austin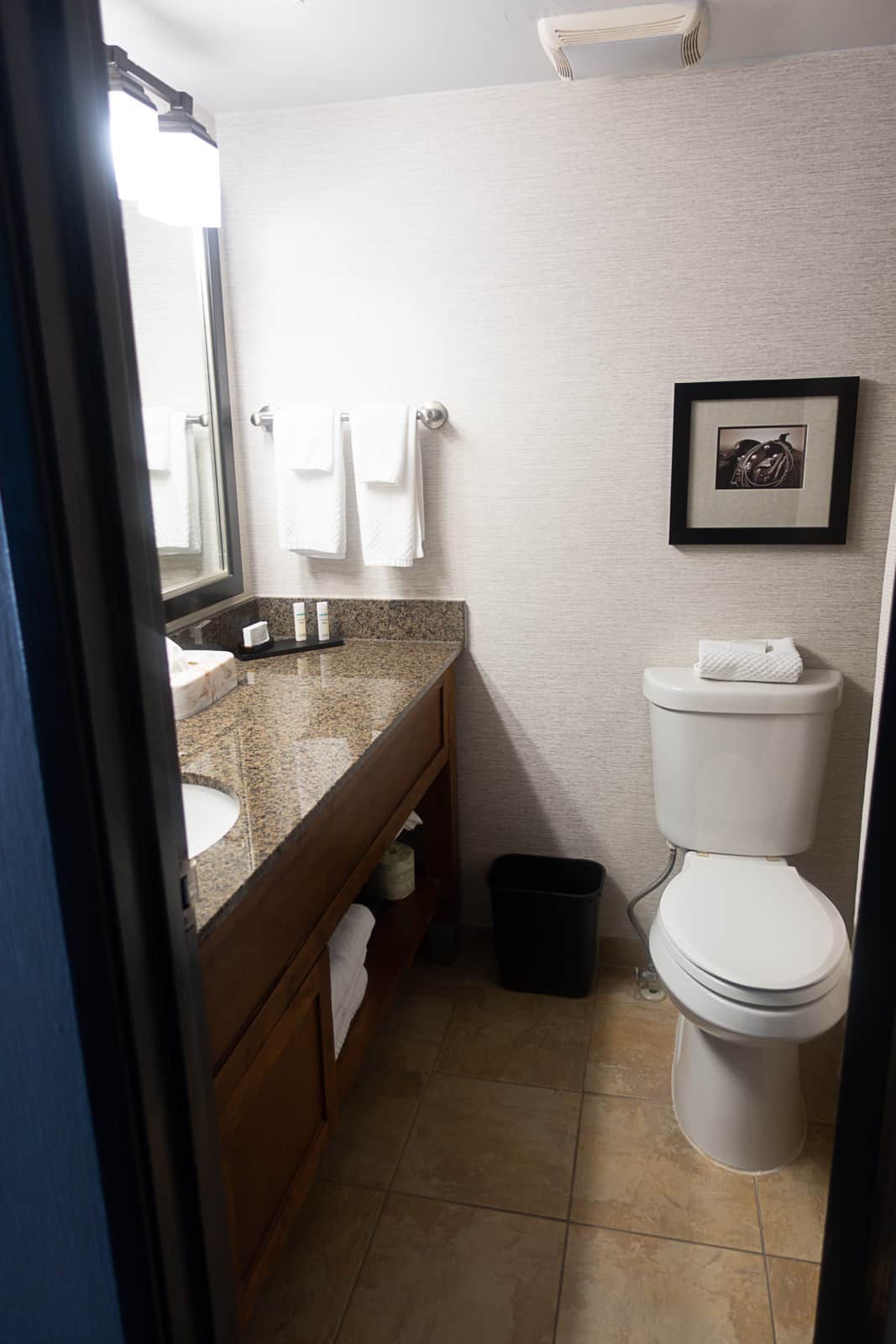 The bathroom was clean, the water was hot, but it was very, very small for a family of 3 sharing it together.
We checked out early
We decided to check out a day early and head back to Waco to eat at Magnolia Table… after 2 nights, we weren't getting a ton of sleep and wanted to head home to our regular life in Dallas.
Parking at Embassy suites Austin Central
Parking is free if you are a Hilton Honors member. They will give you a promo code to get free parking when you check in.
Certain ways to get in/out of the parking lot were locked as early as 7 AM, which made it difficult to navigate getting back to the hotel.
We were often circling the streets around the hotel looking for an entrance.
I think they lock the parking to help prevent stealing / theft of people breaking into cars.
The parking lot was very low lit, and it wasn't easy to find spaces close to the hotel.
The free happy hour at Embassy Suites Austin
Unfortunately, either the happy hour at this particular Embassy Suites hotel in Austin left little to be desired, or maybe the free happy hour program has changed since I last stayed at this hotel brand.
Where is the free reception at Embassy Austin Central?
The Embassy Suites Austin evening reception is located in a restaurant in the hotel lobby.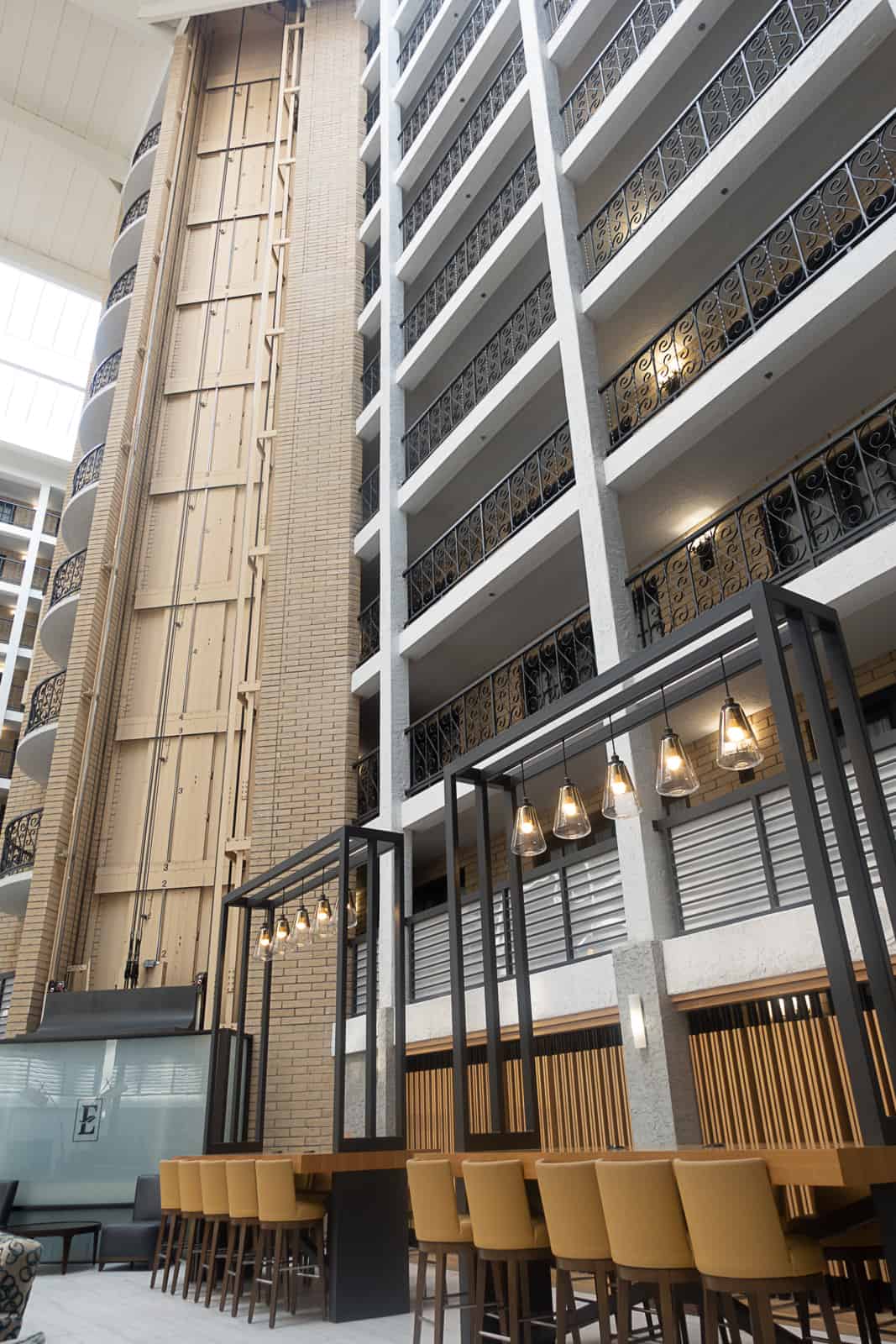 How does the Embassy Suite Austin free happy hour work?
I'm not sure if you have to be a Hilton Honors member, or everyone gets free drinks, but we were given 2 free drink tickets EACH at check in, and told to come back each day for more tickets.
Spoiler, we didn't come back for more tickets.
The drinks weren't full sized drinks.
And although there are signs all over the lobby with the great Texas beer selection offered at Embassy Suites Austin Central, those aren't covered under the free happy hour deal.
You only get Bud or Bud light on the happy hour drink menu, along with some well cocktails.
And the beers are poured in glasses which are probably about 8 oz pours.
So really, it wasn't worth bothering with the following days of our trip.
Food included in free reception hour at Embassy Austin Central
Well, this was nothing like the glorious Portland Embassy Suites free reception I enjoyed about 5-6 years ago.
I know that's a completely different city, but we also had a great reception with craft beers and tasty appetizers at the Seattle Embassy Suites when we went to a Mariners baseball game with a baby.
The food included a decent fruit tray, chips and salsa, chex mix, and I think that was it.
In contrast, when I stayed in Portland Oregon, United States, years ago, there was a fun s'mores making stand which was wonderful, along with cheese platters and enough food you didn't need for dinner.
What do you think of my somewhat negative review of Austin Central Embassy Suites?
I love to write glowing reviews of everything, but was pretty disappointed with this particular hotel reservation.
We didn't complain, but did find it interesting that it's not common customer service to ask why someone is checking out early.
Let me know if you have any questions or better recommendations for where to stay in Austin Central…
Guides for visiting Austin, Texas on Sip Bite Go
More travel tips