Check out my Dave's Hot Chicken menu tour right here. See secret menu sneak-peak access for the new Portland, Oregon location in Tualatin. Scroll to take a look at items like their sauce, kale slaw, hot chicken sandwich, fried chicken, and other sides.
Scroll to the bottom of this page for a video tour.
Special thanks to the people behind Dave's Hot Chicken for inviting us out to check out the new PDX restaurant near me and providing us with unlimited access to the menu to check out and review the items. Check out more tasty Portland restaurants for lunch.
Say hello to Nashville hot fried chicken in Portland!
Today, I'm going to take you on a little inside sneak peek inside the new Portland Dave's Hot Chicken menu. Technically the new restaurant is located in Tualatin, just a little South West of PDX. I've heard they may be opening other Oregon restaurants as well.
What is Dave's Hot Chicken?
It originated in San Diego, but they have locations all over. They're really known for all their hot spicy chicken entrees. There are a few combinations to choose from and for all of them you have to choose the level of heat of the spices added to the chicken.
So join me at my table, come and pull up a seat and we'll go through all the delicious things that we got.
Menu tips and photos
Here are some quick facts about the fried chicken restaurant with photos of the food.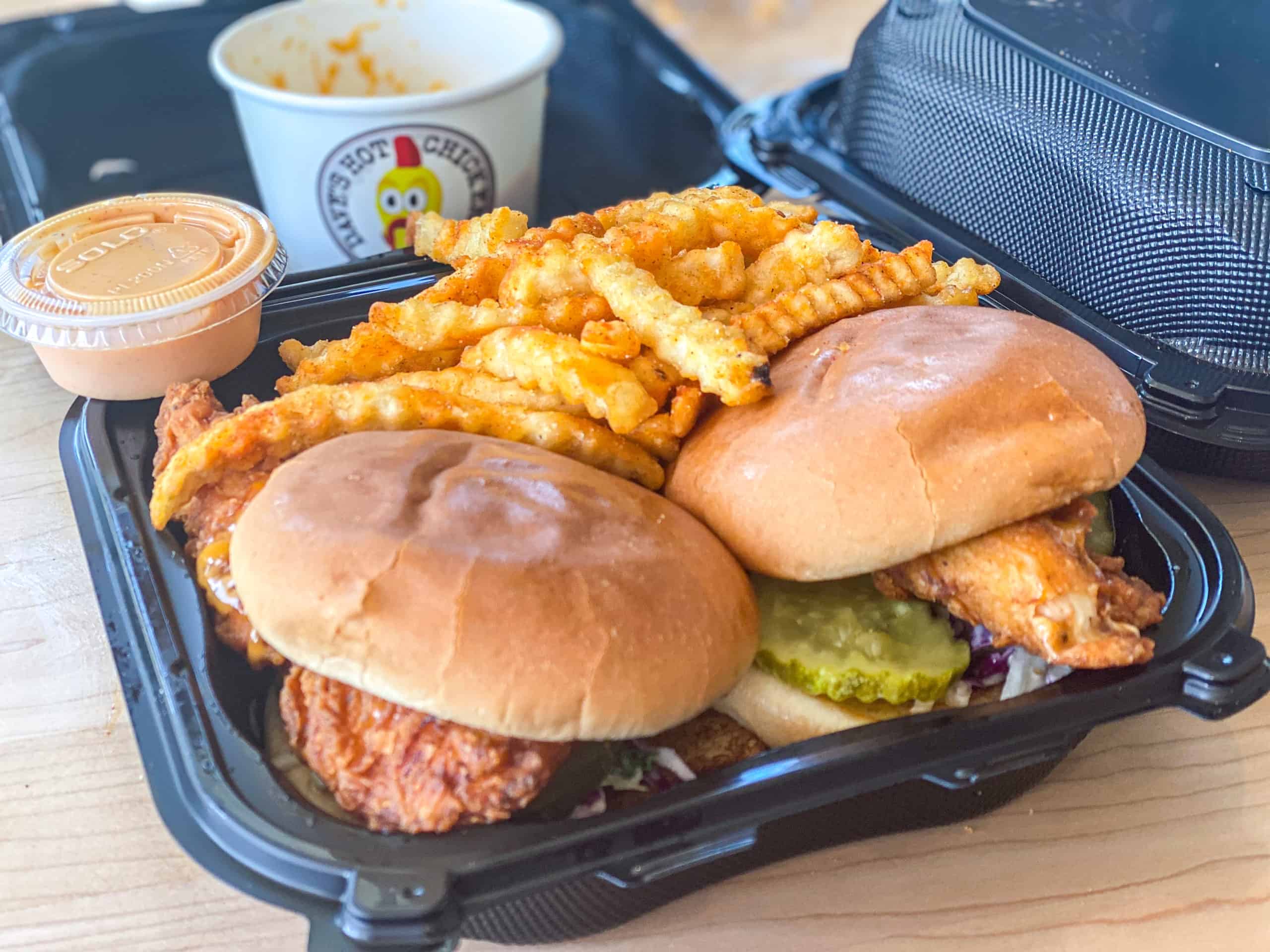 How spicy is the chicken?
As spicy as you want! You can get Dave's Hot Chicken reaper, which is the absolute top level. My husband and I were joking that the Dave's Hot Chicken chef or the guy in the kitchen who's making the reaper is working quite a dangerous job.
We wonder if there is one dedicated person who handles all those highest heat requests.
Personally, we tried the mild, light and mild flavors, which are very low in heat. Though they still had plenty of spice and flavor. It reminds me of this sous vide hot chicken recipe.
If you can't handle much heat, go for "mild" or "mild light". My toddler was able to eat the "mild" – it wasn't spicy at all.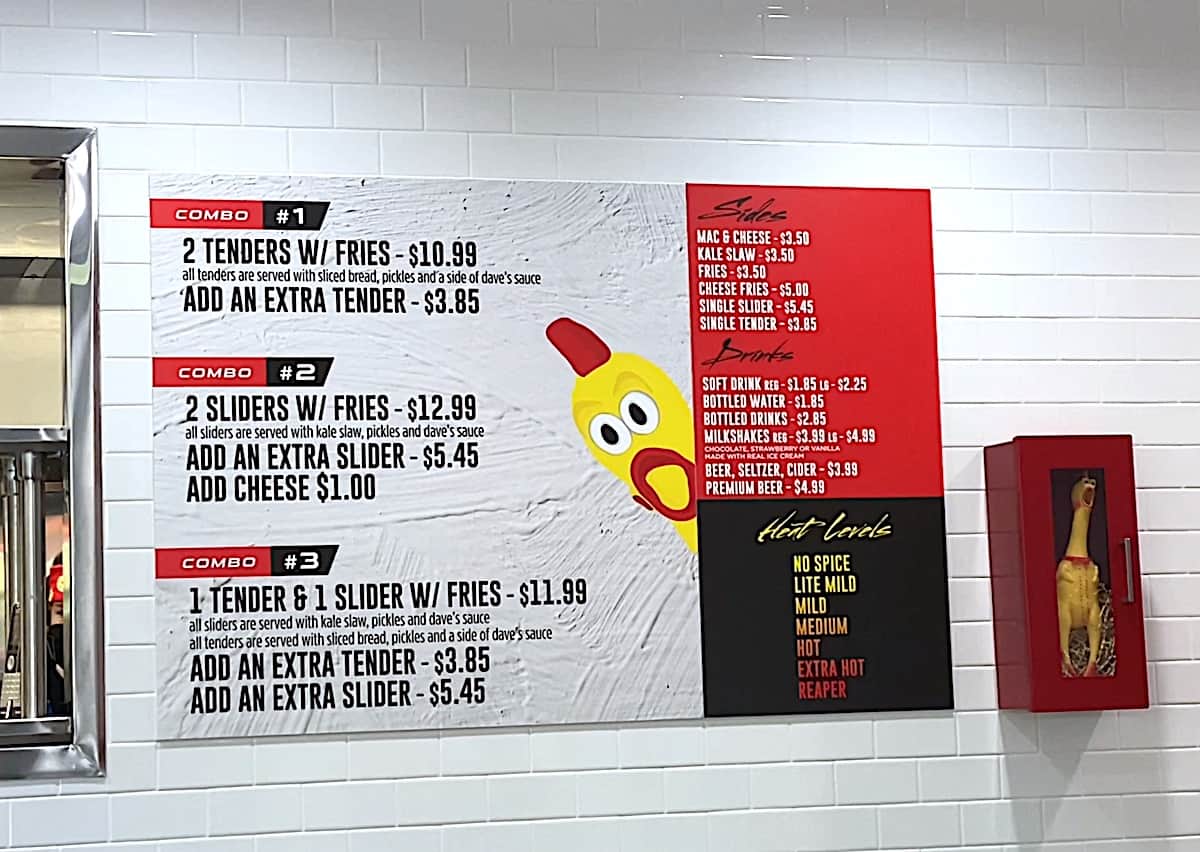 What about prices?
As far as the Dave's Hot Chicken prices go you can get Dave's Hot Chicken sliders in a combo meal, or you could get Dave's Hot Chicken sandwich in a combo meal, and they're about $10 to $12 in the PDX area.
Want to hear more about PDX food? Check out my podcast episode with Taylor Scoma about the food scene in Portland, Oregon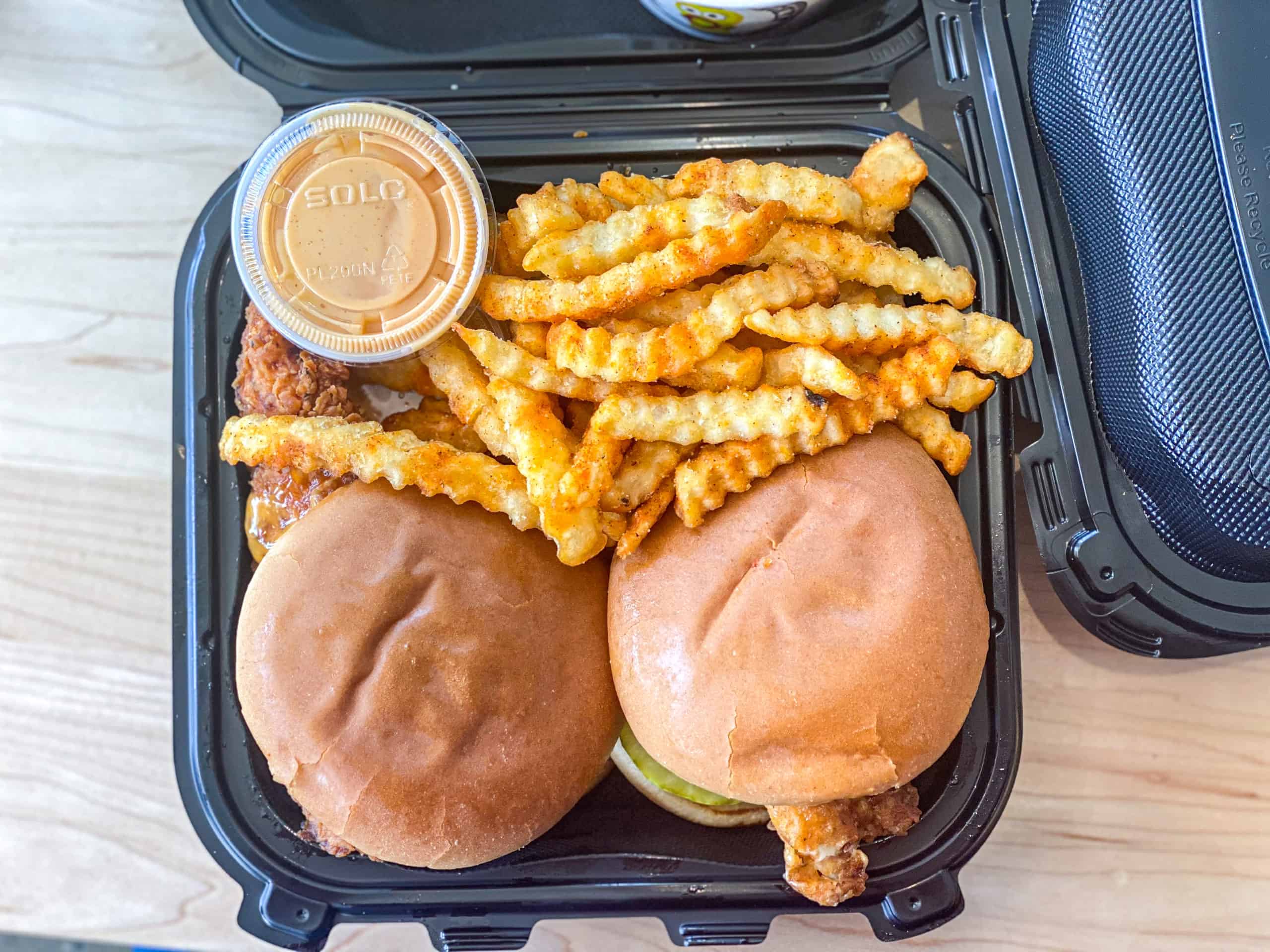 What are the fries like?
The fries were these crinkle fries and they came with so many different dipping sauces. The fries had some spices on them, but they weren't spicy.
What types of sauces do they have?
Included in the bag was a light orange sauce called "Dave's Sauce". I can't describe it without comparing it to Chic-Fil-A – which in my mind is a good thing.
It was served chilled in a container (not a squeeze tube or prepackaged packet). It was really delicious, nice and cool against the spiciness of all the chicken that we got.
There is also honey and ketchup available.
How are the sides?
We also got a side of the mac and cheese and kale slaw. They were both great. I couldn't stop eating the mac and cheese – it was just a tad spicy, and super creamy. Addictive!
Is it made to order?
Yes. I love that you could just walk right up to the counter, order your food, like in a Starbucks or Chipotle. It was ready in like 5 to 10 minutes
Inside look at the fried chicken sandwich combo
I got the combo with a fried chicken slider with a piece of fried chicken. The sliders are honestly humongous. My husband and I were like, oh my God, are these actually sliders?
We thought they'd be like half the size, but the outside of the chicken was so, so crunchy, but it was still a kind of light batter on the outside that was fried.
The pickles inside were really good too.
The chicken came drizzled with a little Dave's Sauce and was served on a bed of coleslaw style vegetable ingredients. I'll have to figure out exactly what was in them and see how many calories and what the nutrition facts are when I get a moment. We really enjoyed it.
As mentioned, the French fries were also coated in some light spices, but they weren't spicy. They were really light and crispy on the outside. They weren't greasy – perfectly fried.
Video of the Tualatin Dave's Chicken location
Here's a little video I put together of the menu and new location.
Are you a foodie, too?
I'm always sharing tasty recipes and Portland food scene photos on Instagram @sipbitego. Connect with me there and on the Sip Bite Go channel.
Thank you to the Dave's Hot Chicken people for inviting us out to check out the new location. They provided us with the meal along with other Portland restaurant media people. It was a really delicious lunch outing.
I will definitely be back for that Nashville hot fried chicken.
Cheers!
Looking for PDX things to do?
Hey foodies, don't forget to check out Sip Bite Go's guide of the best restaurants in Portland, Oregon and best Portland lunch spots.
If you're looking to do a little sightseeing, see this guide to unexpected treasures to find at Powell's Books in Portland, what to do during Fall in Oregon, and find out whether or not it snows in Oregon.
Hey foodie friends, to see the new restaurants in Portland where I'm headed next, connect with me on Instagram @sipbitego. And for more deliciousness, subscribe to the Sip Bite Go channel on YouTube and scroll through the Sip Bite Go recipe collection.