Revive Your favorite classic mac and cheese comfort dish with cauliflower
You'll forget all about the traditional mac and cheese when you try this gourmet, homemade variety. Specialty cheeses like gruyere, sharp cheddar and parmesan melt together, bubbling over quirky wheel pasta shapes and cauliflower. Panko crumbs are mixed with fresh parsley, toasted on the stove and liberally applied to the top, to make this a creamy, crunchy cauliflower mac and cheese from scratch.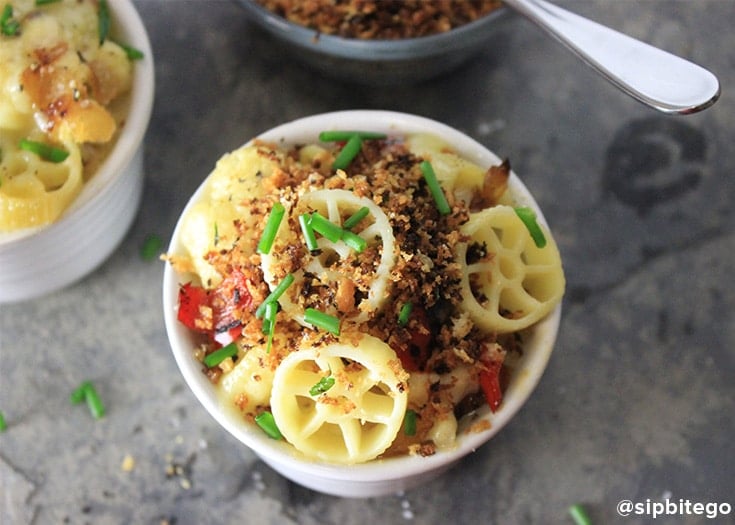 Mac and cheese with cauliflower
(+ onion, red pepper, Corn, peas…)
There's plenty of cheese in this recipe, but something about substituting cauliflower in mac and cheese makes it easier to rationalize scraping the bottom of my ramekin with a fork until every last bit of melted cheese comes up.
Yes, I add more vegetables to convince myself mac and cheese is basically a salad. (wishful thinking!). Through experimentation, I've found this recipe isn't phased by the addition of 1-2 extra ingredients (in addition to the cauliflower) such as diced onions and red peppers, corn, peas. Most of these small veggies can be tossed in raw, but if you add frozen peas or corn, I suggest you steam or heat them in a pan for a couple minutes so their frozen-ness doesn't throw off the cooking time.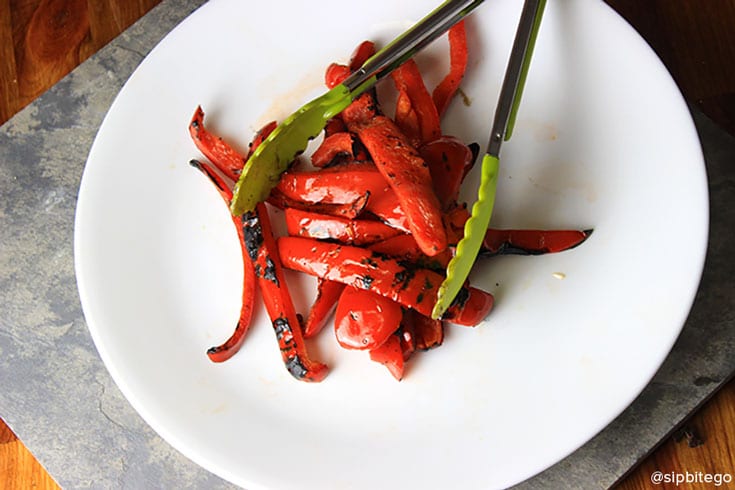 Hello my cheese loves:
gruyere, cheddar, parmesan
We live in a beautiful world where savory gruyere, sharp cheddar and parmesan cheeses are widely available in most supermarkets. At the market I frequent, there's a wide cheese display where I have options within these cheese varieties. (it's cheese heaven)
For some reason, it can be hard to find gruyere unless you ask. But, once you know where it is in the grocery store, you'll be back for more (because it's delicious and smokey and creamy).
Recently, a reader tried my Accordion Scalloped Potatoes Gratin on the grill recipe and just couldn't find Gruyere in her small town. (very sad) If you're unable to use Gruyere, make sure to get a cheese that will melt easily for similar results. In addition to mixing the cheese with the pasta dish ingredients, save about ¼ cup of the cheese mix to sprinkle on the top of this cauliflower mac and cheese before you pop in the oven.
If you're looking for a low carb meatball recipe that the whole family will love, try these porcupine meatballs! They're made of beef, not porcupine, but my addition of cauliflower rice and kale gives them a super fun look and texture.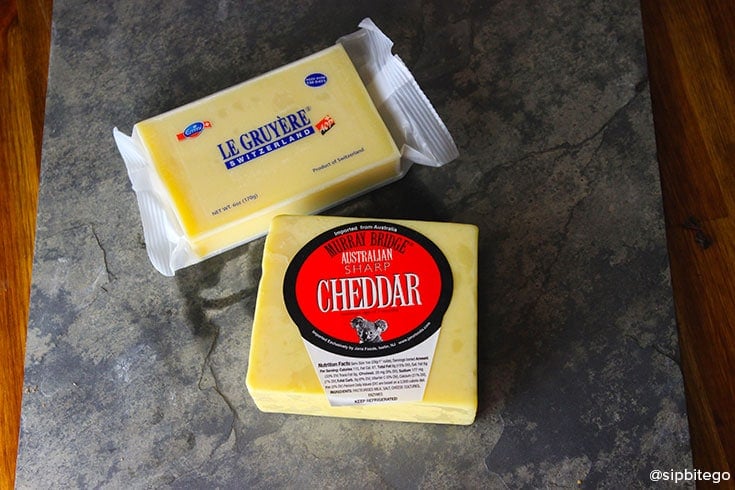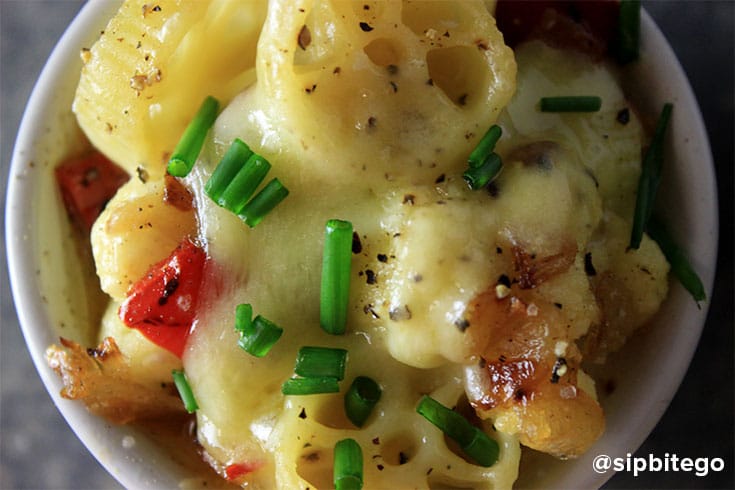 Add the ingredients to your grocery list, and put cauliflower mac and cheese on your menu!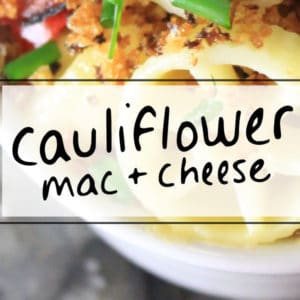 Crunchy cauliflower mac and cheese recipe
This cauliflower mac and cheese recipe tastes just as decadent as regular mac & cheese. It's made special with grill or roasted red peppers and caramelized onions. Plus, there is plenty of crunch to sprinkle on the top. I'll give you the recipe in steps so you can get organized... Enjoy!
Print
Pin
Rate
Ingredients
Bring out the flavor (prepare the onion + red pepper)
1

cup

yellow onion

cut in long strips for grilling -OR- diced for sautéing
1

red pepper

cut in long strips for grilling -OR- diced for sautéing

2

tsp

olive oil
Panko for major crunch
1

tsp

olive oil

⅓

cup

panko crumbs

3

tbsp

parsley

fresh, chopped fine
Time to boil
2

cups

pasta

wheels / elbows / sauce-gripper shapes

2

cups

cauliflower

florets
Make the filling
2

tbsp

garlic

grated

1

tsp

olive oil

¾

cup

sour cream

low-fat

¾

cup

milk

2%

1 ½

cup

gruyere cheese

1

cup

sharp cheddar

¼

cup

parmesan (or assaggio) cheese

¼

cup

cheese

grated scraps (to top before baking)
Instructions
Bring out the flavor (Prepare the onion + red pepper)...
Decide if you want to grill or sauté the onion and red pepper.

Option 1: Sauté the diced yellow onion and diced red pepper with 1 tsp olive oil on low heat in a small pan for 10-20 minutes (until transparent and starting to turn brown / caramelize). Save the pan (don't wash it yet) for cooking the panko crumbs later...

Option 2: Access to a grill? Spray some olive oil and grill your onion red pepper strips until light grill marks appear on both sides. When cooled, dice and mix with the cooling caramelized onions.
Panko for major crunch
Add 1 tsp olive oil and ⅓ cup panko crumbs to the empty pan. Stir on low for a few minutes until panko crumbs are golden brown. Cut off the heat, add 3 tbsp fresh parsley, set aside in a small serving bowl to offer for the big crunchy topping.
Time to boil
Turn on the heat. You'll use one pot of water to make the pasta and cauliflower at the same time. Bring a large pot of salted water to a boil over medium-high. You'll cook the pasta 3 minutes SHORT of al dente before adding in the cauliflower for the final 3 minutes. Drain the pasta + cauliflower, set aside. Use this large pot to make the filling.
Prepare & pre-heat
Choose your serving dishes + coat with non-stick spray: 8x - small ramekins | 4x - small crocks | 1x - 9" square dish Heat oven to 375 degrees.
Make the filling
Lightly sauté the garlic in olive oil in a large pot (perhaps the same one you boiled the pasta and cauliflower?). When garlic becomes transparent, mix in the pasta, cauliflower, low-fat sour cream and 2% milk. Stir together then gradually add in the gruyere, sharp cheddar and parmesan (or assaggio) cheese. Mix together.

Put cauliflower mac and cheese in ramekins or baking dishes. Sprinkle with grated cheese "scraps" and put in the oven for 10-15 minutes (until cheese on top is melted).
Finish + serve
Sprinkle panko on hot cauliflower mac and cheese and serve.
Send me a photo
On instagram, twitter, or facebook? Show me what you made at @sipbitego!
Notes
Recipe for CRUNCHY cauliflower mac and cheese.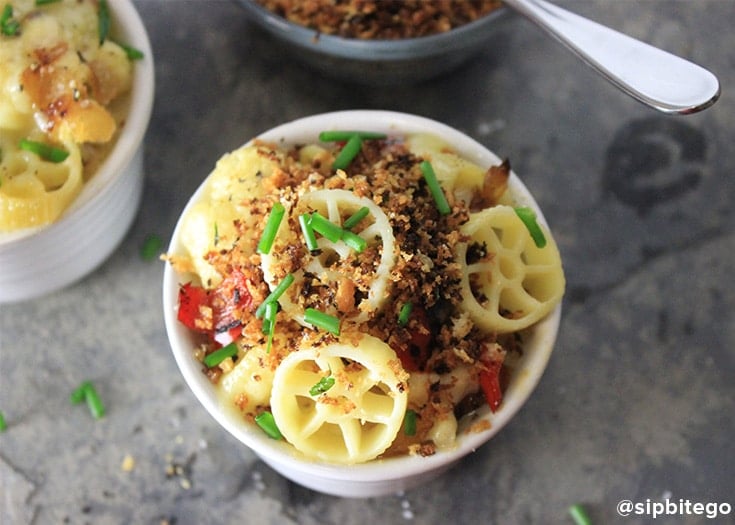 Nutrition
Calories:
694
kcal
|
Carbohydrates:
40
g
|
Protein:
35
g
|
Fat:
44
g
|
Saturated Fat:
24
g
|
Polyunsaturated Fat:
2
g
|
Monounsaturated Fat:
14
g
|
Cholesterol:
123
mg
|
Sodium:
599
mg
|
Potassium:
582
mg
|
Fiber:
4
g
|
Sugar:
9
g
|
Vitamin A:
2400
IU
|
Vitamin C:
71
mg
|
Calcium:
977
mg
|
Iron:
2
mg