Learn how to clean a flat black glass stove top in just a few quick and easy steps! Cleaning the stove really is the secret to a clean kitchen, after all. Today I'm sharing easy tools, products to use that won't scratch or leave streaks, and how you can keep your black stove top clean. Even if you cook all the time like me, you can have a pristine glass stove top, too.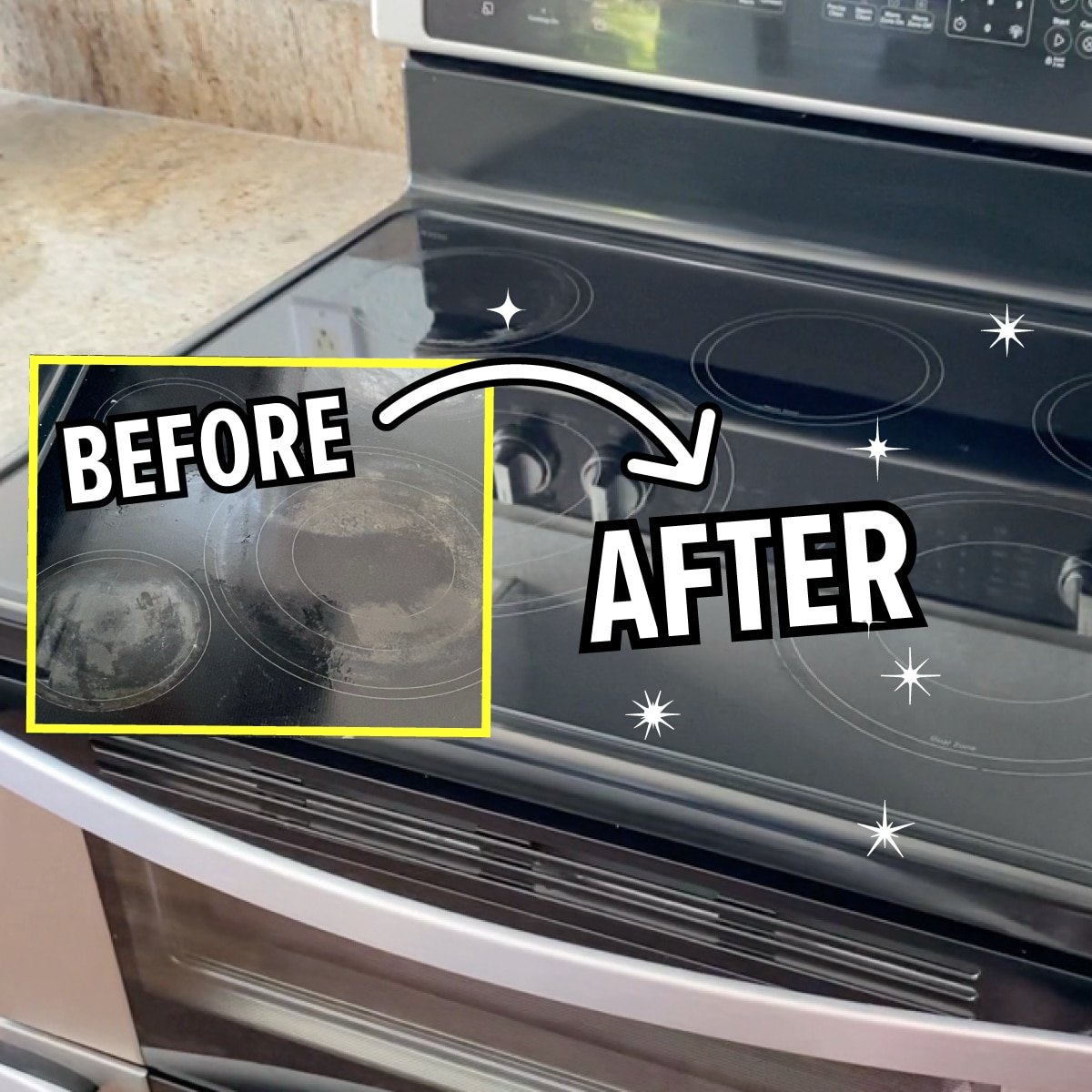 Clean a flat black glass stove top in no time
Here are just a few of the key topics I'll cover in today's stovetop cleaning guide:
Steps to cleaning a flat stove top – Do you know exactly what you need to do? Do you wipe things down first or scrub first? I've got you covered with a quick 5-step process.
What you need to clean a flat cooktop – Homemade remedies and my store-bought favorites! Don't waste your money experimenting with pricy products when you can learn exactly what you need to clean a flat black glass stove top.
Product tips that will speed up cleaning – No one wants to spend an hour of their day scrubbing away at the stains caked onto the stove! I have a few tips and tricks to speed up the process so you can get back to cooking.
How to keep your flat black stove top clean – Once it's clean, you want it to stay that way, right? You can take preventative steps after each use to avoid stains in the future.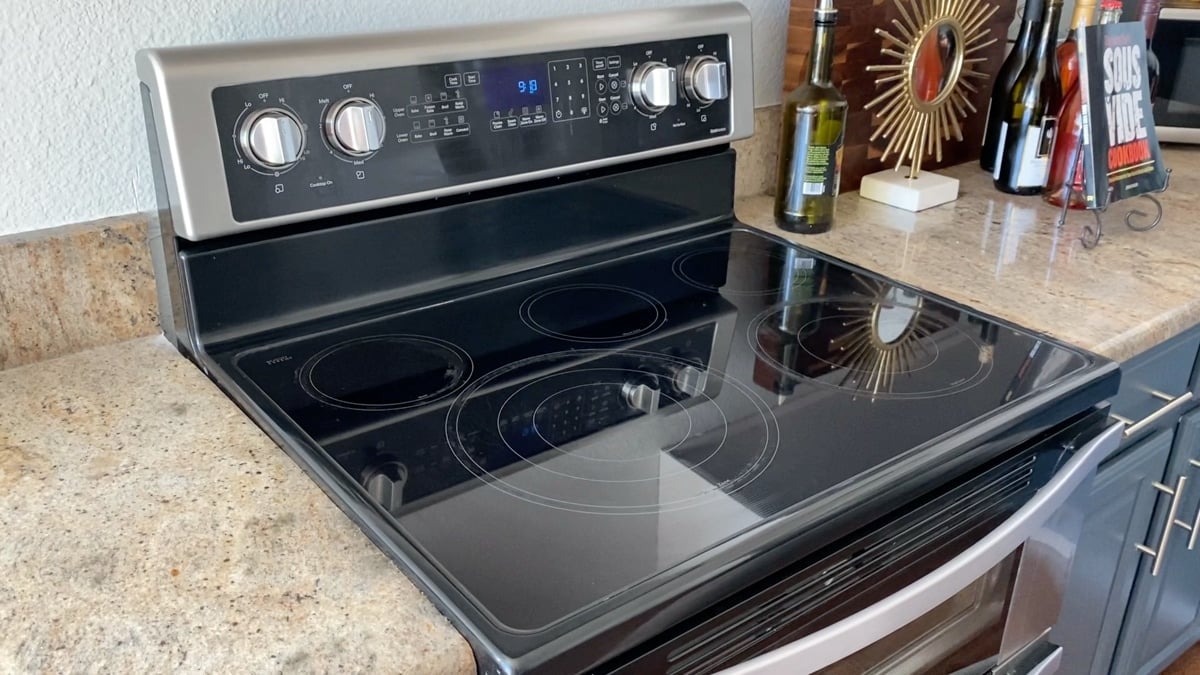 What you need to clean a flat black glass stove top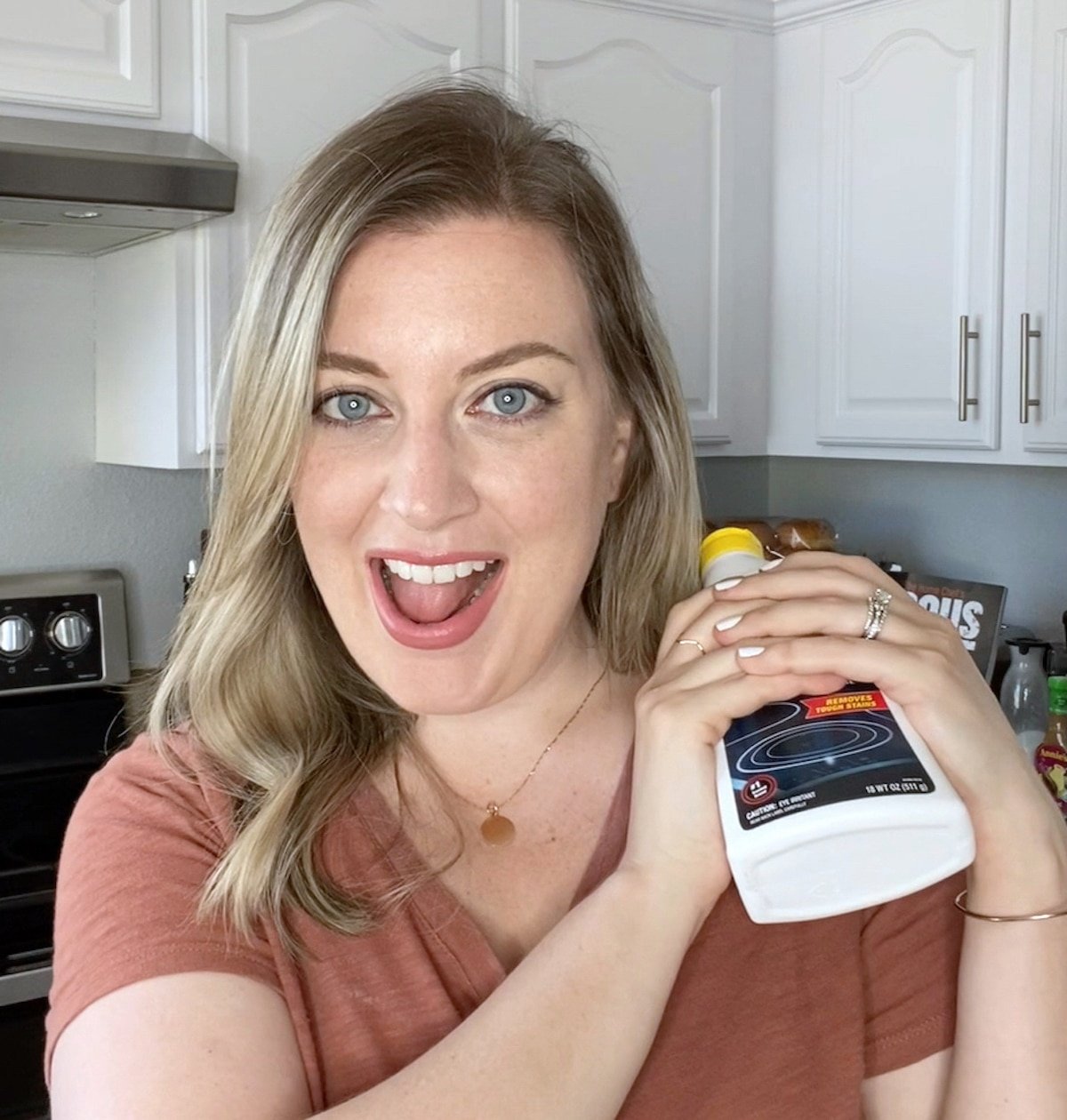 Abrasive cleaning tools to avoid:
Avoid using any metal tools or steel wool scrubbing tools as well as metal utensils like spoons or knives. These materials can easily scratch and damage the stovetop. If absolutely needed, a plastic knife or plastic spatula may help chip away stubborn burned food areas on the stove. Avoid scratching your stovetop when using them.
DIY home stove top cleaner:
You can make your own stove top cleaner at home using baking soda and water until you have a paste consistency, or you can opt to purchase a stove top cleaner.
Store bought stovetop cleaner:
When purchasing a stovetop cleaner, you'll find many are known for both cleaning and polishing, which is great. Choose one that is non-abrasive – you don't want to add scratches to your cooktop.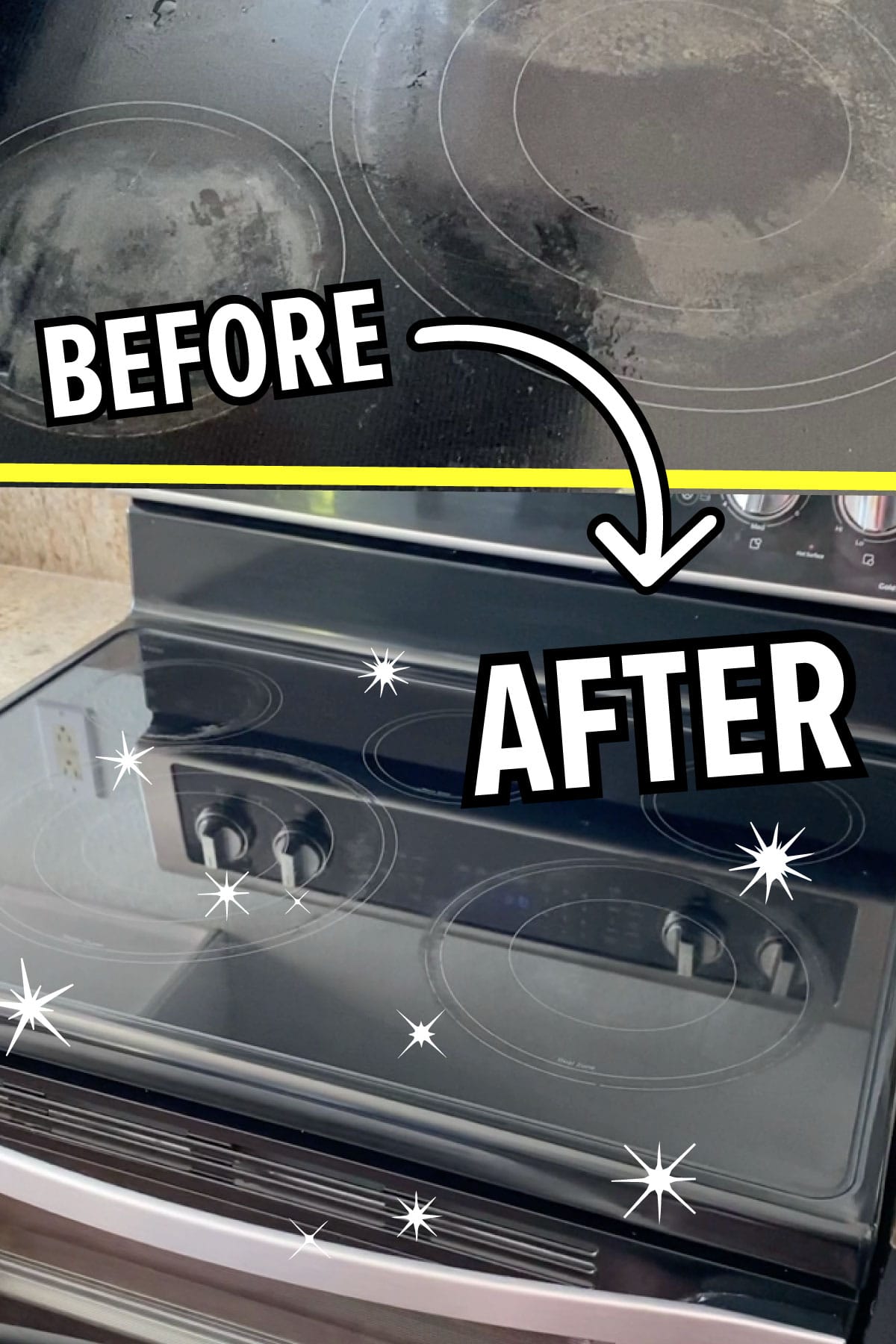 How to clean a flat black glass stove top
Step 1. Gently remove whatever burnt-on food or grease will come off easily with soap and water or a kitchen spray cleaner with a rag, sponge, or paper towel. Do not use anything abrasive.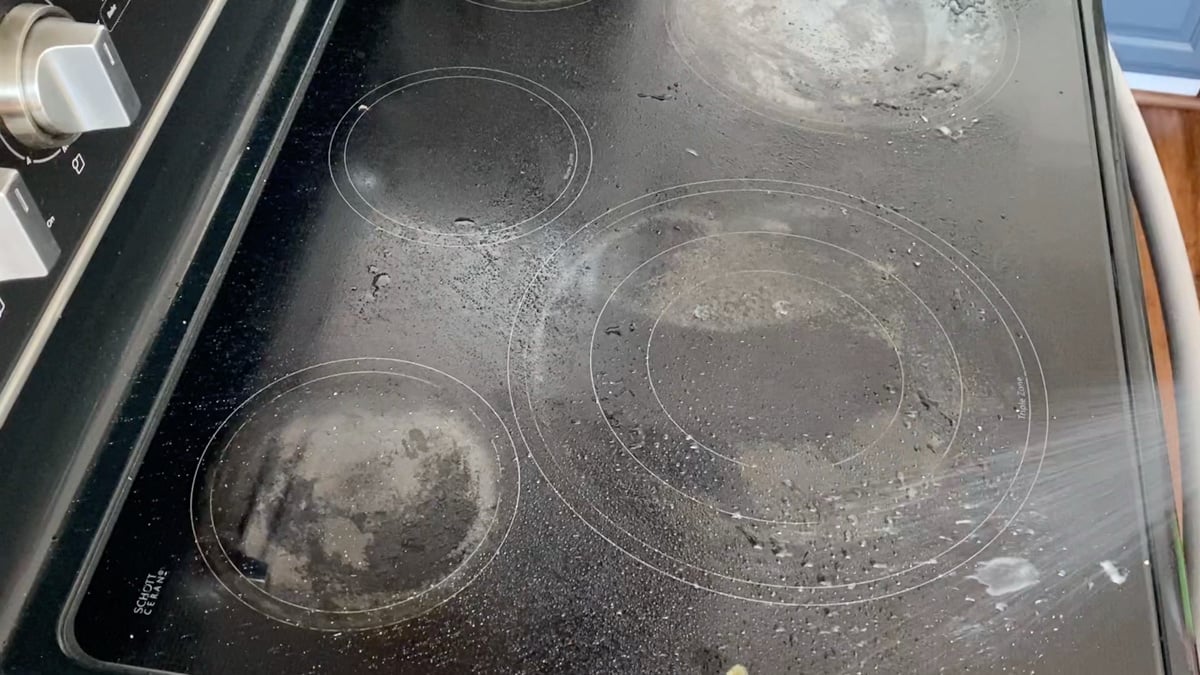 Step 2. Apply a flat black stove top cleaner – either a homemade stove cleaner or a store bought kitchen cleaning product, like the white gel used in my guide.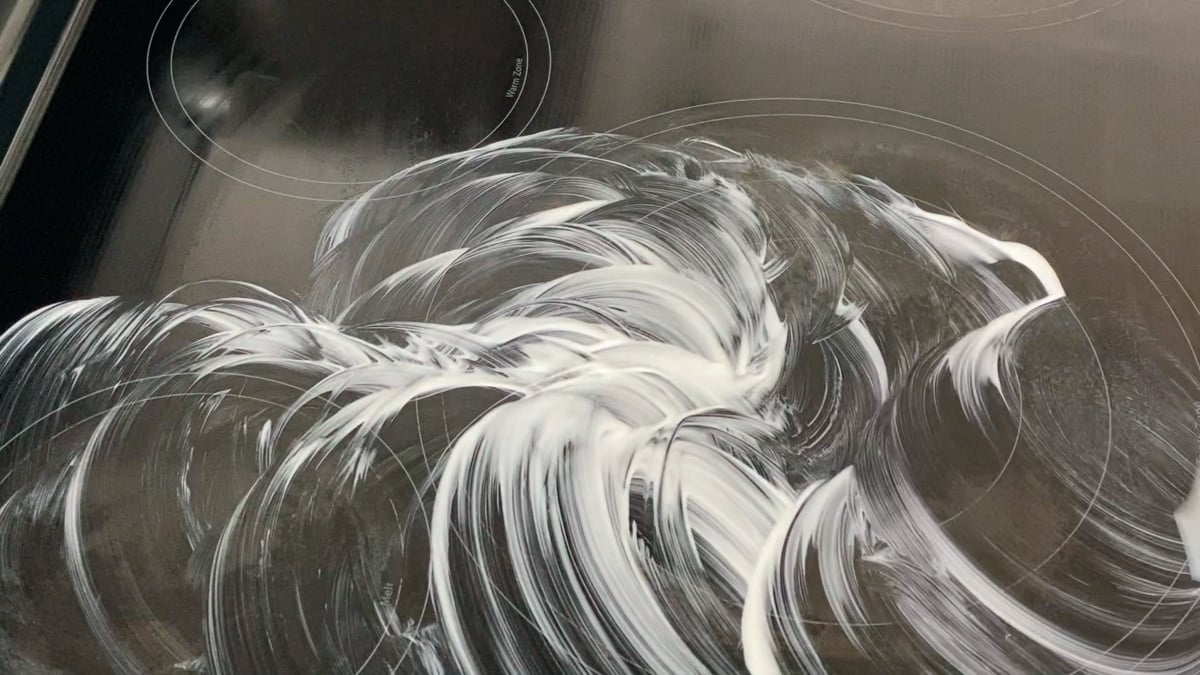 Step 3. Let the cleaner sit for at least one minute or as indicated on the product package. Certain brands of cleaner may change color, indicating that it is time to wipe them off.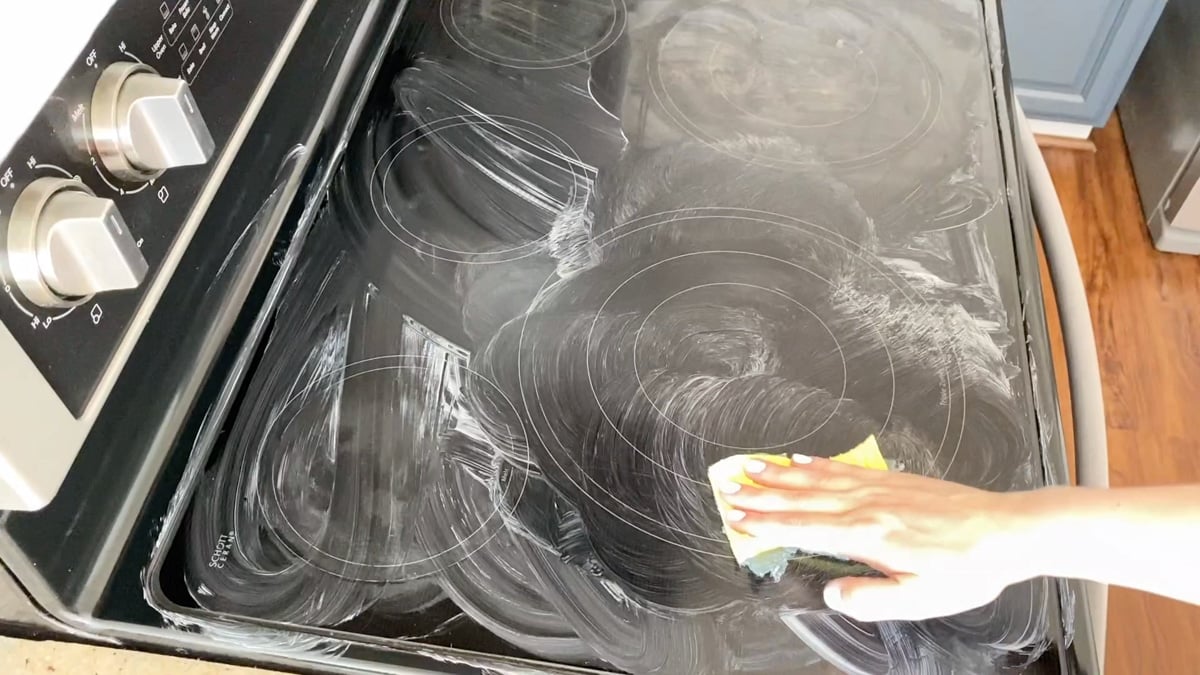 Step 4. Get in there with a soft sponge and scrub any stubborn food stains. This is the perfect job for a sponge on its way to the trash can.
TIP: The stovetop cleaner may start to dry as you clean. If you need to get in and wipe down tough, nasty areas to remove burned food, wet the sponge and use some muscle.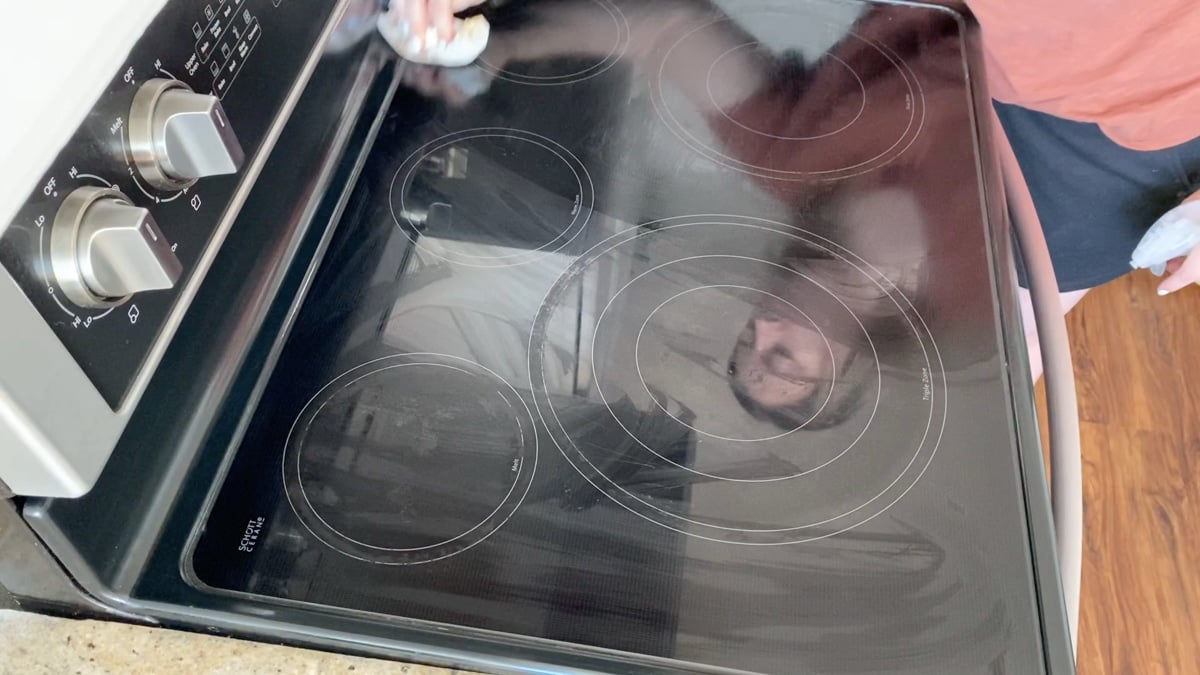 Step 5. Use a clean wet paper towel to wipe off any remaining stove top cleaner.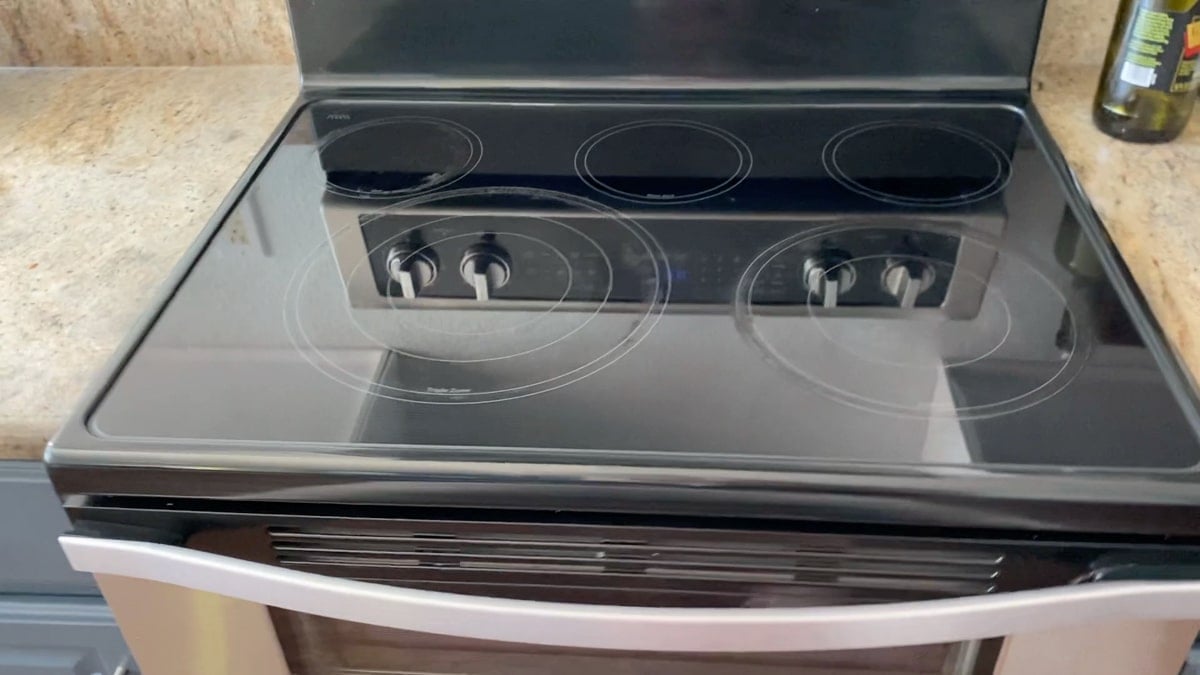 FAQs
Can I clean a flat black glass stove top while it's hot?
No. It's not the best idea to clean a flat stove top while it's hot. Although it can be tempting to want to clean up a spill or a dirty cooktop as soon as you're done using the stove top, wait until it has cooled to clean. Once it's clean, the sooner you get to the cooled down mess, the better.
How much stove top cleaner do you need?
When using a stovetop cleaner, whether you've made a paste at home or purchased a product in the store, don't use more than a quarter-size amount. Obviously, read the instructions, if you have them.
What if food won't come off when I try to clean a flat black glass stove top?
If any dirty baked-on or caked on spots remain, apply the cleaner directly to the stovetop where it's needed the most. Leave on for 1-2 minutes. If it still won't come off, leaving it on one to two minutes should be enough time. If needed, scrub at the cleaner using a soft scrubbing brush, toothbrush, or cloth, then wipe away completely. Apply a second time to polish if desired.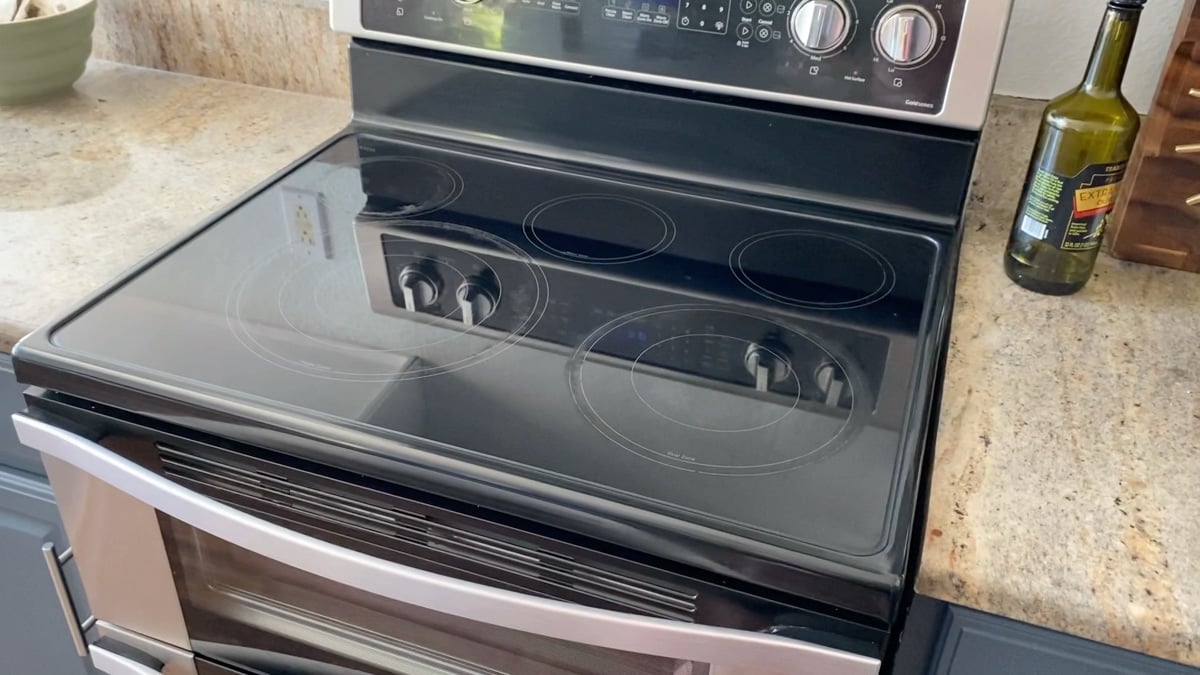 Is your house dirty? Or are you moving into a new house with a dirty kitchen and bathroom? See my tips cleaning must haves tips.
Final tips for keeping your flat stovetop clean
Prevent stains and burns on your stovetop. Although it's great to know that you can fight stains and burns with the right materials, it's a good idea to prevent them in the first place by wiping down your cooktop often.
Always wipe when the surface is cool. Always wipe it down when it's cool to avoid water burning onto the surface and be sure to remove any food that is on the cooktop. You can use soap, water, and a sponge for regular cleaning, and be sure to avoid any corrosive or abrasive products or materials.
Really focus on the "problem areas." The preliminary wipe-down with a cleaner is an important step because it allows the heavy-duty stovetop cleaner to do its job on the toughest stains. Using a soft sponge or cloth using gentle soap and water to remove any food that is caked on, might help.
Opt for a kitchen cleaning product. In order to get stains left for a long time on the stove, and other deep stains or burned food off the stovetop, it's easier to use a stovetop cleaner.
Check your newly clean stovetop for underlying issues. Do you have any scratches or cracks in your stovetop you can see now that it's cleaner? Cast iron can easily scratch flat glass stove tops due to both their weight and rough surface material. If you have issues, get them addressed and opt for simple baking powder and water cleaner (add a splash of vinegar to give it a boost) instead of adding chemicals that may get in the cracks and heat up.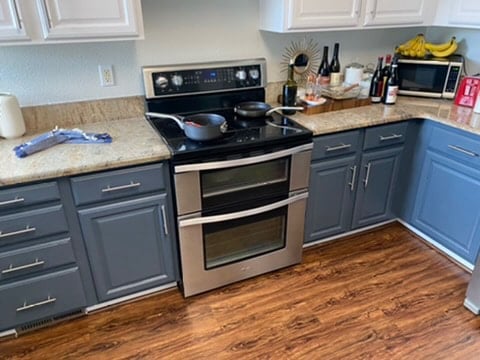 Kitchen tools to help
Here are the basic tools to clean your kitchen countertop
This past year, I moved from a gas range stove to a black stove top and had no idea how to clean it. Cast iron pans are used in a ton of my day to day sous vide recipes and I didn't know if the stovetop cleaner would help.
That's how I went on this journey of learning how to clean a black glass top stove to share with you today. Hope you found it useful!
See my glass cooktop cleaning video on YouTube.
Are you a foodie, too?
Find me on Instagram to let me know what you think about this recipe @sipbitego.
And if you love the idea of eating restaurant-style food at home – subscribe to the Sip Bite Go channel.
Find new ways to enjoy your favorite food with sous vide cooking. Get inspired with my new book – The Home Chef's Sous Vide Cookbook.