There's a wonderful versatility when it comes to sous vide chicken recipes. You can sous vide everything when it comes to chicken, from sous viding a whole chicken, to parts like just sous vide chicken wings and just sous vide chicken thighs.
Today you'll learn 13+ tasty sous vide chicken dishes to love…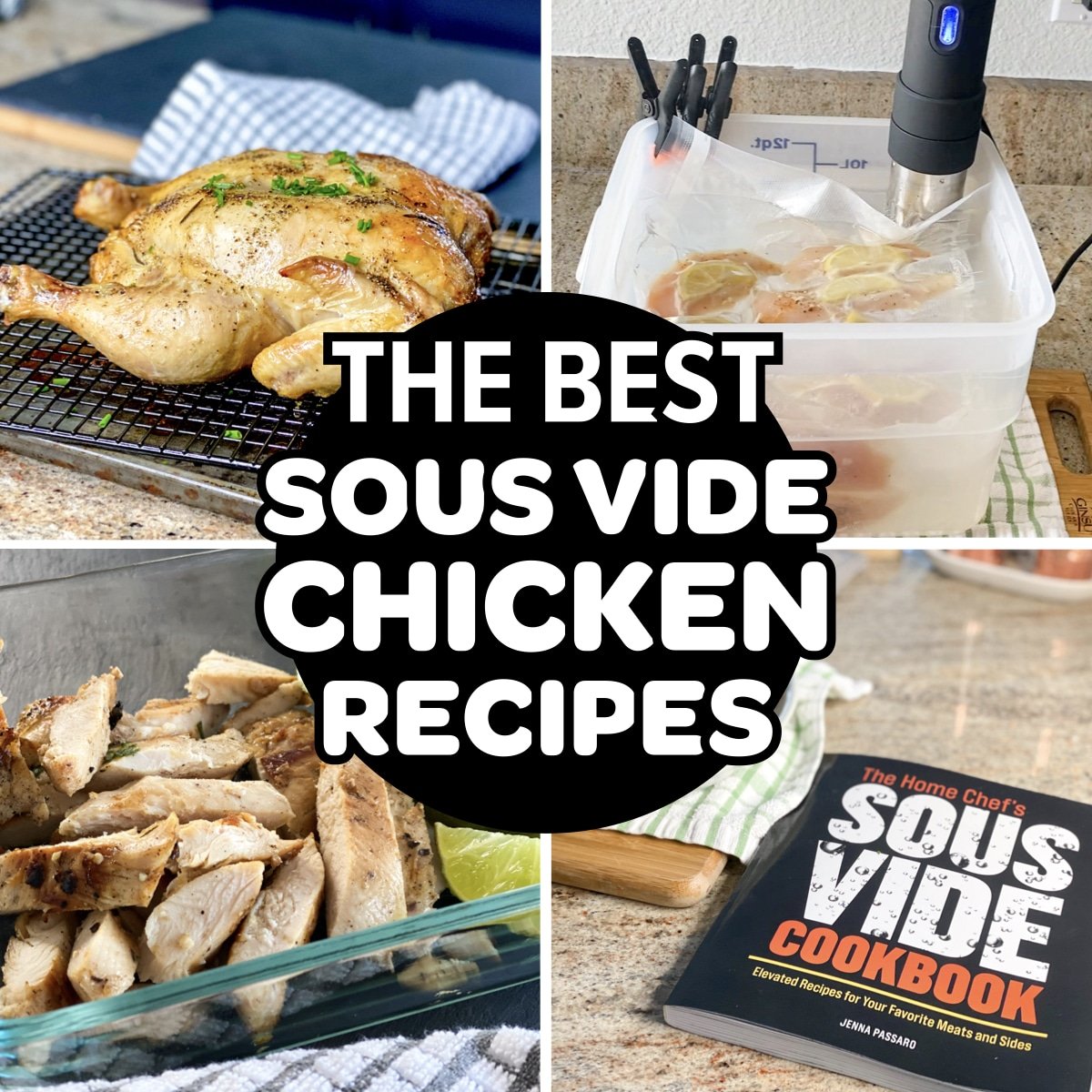 The best sous vide chicken recipes don't just give you time and temperature, though—they tell you how to make easy sous vide meals with chicken that are fun, well-balanced, and a treat for both eye and palate.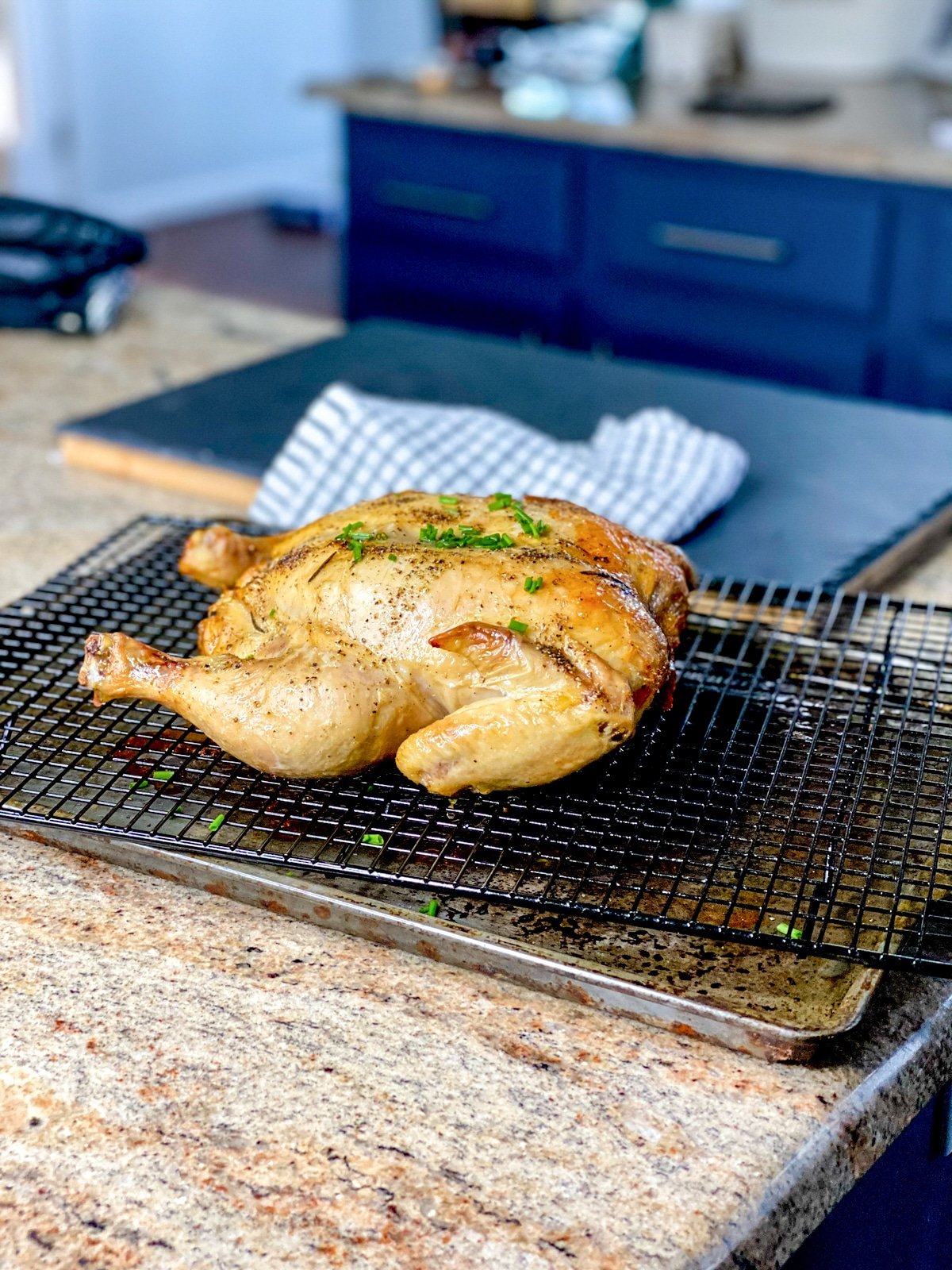 Where to find the best chicken sous vide recipes
Here I want to share with you some of my favorite recipes, some are right here on Sip Bite Go in the sous vide recipe index. Others are in my new sous vide cookbook. It's crazy to go from food blogger to cookbook author.
But honestly, if you're a busy person who wants to eat tasty restaurant-style meals at home, you won't find better sous vide cookbooks for beginners anywhere. My heart, soul, and favorite flavor combinations for sous vide chicken are packed in the book.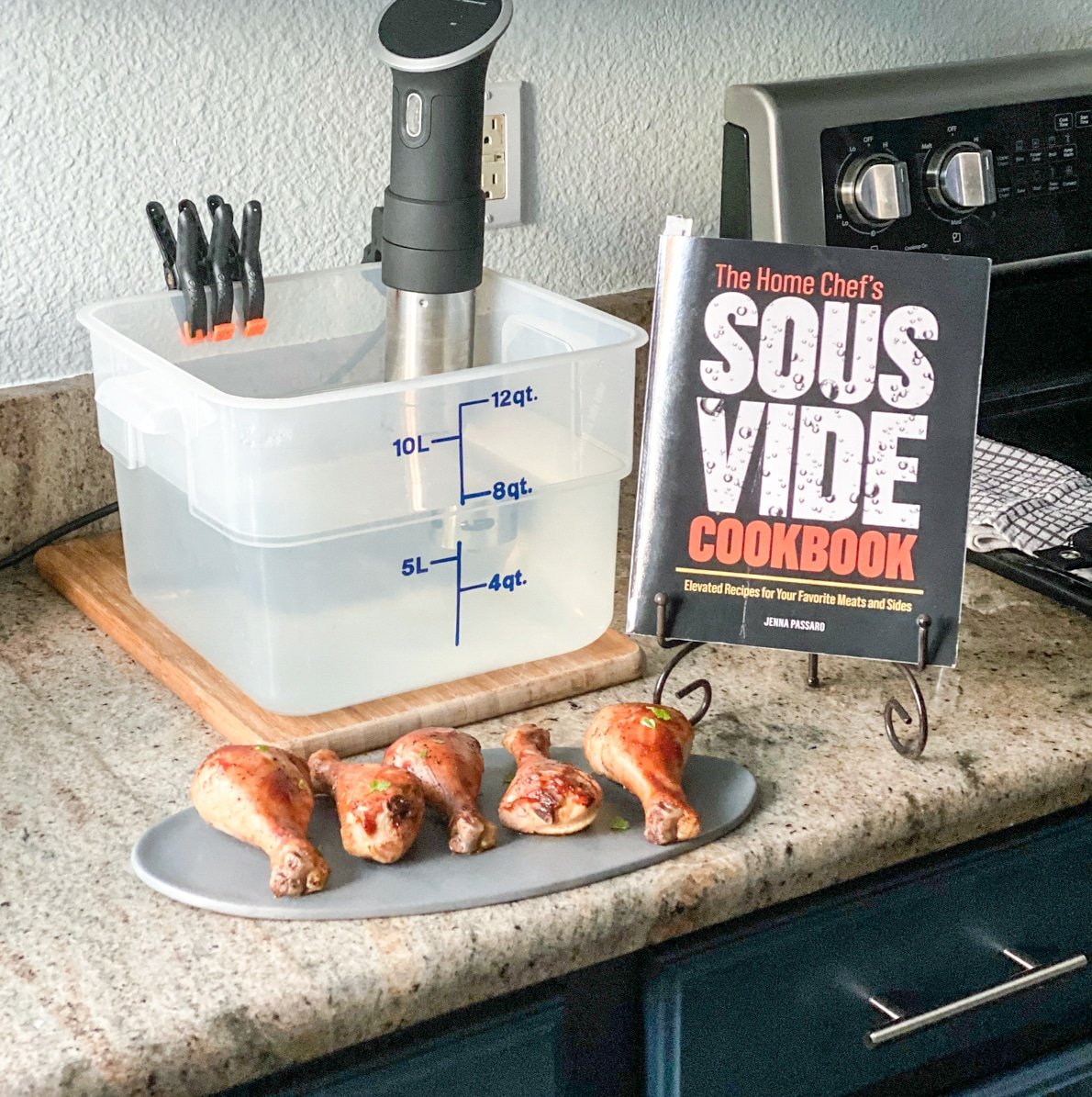 Best Sous Vide Chicken Recipes for Entertaining
1. Sous vide chicken wraps
Maybe you never thought chicken wraps could be a sous vide recipe—but they are! My Sous Vide Buffalo Chicken Wraps with Blue Cheese Slaw are a guaranteed crowd-pleaser, but I don't just make them when we have company– I love to make them ahead when we're planning a day trip to the local vineyards or if I want to pack something extra-yummy for work lunch.
It hits all the marks for a balanced, high nutrition meal out, all wrapped up in a tortilla. If you were wanting to make them for sous vide party food, skip the assembly and set up a DIY buffalo chicken wrap bar so everyone can make their own.
See how to make smoked butterflied chicken legs…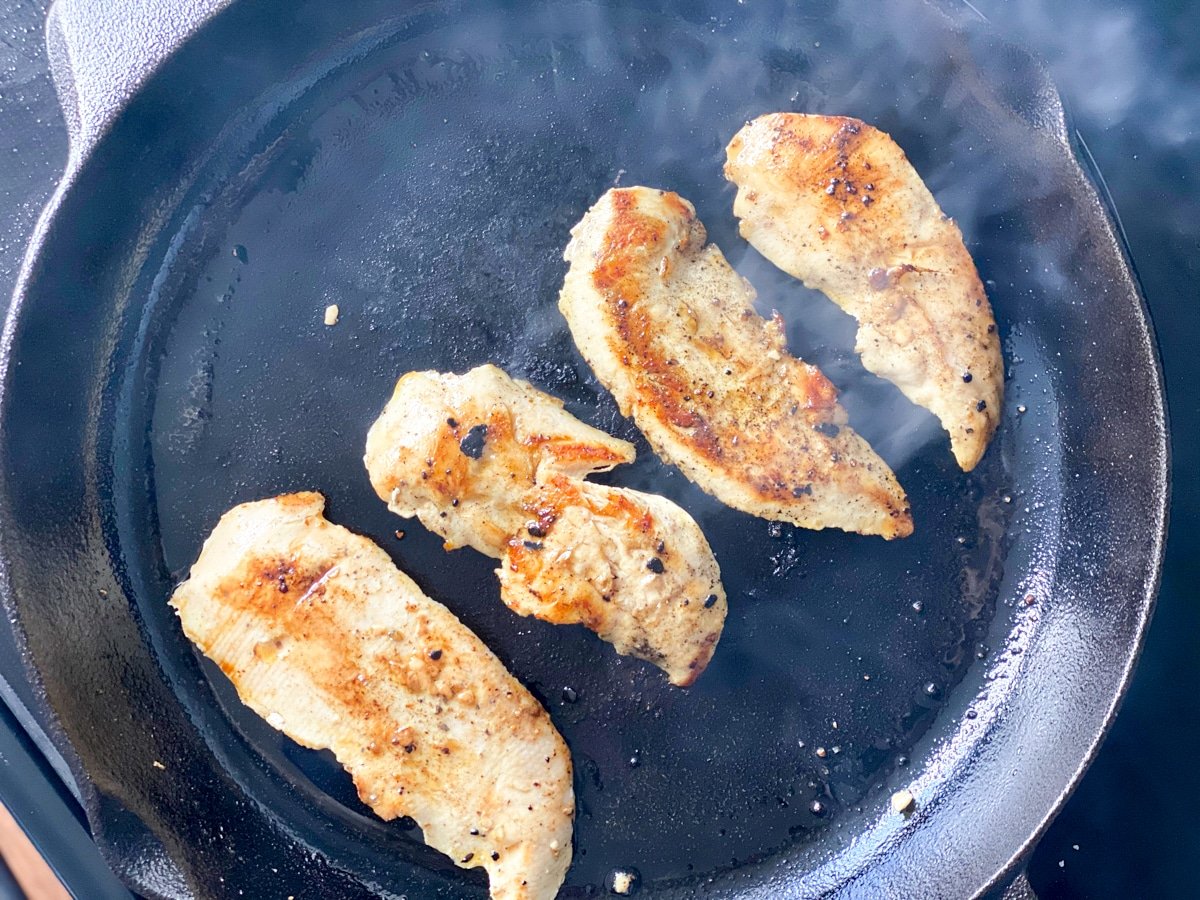 Check out a similar version with traditionally cooked frozen chicken – crispy buffalo chicken wraps.
2. Sous vide sandwiches with chicken
When I'm in the mood for a spicy chicken sandwich a lot of times I'm craving either buffalo sauce or Cajun food. Ever since our first trip to Nola, when my husband was working in a Cajun restaurant, I've been addicted to blackening seasoning on chicken.
So I'll whip up a big batch of Creamy Chipotle Sous Vide Chicken Sandwiches—served on sesame buns with red onions, home-made creamy chipotle sauce, and cotija cheese, these sandwiches are a favorite on hot summer days. Sous vide party food done right. The actual sous vide cook time is just 60 minutes.
Like Italian food? Try chicken breast sous vide style in these balsamic marinated Caprese chicken sandwiches.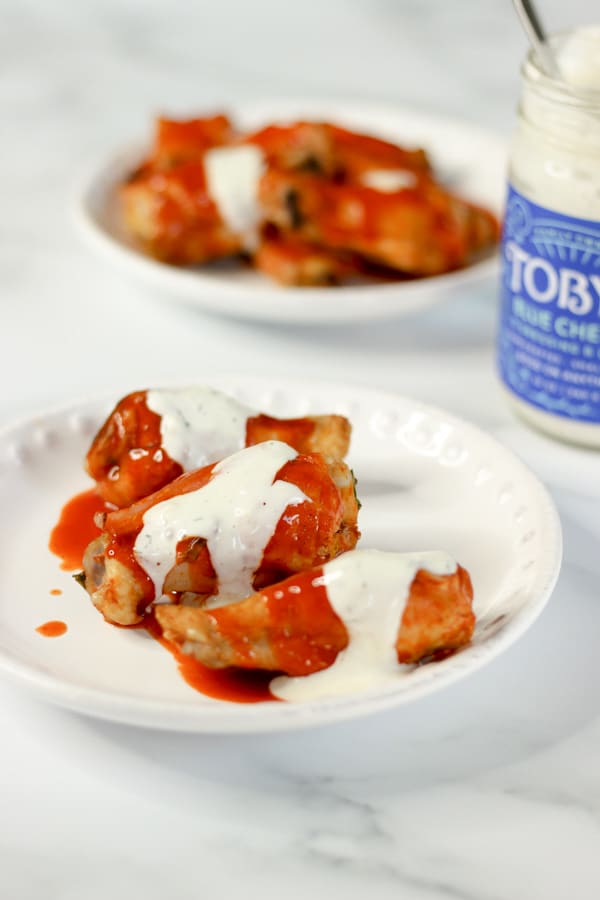 3. Chicken wings sous vide style
Game Day Sous Vide Buffalo Chicken Wings is one of my favorite easy sous vide recipes for feeding a crowd—think football party, barbecue, or picnic. Crisp and juicy, these sous vide buffalo chicken wings cook up quickly in about an hour. The last step— finishing in the broiler, on the grill, or in the air fryer— takes three to five minutes.
Don't miss my sous vide wings temperature guide.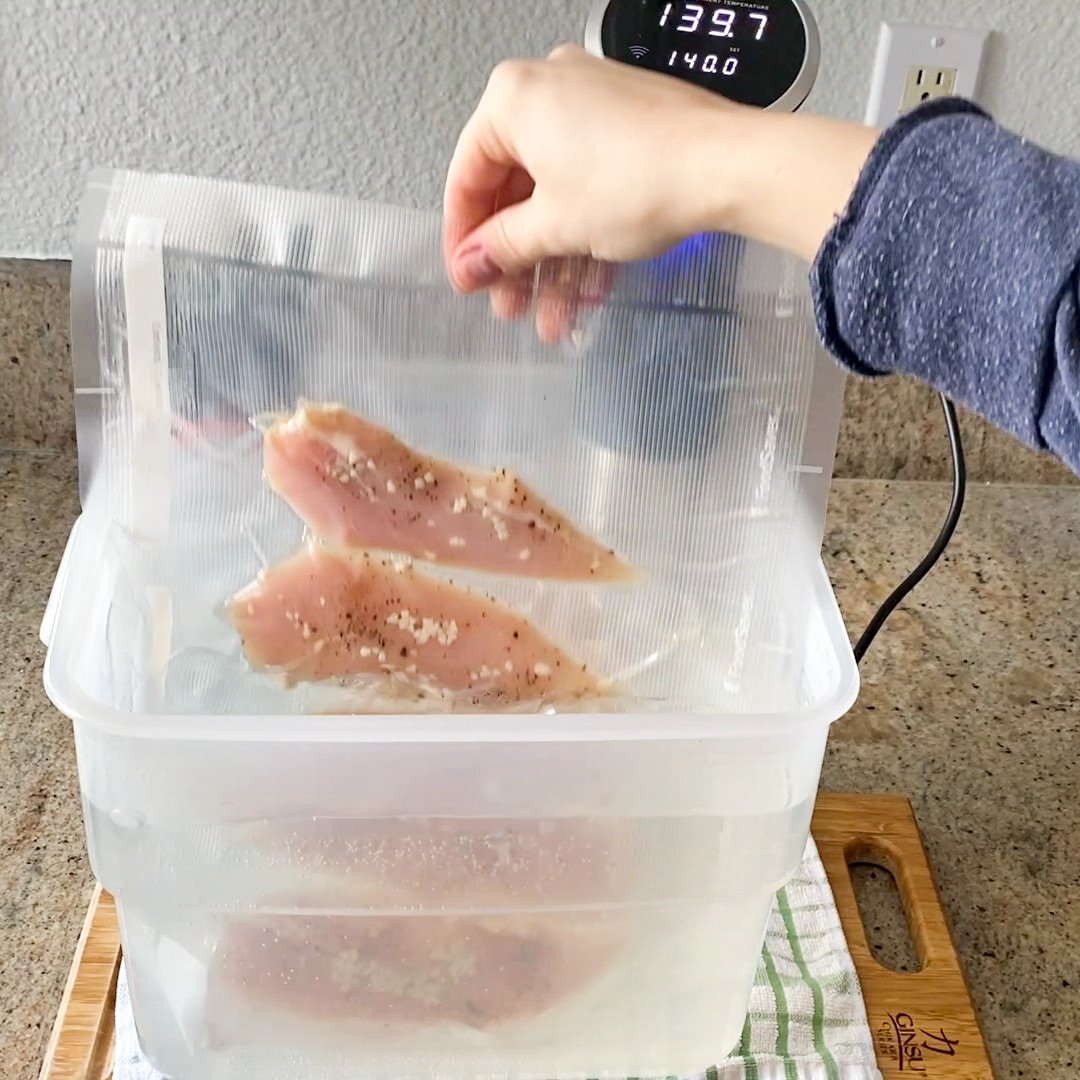 4. Italian inspired chicken sous vide
Prosciutto Wrapped Sous Vide Chicken Tenders are melt-in-your-mouth delicious, with a rich, salty flavor that everyone will love. Thyme, garlic, pepper, and olive oil combine to give this sous vide chicken recipe some wonderful herby goodness. Serve with rice, quinoa, or boiled spring potatoes.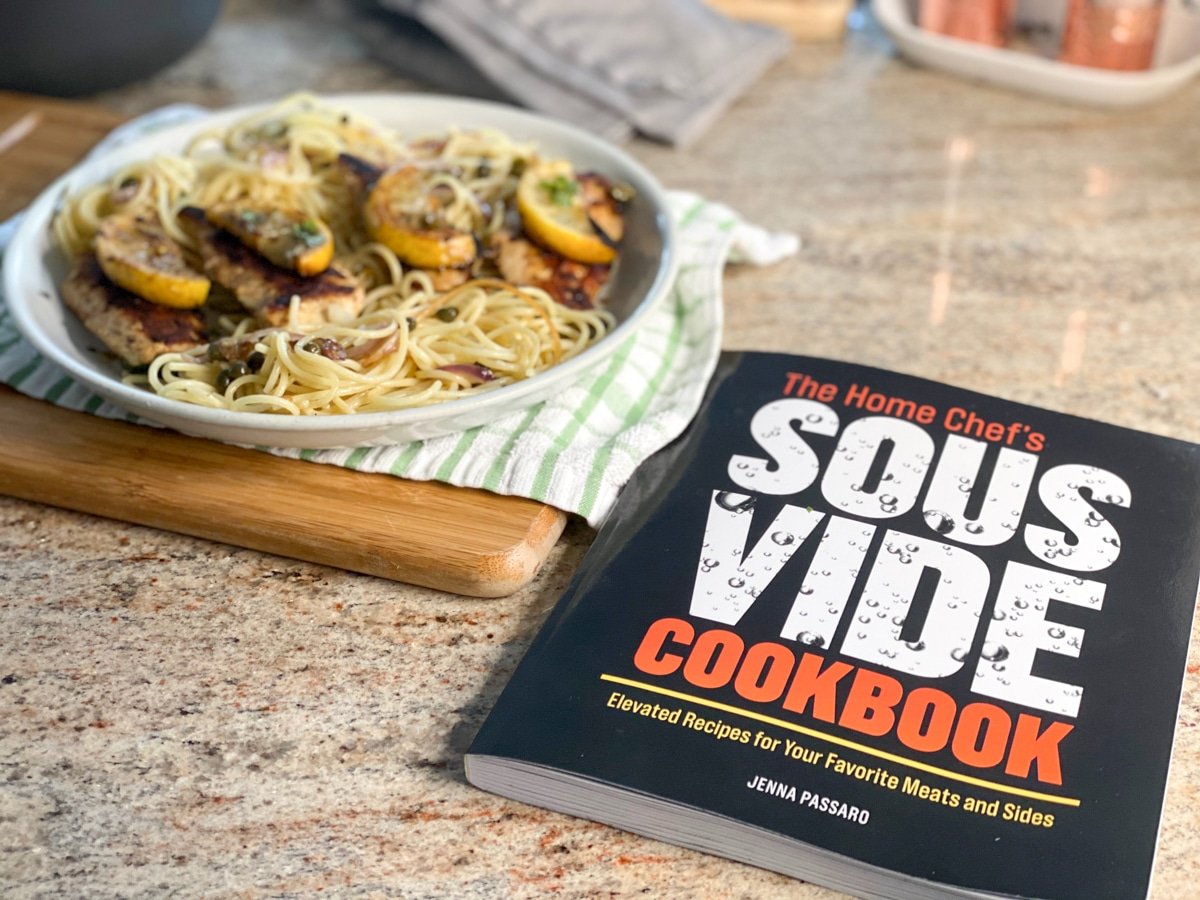 5. Grilled chicken sous vide with a tasty glaze
I'm always down for BBQ glazed chicken. But being somewhat obsessed with lemon, Grilled Sous Vide Chicken Breast with Lemon Honey Pepper Glaze is another favorite summer entertaining recipe and one of the best sous vide chicken breast recipes anywhere.
I'll make the chicken ahead — often a full 24 hours ahead of time if I'm doing some sous vide meal prep — and when my guests arrive all I have to do is a 1-2 minute grill to finish them. I like to serve this dish with an assortment of sandwich rolls and a big bowl of make-ahead salads or salad greens. One of these easy tropical drinks served with it makes this a complete party meal.
Another way I meal prep is to vacuum seal a bunch of frozen chicken breasts for sous vide cooking later. They just need an extra 60 minutes in the sous vide bath until they're cooked to perfection.
More Chicken-Based Sous Vide Ideas
6. Ground chicken meatballs sous vide cooked
Everyone goes for ground beef sous vide meatballs. And I'm down for that. But what about chicken meatballs??
Sous Vide Italian Chicken Meatballs are one versatile sous vide recipe that finds its way into many of my meal plans—hubby loves them on subs for game day sandwiches, and if we're having them for dinner I like serving them over pasta with marinara sauce.
If you're looking for sous vide prepared meals, this one's perfect candidate—we make meatballs in bulk when we've got lots of time on our hands (haha – parents to a toddler with "lots of time" on their hands, can you imagine that?). I mean, usually, it takes 15-20 minutes since we do this so often.
Then I stick them in vacuum bags in the freezer so they're all ready to sous vide when we want a quick and yummy dinner. Leftovers in my house usually become a topping for Trader Joe's pizza crust or part of a delicious homemade pizza. A new favorite of ours is a chicken spinach pizza with bacon!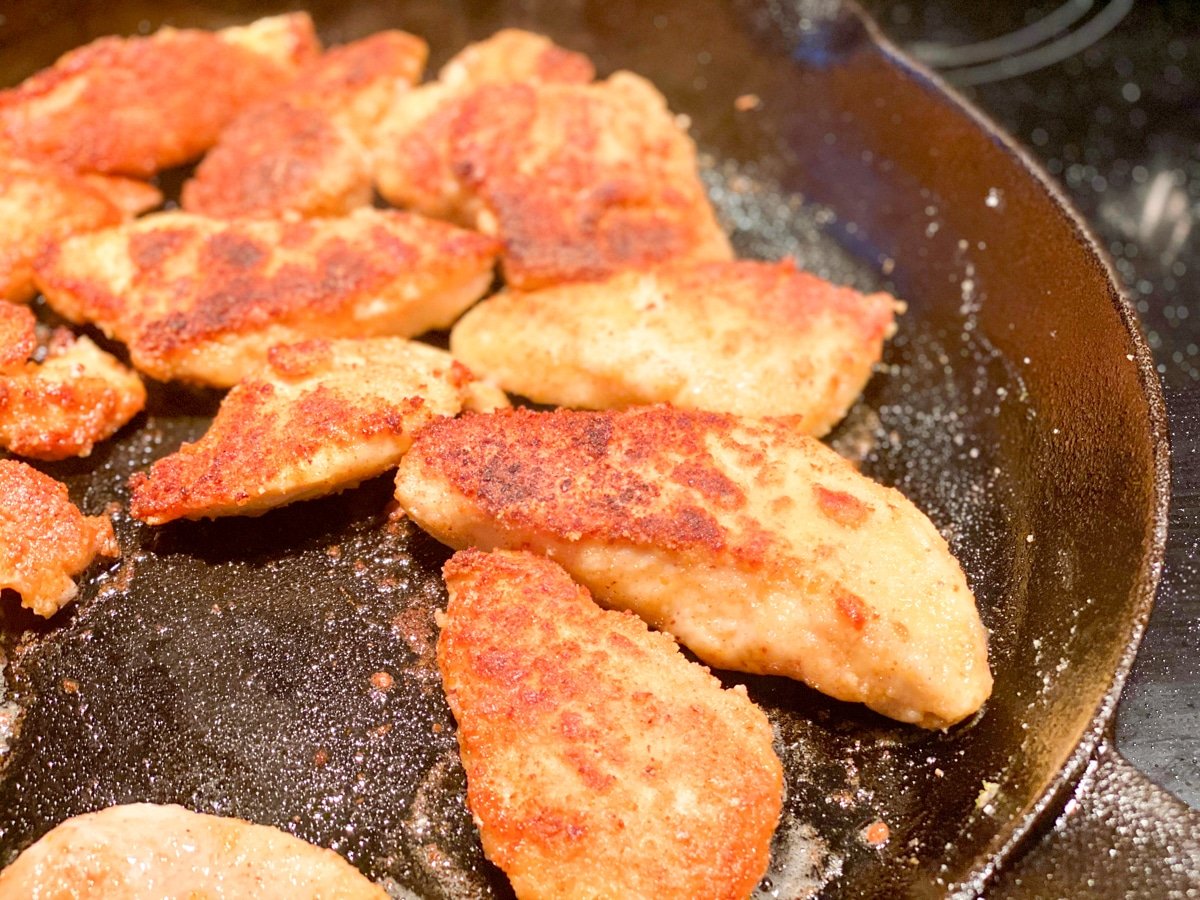 7. Fried chicken sous vide cooked first
Then there's Southern-Style Fried Buttermilk Sous Vide Chicken: exactly like your grandma's fried chicken, just two notches better. These get finished in a fryer or on the stove, but all the cooking happens in the sous vide immersion circulator, and that's why the chicken ends up so moist and tender. The breading is thick and crispy, with added flavor from both buttermilk and pickle juice (there, I told you my secret!).
Check out this recipe for Nashville fried chicken sous vide style – – it's got all the heat you could want!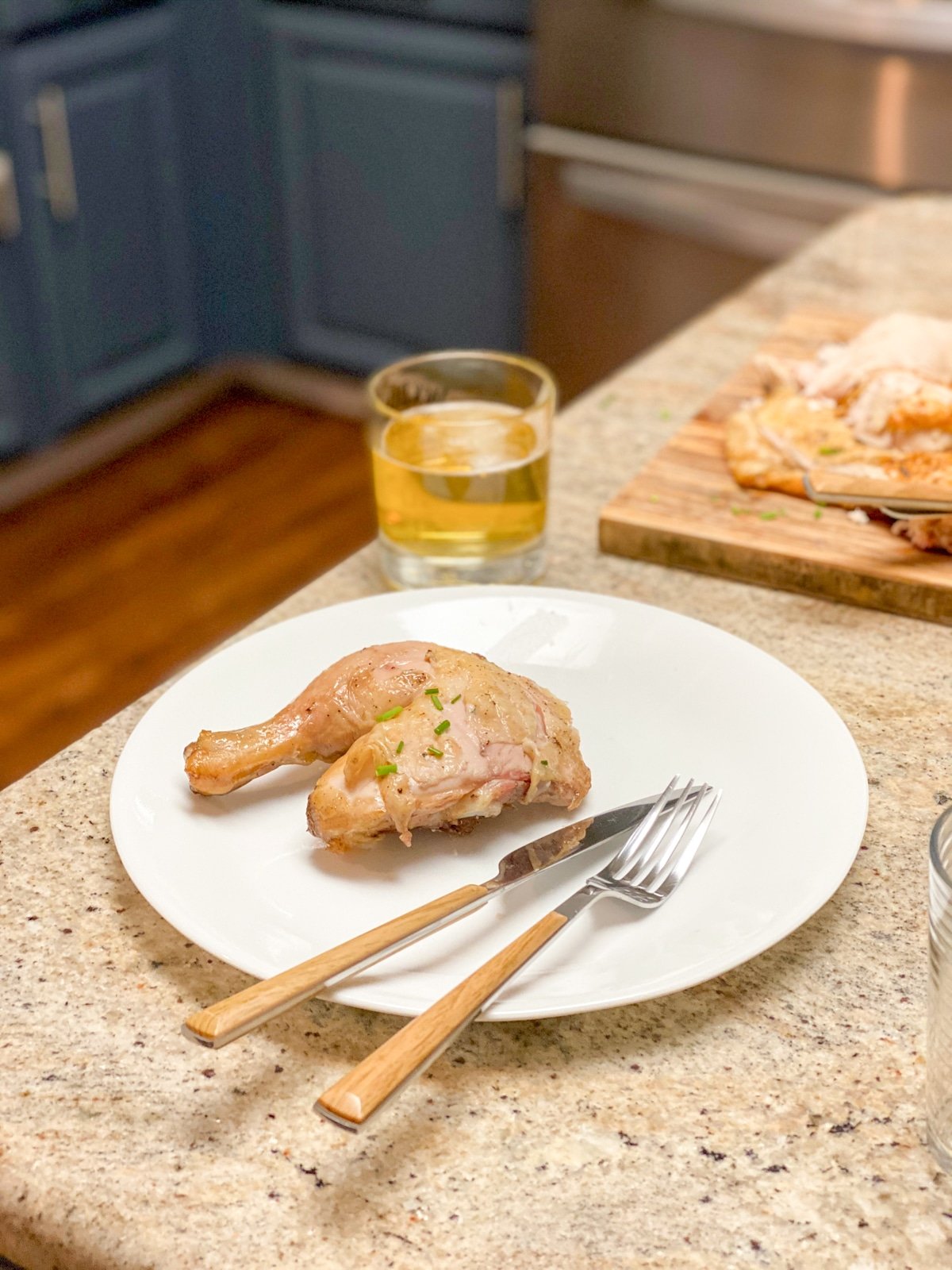 8. Totally yum curry chicken sous vided to perfection
Did you know you could make Indian-inspired sous vide meals in your immersion cooker? There's so much to explore as far as Indian spices go, and I've just tipped the iceberg, and I'm hungry for more!
Curry Spiced Sous Vide Chicken Thighs, for instance. I love the way the seasoned olive oil makes the skin on these so crisp and flavorful. They're wonderful served with saffron rice, with potatoes, or on top of green salads. Chicken thighs cooked sous vide style aren't to be missed.
Throw some sous vide asparagus on the side and naan or roti bread, and wallah – a complete meal.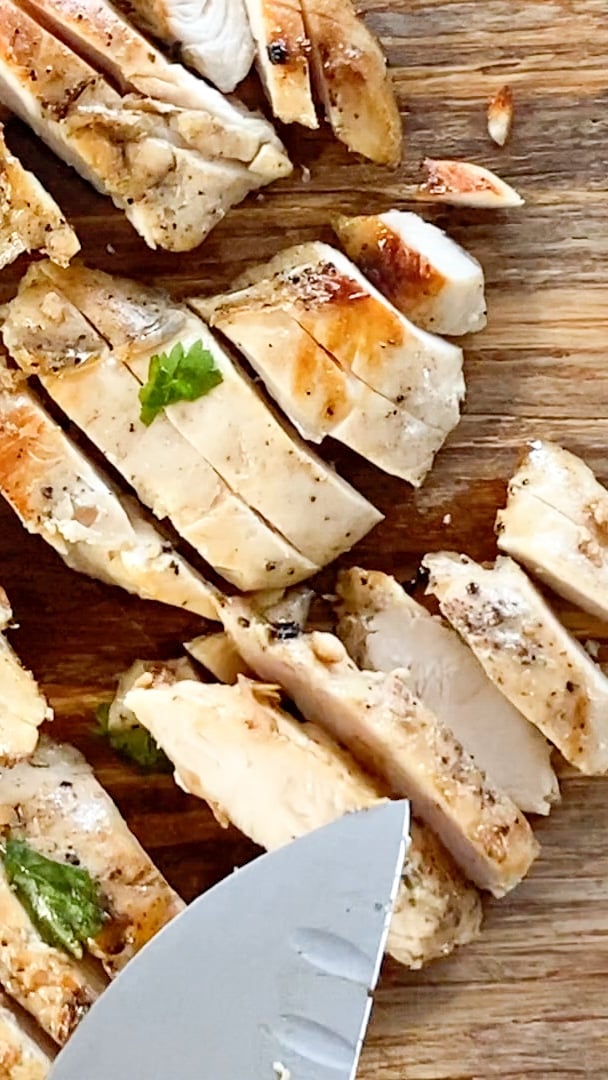 9. Add sriracha to sous vide chicken and be mind-blown
Honestly, if you are wondering what can be cooked with sous vide—the sky's the limit. Another recipe that is a little generous with the spices—and super generous with taste—is my Sweet Honey Sriracha Sous Vide Chicken Wings.
With a cook time of 1.5 hours, this is an easy one to make if you suddenly realize you are on dinner and there's only a few hours to go. Extra bonus: the good smells wafting from your kitchen will wake up everyone's appetite even before the food is served.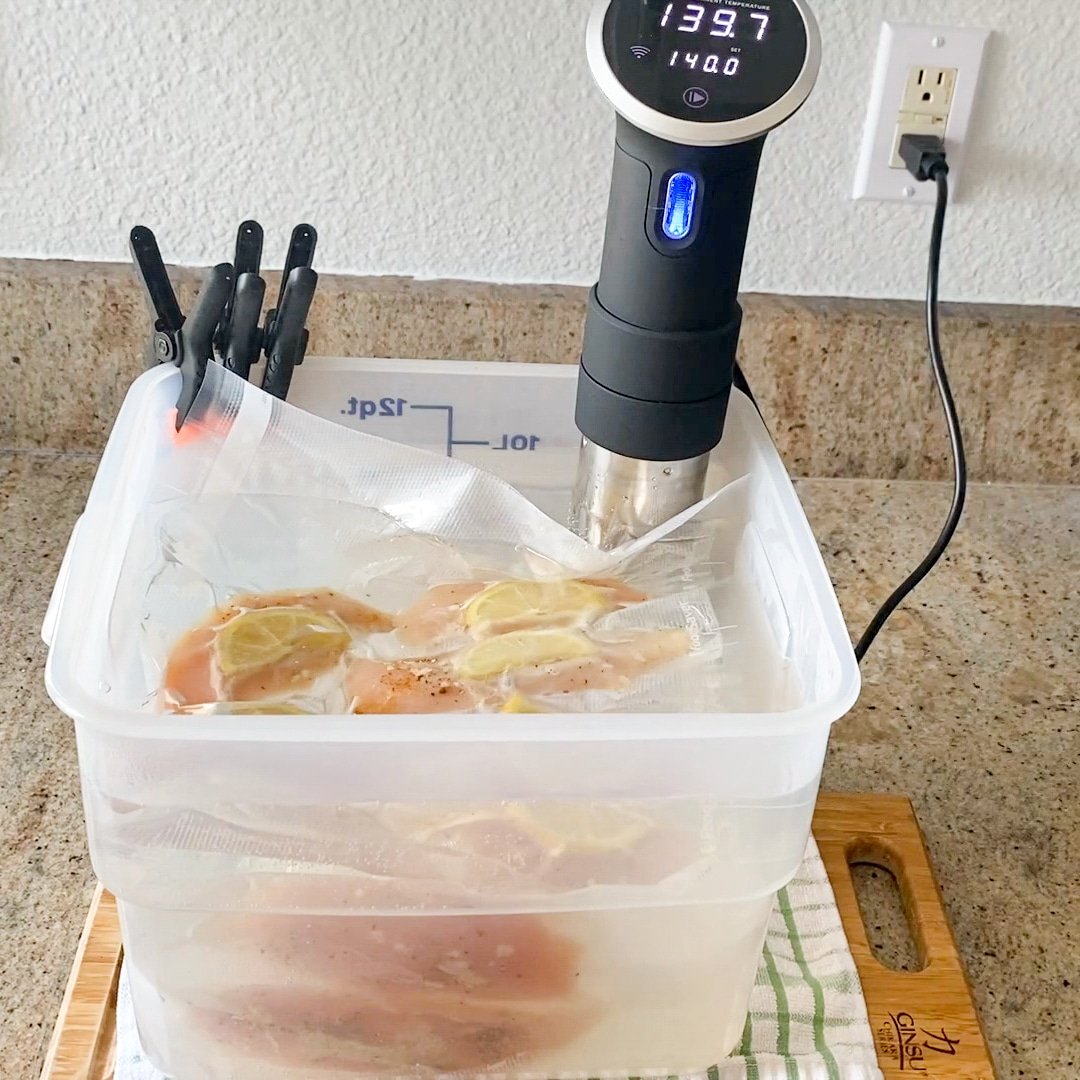 10. Creole-inspired sous vide chicken salad
One family favorite simple sous vide recipe that makes for perfect weekday lunches is Blackened Sous Vide Chicken Salad. This one definitely should be categorized with healthy sous vide recipes—the ingredients are bursting with vegetable goodness and the greek yogurt/olive oil dressing makes it light and delicious.
It's totally a recommended sous vide for beginners chicken dish because you can turn it into anything you'd like. Sometimes we serve this with sandwich rolls and wraps, and other days we opt to keep it light and serve it in lettuce cups. This recipe also pairs well with sous vide corn on the cob.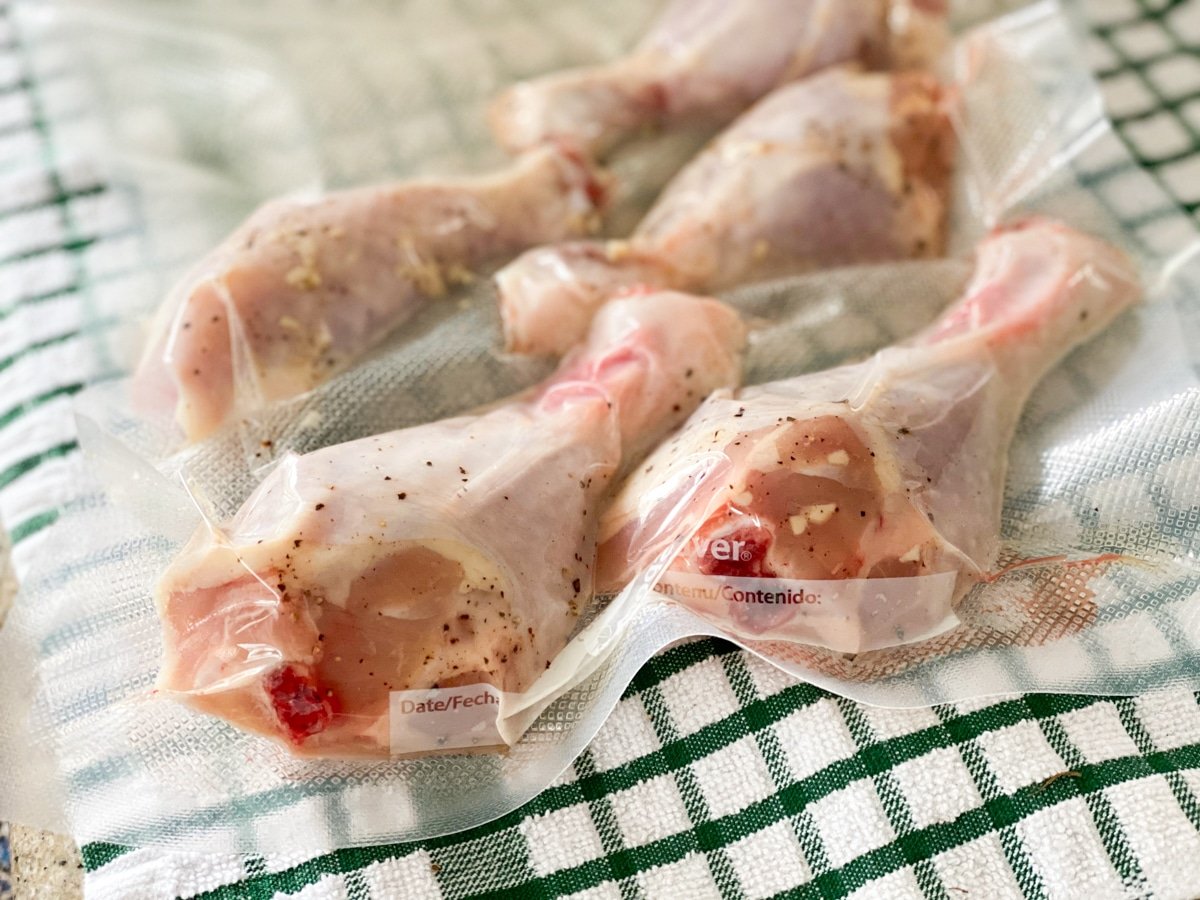 11. Add a gourmet glaze to finish sous vide chicken
For something unique and a little different, try Pomegranate Glazed Sous Vide Chicken Legs. Your chicken legs will be sous vide'd with the skin on, then glazed with my special pomegranate sauce: pomegranate molasses, apple cider vinegar, honey, salt, and pepper.
I first fell in love with the flavor of Pomegranate Glaze when my restaurant client used it to finish a hummus dish. You can find it near balsamic glaze in gourmet grocery stores if you want to buy it pre-made. Anyways, last step is popping them in the broiler, where they turn a beautiful, crispy brown.
12. More Mediterranean inspired chicken cooked sous vide
Another favorite I need to squeeze in here is Sous Vide Chicken Thighs with Lemon Tahini Dressing. These chicken thighs are vacuum-sealed with garlic, given it a bit of extra flavor. When it comes out of the sous vide water bath, I sear 'em for less than a minute and then serve up with my special lemon tahini sauce and a sprinkle of parsley. It tastes just like a dish from one of my favorite Portland lunch restaurants.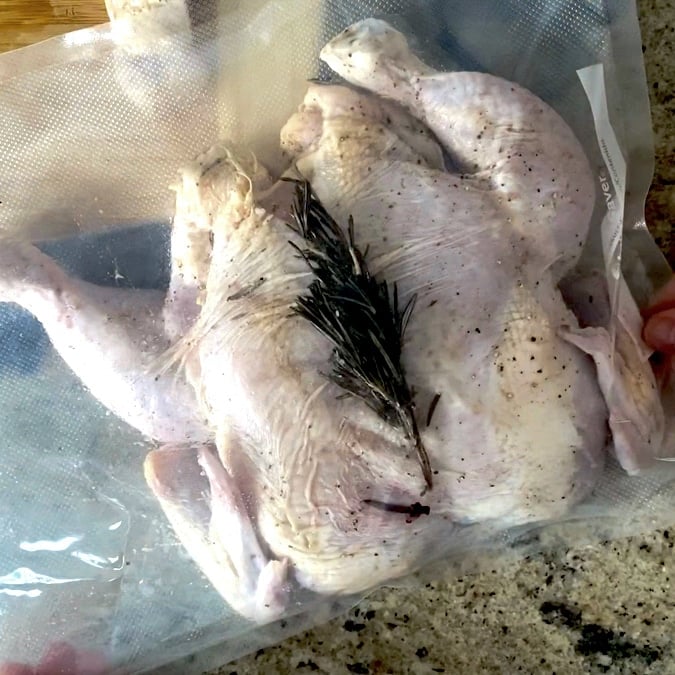 13. Sous vide whole chickens!
Remember, you can also sous vide whole chicken, sticking it in the vacuum bag with all your favorite poultry spices. Watch my whole chicken sous vide video on YouTube.
There are a few tricks to this because an empty air cavity can mess up your vacuum seal, so be sure to read the article and spatchcock chicken before sous viding it.
And if you're a fan of citrus, check out this sous vide whole roasted chicken recipe. It's made with oranges.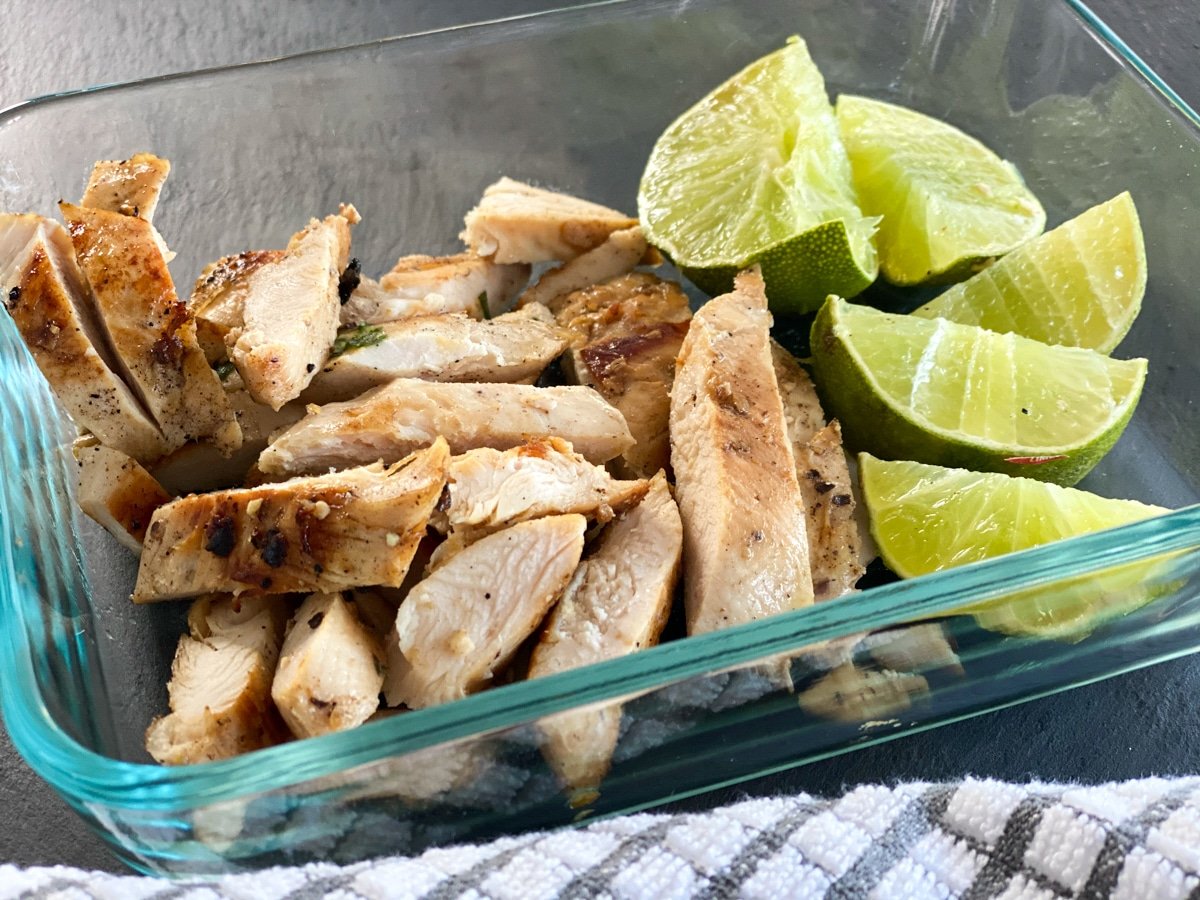 Final ideas for sous vide chicken dishes you'll love
Before you go and get to cooking up chicken sous vide style, here are some more ideas and tips to amp up your sous vide poultry game…
Try sous vide cubed chicken in dishes like sous vide butter chicken. If you haven't tried it – butter chicken sous vide style is so soft and tender. It's perfect to serve with steamed rice and a generous side of toasted pita bread.
Don't miss out on stuffed chicken breast sous vide style. Stuff it with mozzarella cheese and these red wine caramelized onions or sautéed mushrooms and thyme. Prepare to be mind-blown.
Get familiar with sous vide meal prep dishes you can freeze then sous vide steak and chicken dishes, alike. For instance, I'll prepare sous vide marinated chicken with teriyaki sauce, or a lemon ginger marinade, or with some fajita seasonings.
The Perfect Sous Vide Setup
Everyday I'm asked, "what do you need to sous vide food?". Here's my answer.
Try a new sous vide recipe…
Are you a foodie, too?
Find me on Instagram to share your own chicken creation and see what's cooking in my kitchen @sipbitego. My latest sous vide recipe videos are always on the Sip Bite Go channel.