Listen to My Weird Food Obsession Podcast – episode 14 on Apple, Spotify, or wherever you get podcasts to hear:
Mike Aldridge's culinary journey.
What is it like to go to a pop up dinner?
The birth story of the Smash Burgers food truck.
The process of opening a food truck.
Managing a food business and social media.
Tips on making the best burgers at home.
Advice on starting your own food truck.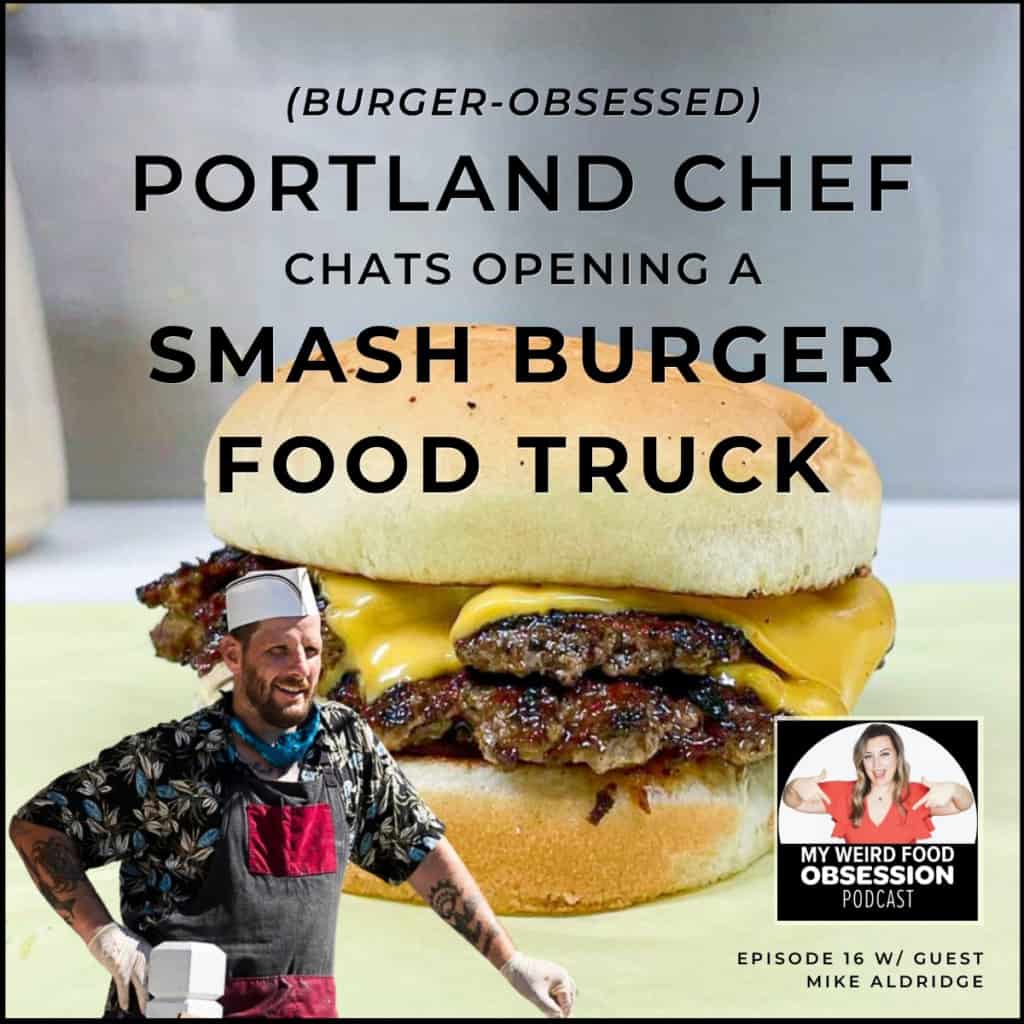 Have you heard of a smash burger??
They're exactly what you'd want when hunger strikes after a heavy night of partying. They have two layers of burger patties, melty cheese, and a soft bun to soak up all the juice.
See how to make onion smashed burgers…
Mike Aldridge, a trained chef who's been a part of the pop up restaurant scene in Portland for years, is here today to chat about how to make the best smash burger.
And if you're lucky enough to live in Portland, Oregon – the tasty food city I call home – or plan to visit it on your foodie travels, I have some exciting news. Mike is in the middle of opening the MidCity Smash Burgers Portland food truck where he will serve these delectable little burgers alongside friends and shakes.
In today's episode, Mike talks about how the idea hit him in New Orleans, burger recipe testing in his kitchen, selling smash burgers right in his own front yard, and what it's like to start a food truck in PDX.
Gourmet burger recipes from Sip Bite Go to check out…
Meat thermometer recommendations
Every home chef needs a reliable meat thermometer to cook food perfectly.
On Sip Bite Go, you'll often see me using:
Meater thermometer – a fancy wireless thermometer that connects to a phone app – gifted to me from a Traeger partnership.
ThermoPro digital thermometer – which has a wire that connects the thermometer to a display box outside the oven/grill.
It's like being psychic! The great thing about either of the thermometers above is that I don't have to take the food out of the oven to know the temperature.
How to use 'em… What I do is stick the digital thermometer in steak, pork, chicken, whatever… Then put the food in the oven, on the smoker, or grill.
While the meat cooks, it reads the temperature so I know exactly what temp meat is as it's cooking. Without having to take it out and check. It's really difficult to overcook food when you know exactly what temp it is inside!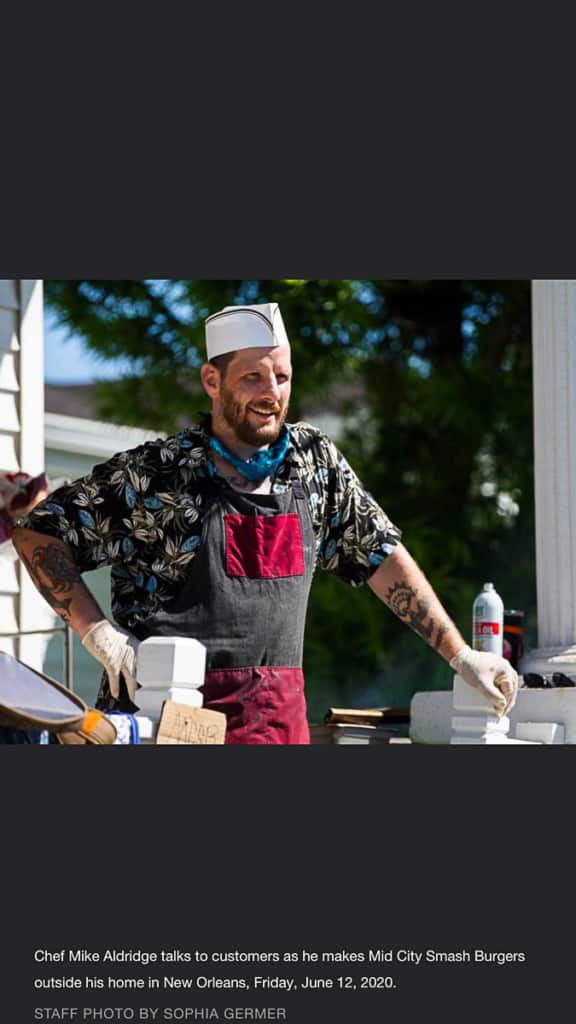 From free-style New Orleans to Portland under COVID
If there's one similarity between New Orleans and Portland, it would be that they both appreciate good food. If there's one thing different, it would be the way they approach regulating the food industry.
New Orleans is the epitome of live and let live philosophy, and starting a smash burger pop-up there was easy: buy a flattop at Home Depot, set it up in your front yard, and start selling hundreds of burgers in a weekend, all cooked up in your kitchen.
If you want to do it Mike Aldridge's way, you'll also invite over a NOLA style brass band to play music right on the lawn. Atmosphere, anyone?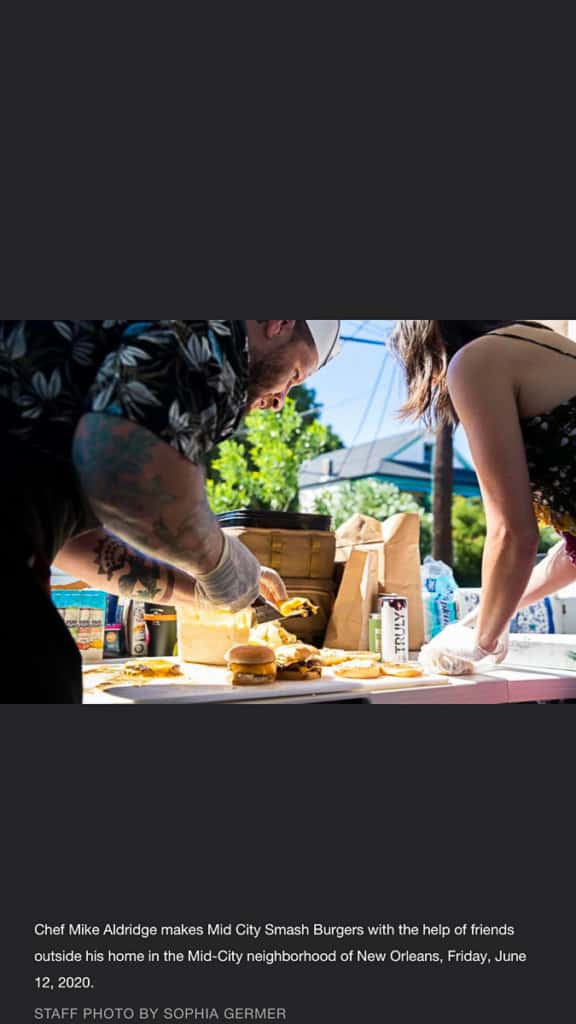 It was a year ago that Mike moved to Portland, and he found the legal requirements as different as you can get. His original idea of a food truck was one that moved around from place to place, selling hot food—but here, you get permits for your one spot, and are expected to stay parked there like a food cart.
Even then, the permissions are extensive, and he took months to get his ducks in a row. Now he's all set and ready to go, with everything in order to meet pandemic-era dining regulations.
Want to hear more about PDX food? Check out my podcast episode with Taylor Scoma about the food scene in Portland, Oregon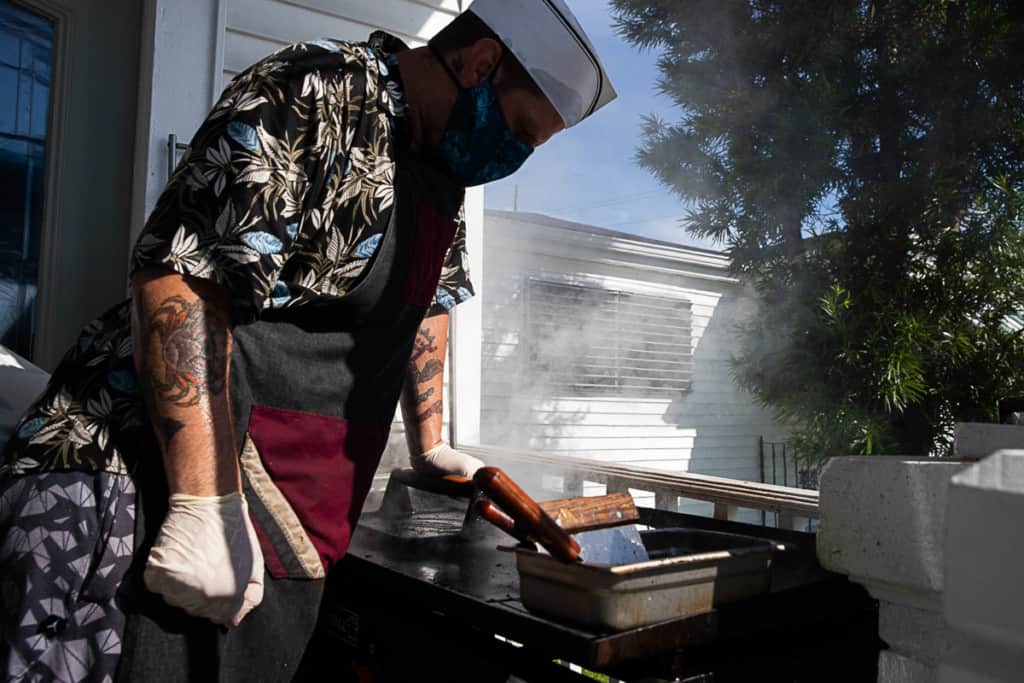 A recipe for the perfect smash burger
What makes the perfect smash burger? Mike refused to divulge any ingredient lists: his smash burgers are his trade secret, and if you want to try one, you'll have to stop by the MidCity Smash Burger Food Truck.
But he was willing to share his methods with podcast listeners, and when he started talking about smashing those burgers he was pretty well eloquent.
The heart of the smash burger is a 1-2 ounce ball of handmade beef patty meat, seasoned with salt and pepper or a little spice mix, and literally smashed down hard into a hot pan.
This gives you quantities of smoke, so if you try it at home, first disable the smoke detector– but it also gives you a wonderfully thin burger with the perfect sear and a crunchy crust.
If you're into getting the perfect crust on burgers, check out my mayo seared sous vide hamburgers.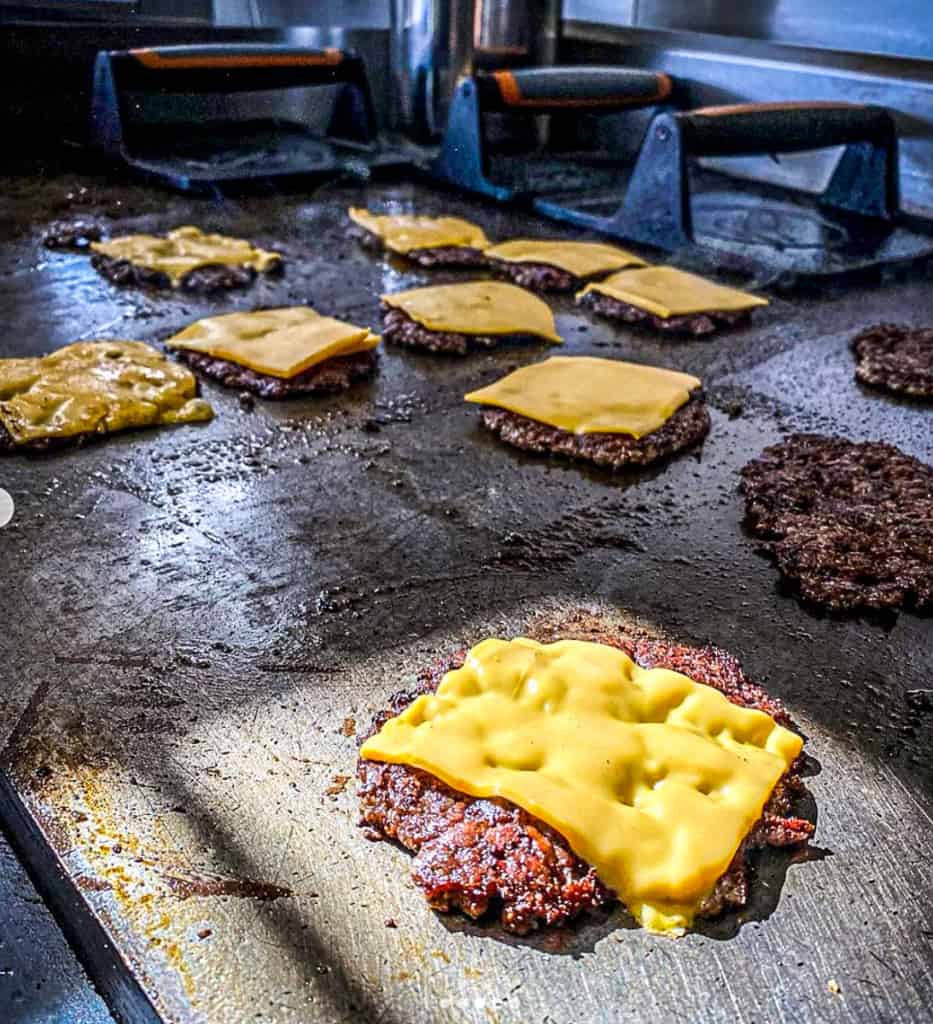 For the bun, Mike recommends you stay far away from Brioche bread and other fancy hamburger buns; these will only detract from your smash burger. Instead, go with the cheapest burger bun you can find– four inch enriched white buns are perfect.
There's no lettuce, tomato or pickle on Mike's smash burgers: these ultra-simple sandwiches contain just bread, burger, cheese, and sauce.
The sauce, though, is no ordinary sauce. He made it up himself, and the recipe is one of his well-guarded secrets, but if you make your own smash burgers you'll need to find an awesome sauce to pair with them. If you have a good sauce, he tells us, you'll have a good burger.
One over-the-top amazing sauce I'm digging these days is this cilantro ranch sauce for meats. Drizzled on top of sous vide porterhouse = heaven.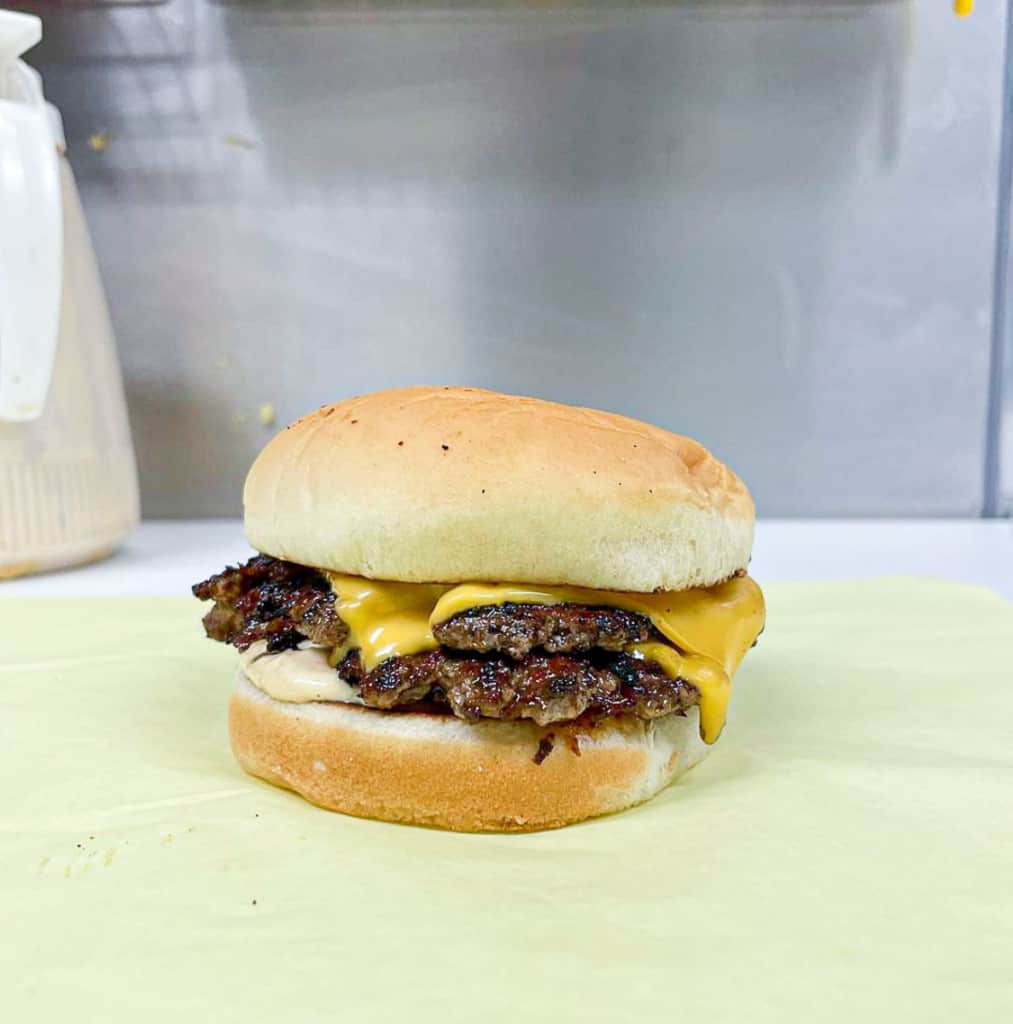 Tips for Opening a PDX Food Truck
If Mike was close-mouthed about his sauce and his ingredients, there was one topic on which he was more than willing to share all he knew: opening a burger food truck in PDX, or any food truck, for that matter.
He advised would-be-food-truckers to do careful homework, taking the time to calculate everything out in advance. The bureaucracy is intense, and you'll need more permissions than you can shake a stick at, so plan on taking months to open. Once you've got your truck open, stick to what you know, and stay consistent with your menu.
See my list of the best lunch spots in Portland.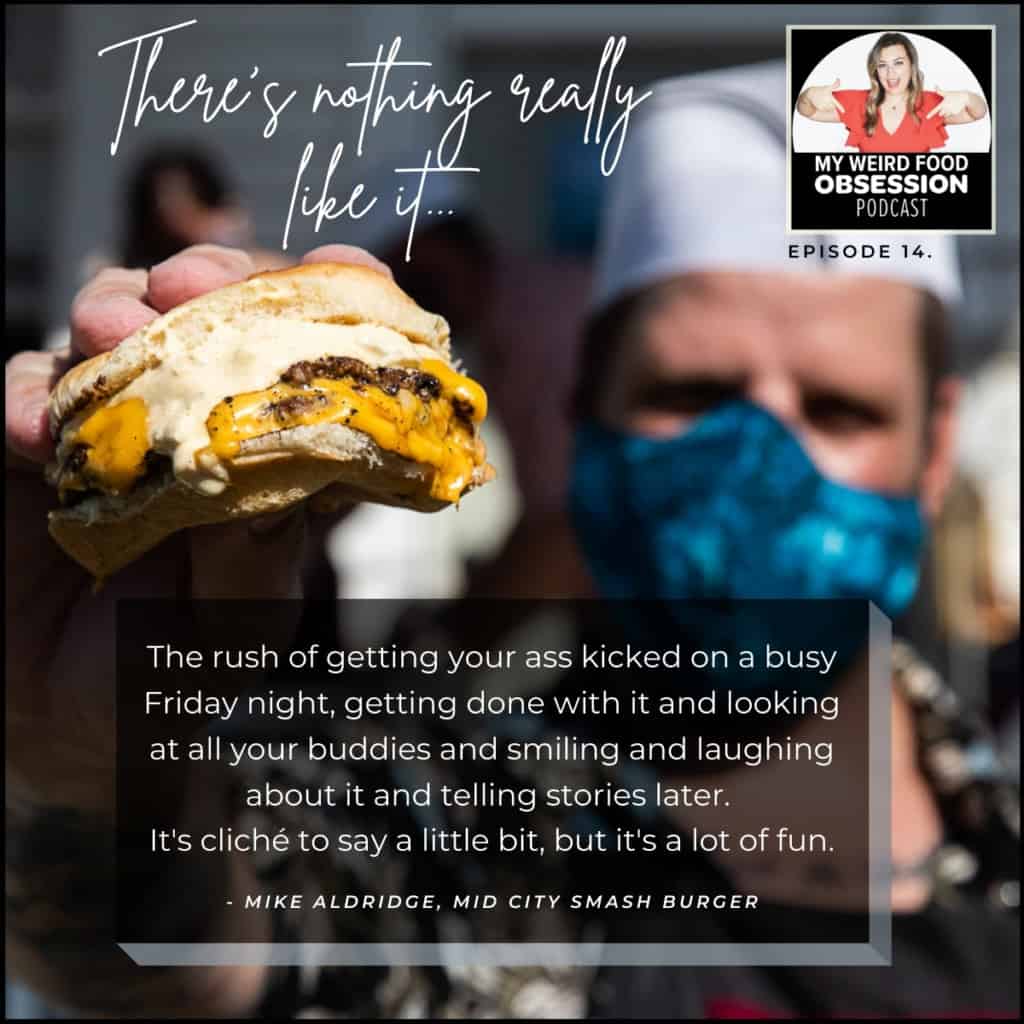 "There's nothing really like it – the rush of getting your ass kicked on a busy Friday night, getting done with it and looking at all your buddies in a line and smiling and laughing about it and telling stories later. It's cliche to say a little bit, but it's a lot of fun." – Mike Aldridge
You know I'm a big fan of my sous vide burgers… but I have a trick that you can use for little smash burgers cooked Mike's way, too. You have to try a mayo sear — have you heard of it?
It means you put mayo on the outside of the burgers or sous vide boneless ribeye, before searing them in a hot cast iron skillet.
For more burger tips, see how to make mayo seared sous vide hamburgers and check out my guide to making ground beef patties for burgers.
Links mentioned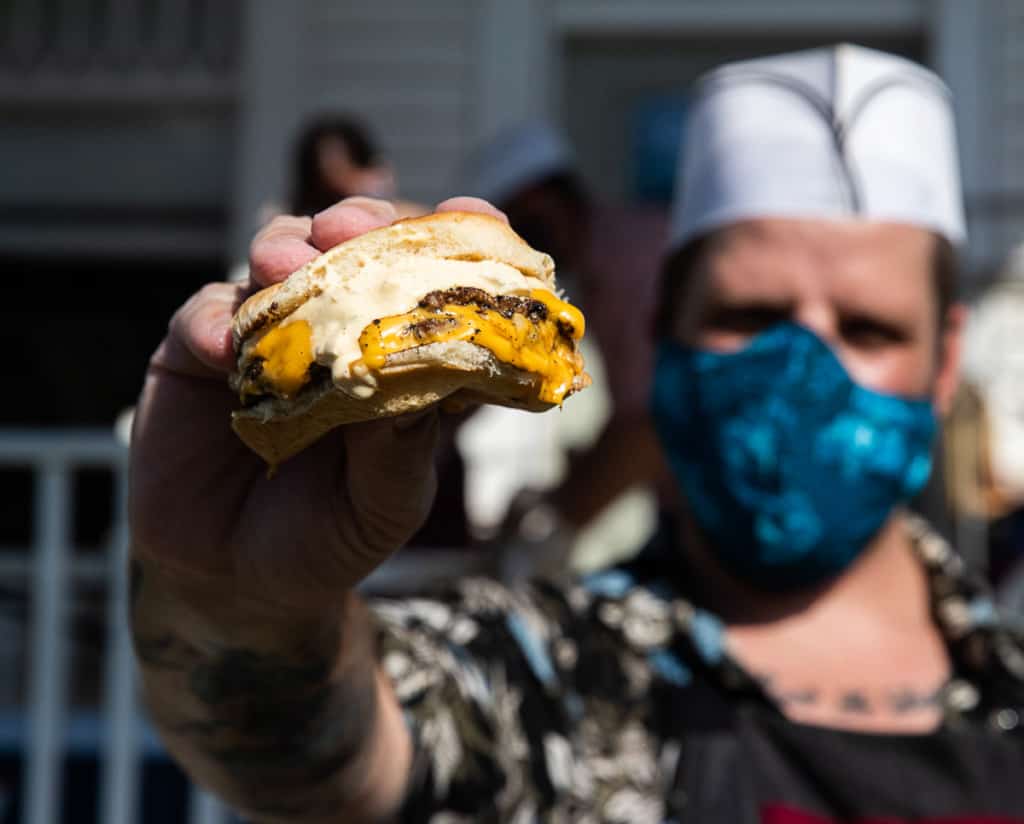 Learn more about the PDX food truck scene
Listen to My Weird Food Obsession Podcast – episode 14 on Apple, Spotify, or wherever you get podcasts.
More from My Weird Food Obsession