Apple picking is one of my favorite Fall activities. Once I come home with all the apples, I always want to make a million things. Here are some of my favorite apple breakfast recipes to enjoy the Fall harvest.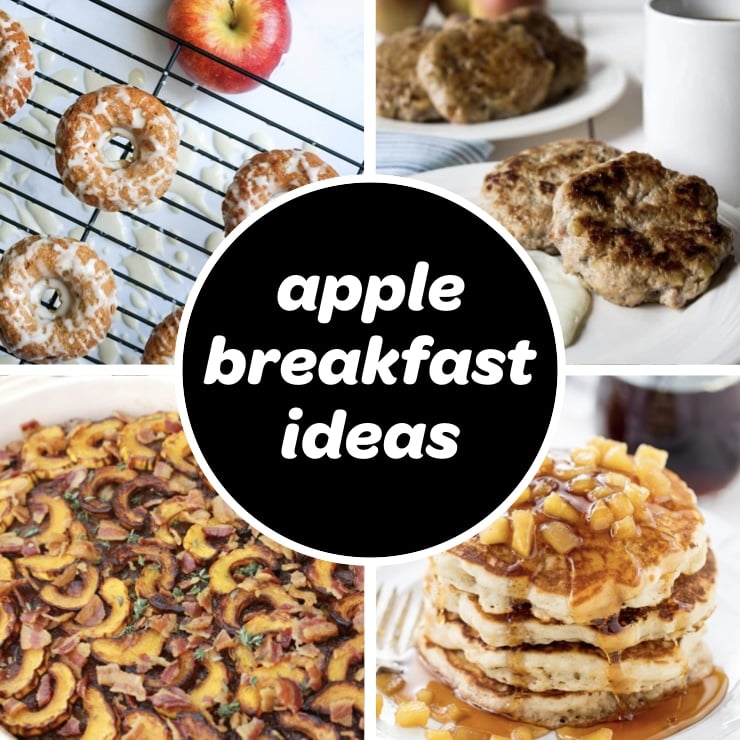 From sweet ideas (pancakes), to savory ideas (apple and pork sausage) and healthy options, too (apple and oatmeal recipe ideas), this list has everything you need to make delicious breakfasts this Fall.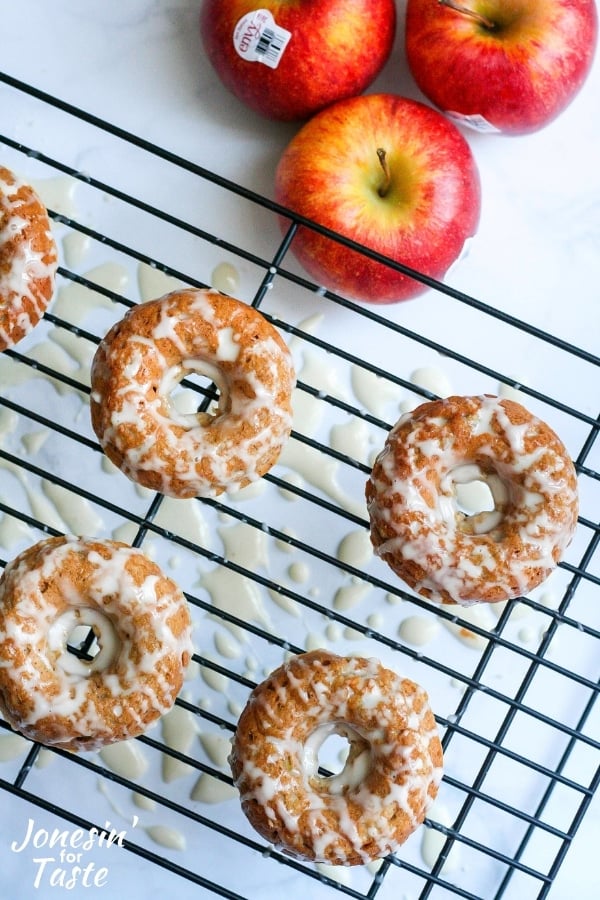 Baked Cinnamon Apple Doughnuts
Baked cinnamon apple doughnuts are tasty for little ones and adults alike. They have bites of real apples in them.
Get recipe at Jonesin For Taste
Apple pancakes with blueberries
See how to make smoked apple pie…
I love using grated apples in pancakes. It adds a hint of sweetness and is a great way to add fruit to breakfast for kids. See how to make apple pancakes.
Apple Cinnamon Pull Apart Bread
Apple cinnamon pull apart bread has layers of bread with chunks of apples and a sprinkling of cinnamon and sugar between. It's an apple breakfast recipe made with firm Fuji, Braeburn, Granny Smith, or Gala apples. These crisp apples are great for baking.
Get recipe at Beyond The Chicken Coop
Apple Pork Breakfast Sausage
This apple pork breakfast sausage makes a typical breakfast feel more "Fall". The apple adds a sweet taste that goes perfectly with the pork and sage. This apple and sausage recipe can easily be doubled to feed your hungry guests.
Get recipe at Beyond The Chicken Coop
Chai Spiced Apple Waffles
Chai spice is typically made up of a blend of cardamom, cinnamon, and ginger that smells absolutely amazing. Chai spiced apple waffles are filled with little apple bites and wonderful chai spice for a wonderful way to wake up in the morning. This apple breakfast recipe is great if you have a homemade waffle maker.
Get recipe at Jonesin For Taste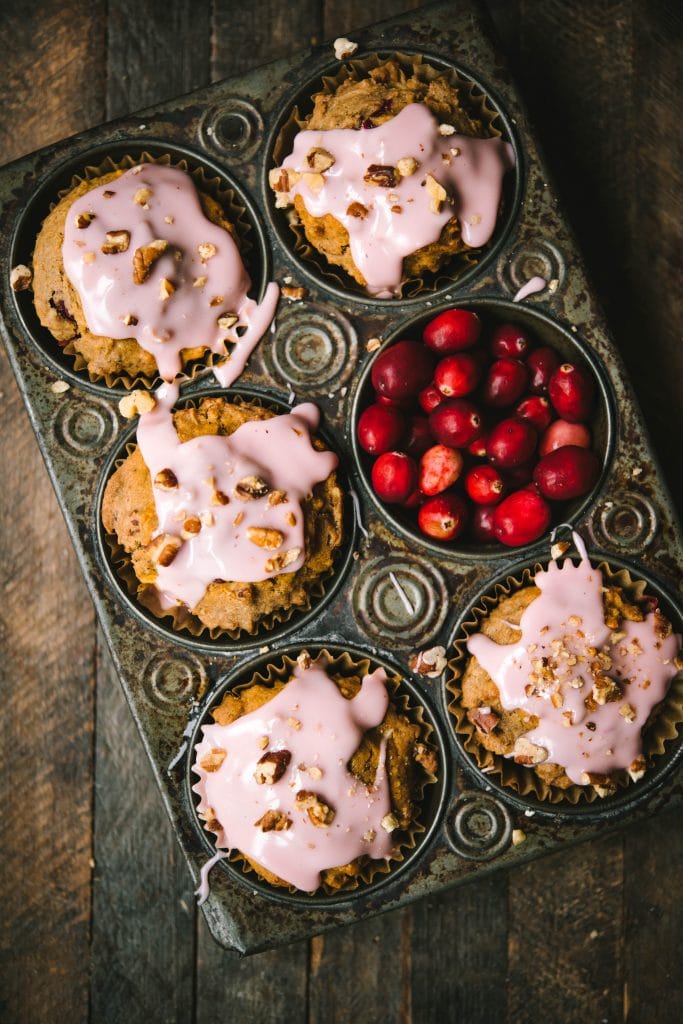 Carrot Apple Cranberry Muffins
Carrot apple cranberry muffins are packed with fall flavors and topped with a cranberry glaze. They make a delicious afternoon pick-me-up, or an easy apple breakfast recipe to take on the road. The muffins themselves can be whipped up in one bowl, and are fully vegan and gluten free.
Get recipe at Crowded Kitchen
Need more muffin recipes? Try these banana blueberry muffins that are perfect for every age!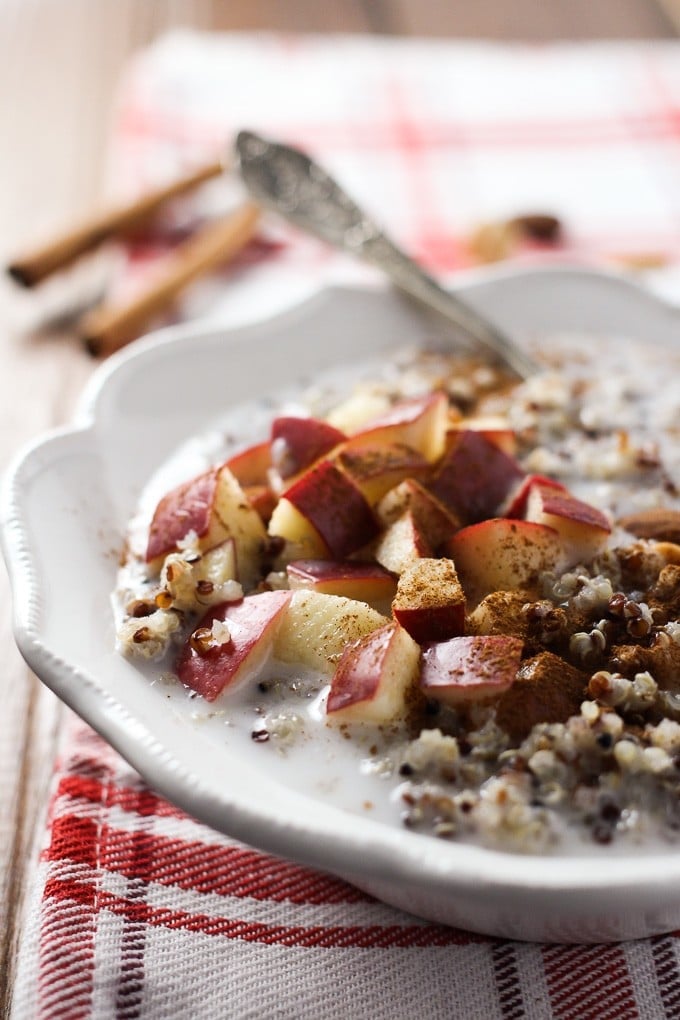 Healthy apple breakfast recipes
Apple Cinnamon Quinoa Breakfast Bowl
Having cooked quinoa in the fridge is super helpful, it's a staple I love to make in bulk. Use it as a side dish, add it to soups, salads, or make a healthy breakfast. This healthy apple breakfast recipe is very filling and full of plant protein, fiber, healthy fats, vitamins, and nutrients.
Get recipe at Maria Ushakova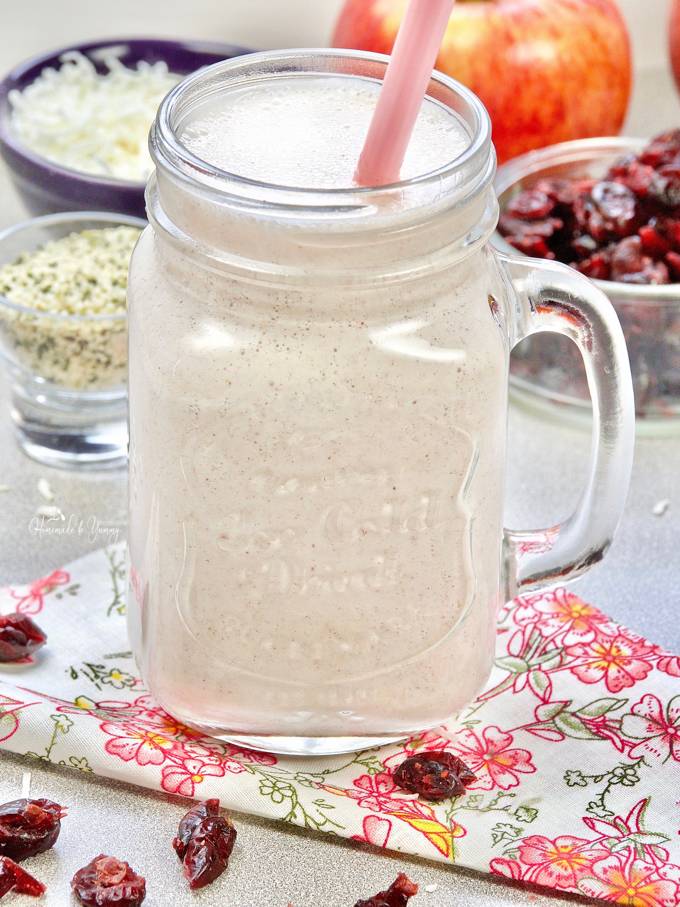 Apple Cottage Cheese Smoothie
This power apple smoothie recipe combines cottage cheese and hemp hearts to create a protein-rich, totally delicious drink. Perfect for breakfast, lunch or pre/post workout fuel.
Get recipe at Homemade And Yummy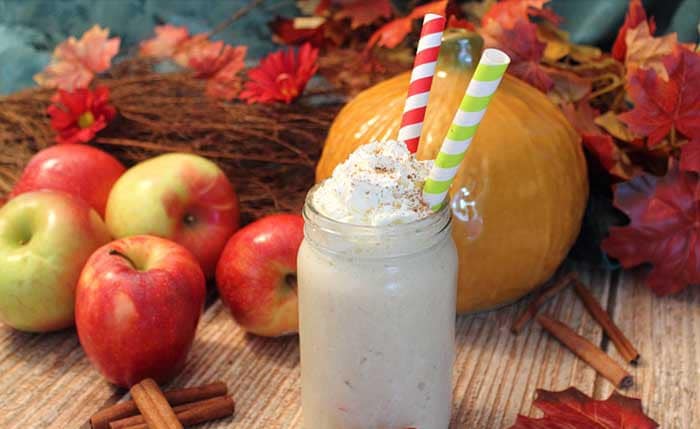 Healthy Apple Pie Smoothie
This apple breakfast smoothie recipe tastes like an apple pie in a glass. An excellent apple breakfast idea with plenty of antioxidants.
Get recipe at 2 Cookin Mamas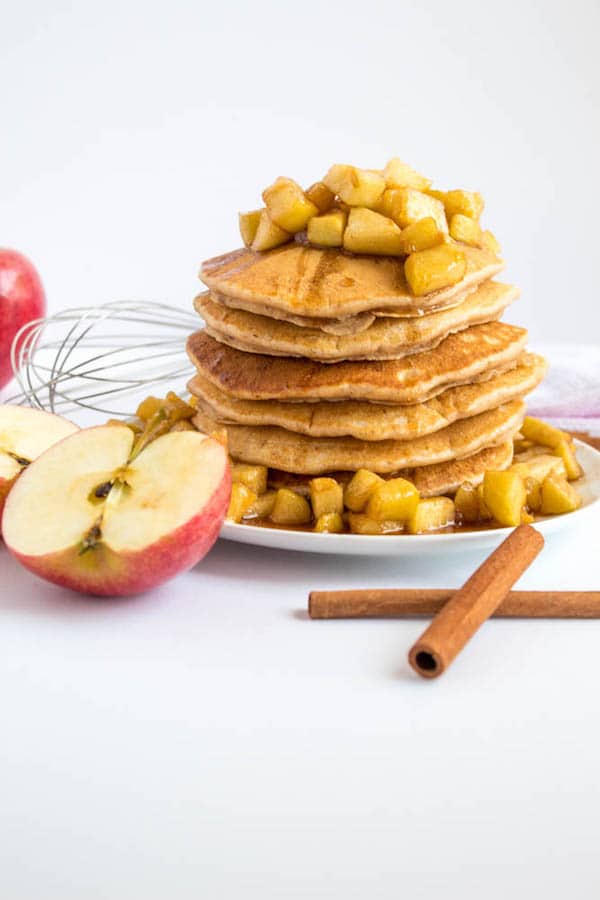 Apple pancake recipes
Apple Cinnamon Pancakes
These apple cinnamon pancakes are the perfect breakfast for fall! They're light, fluffy and perfectly golden. These fluffy cinnamon pancakes are amazing on their own, but the maple cinnamon apple topping makes them unforgettable.
Get recipe at Queenslee Appetit
Apple Pancakes With Apple Maple Sauce
The apple maple syrup on these pancakes are fantastic. Even the sleepiest person in the house will wake up to eat them!
Get recipe at Cooking On The Front Burner
Cooked apple recipes
Southern Fried Apples
Southern fried apples are cooked in a cast iron skillet with brown sugar, butter, and cinnamon syrup. Serve for breakfast or alongside sous vide pork for supper.
Get recipe at Syrup and Biscuits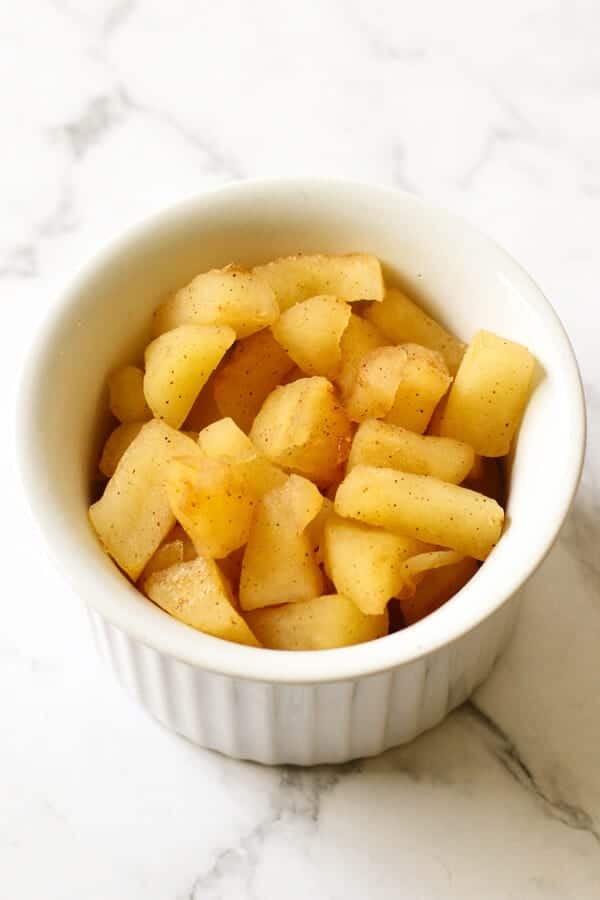 Stewed Cinnamon Apples
Stewed cinnamon apples are made with just three ingredients. Try mixing them into greek yogurt, ice cream or serving them on vanilla cheesecake.
Get recipe at Cook It Real Good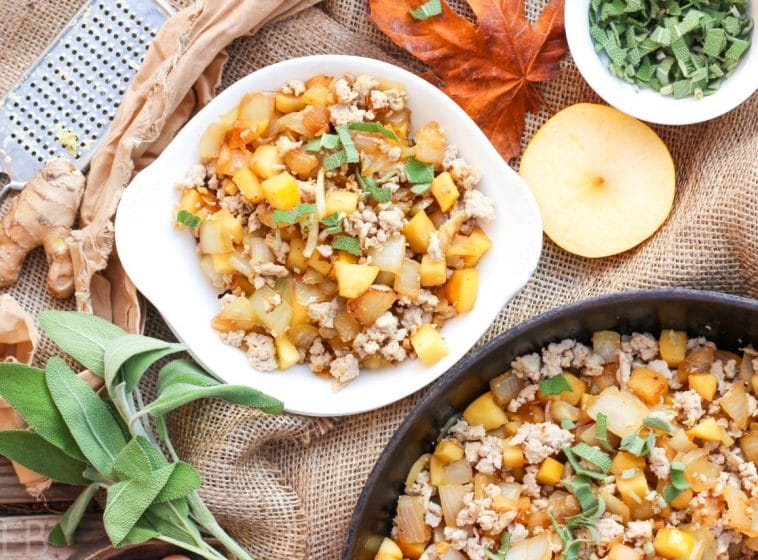 Turkey, Apples And Onions Hash
Ground turkey meets apple breakfast recipe in this hash. It's a savory, sweet dish that can be made in one pan. Simple cooking is often the best!
Get recipe at Eat Beautiful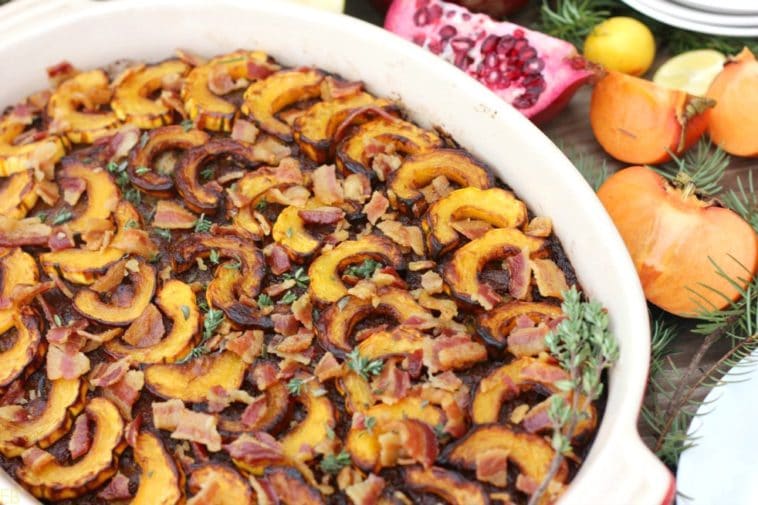 Apple casserole recipes
Apple Breakfast Casserole With Sage And Thyme
Delicata squash and a bunch of other seasonal ingredients come together in this apple breakfast recipe. It's an easy apple casserole to feed a crowd.
Get recipe at Eat Beautiful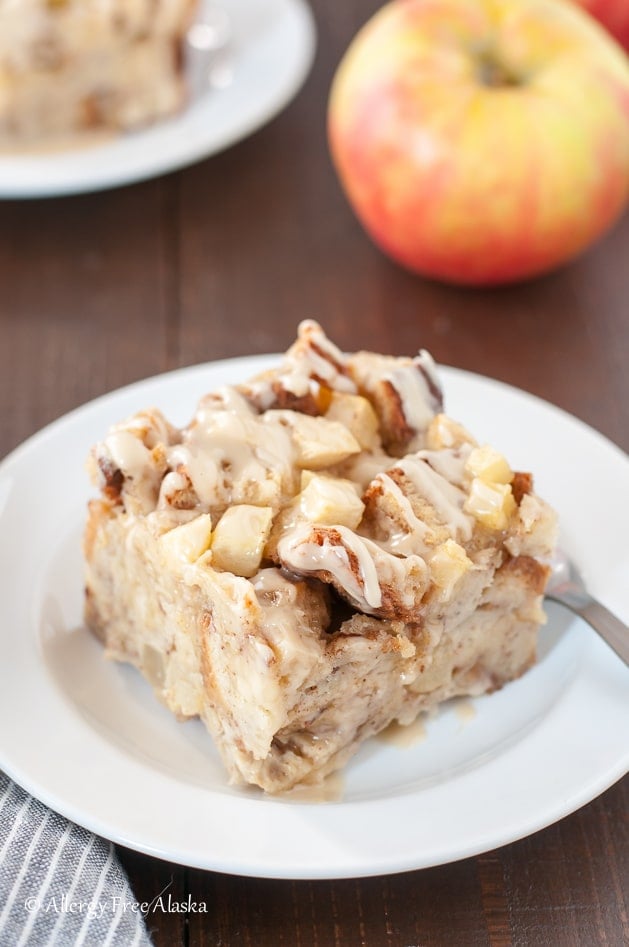 Gluten Free Apple Cinnamon French Toast Casserole
This apple cinnamon french toast casserole is bursting with the flavors of fall. Pieces of apple and soft bread are slathered in a sweet maple glaze in this decadent dish.
Get recipe at Allergy Free Alaska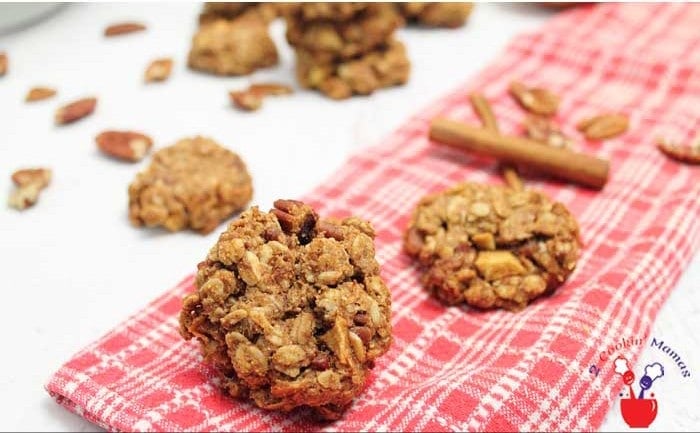 Apple and oatmeal recipes
Maple Apple Oatmeal Cookies
This apple cookie recipe is prepared on the sweeter side for breakfast and have hints of bacon.
Get recipe at 2 Cookin Mamas
See this recipe for the best scrambled eggs.
Freezer Friendly Baked Apple Oatmeal Cups
Want an easy apple breakfast recipe you can freeze? Yes! This recipe with baked apple oatmeal cups is easy to make ahead.
Get recipe at Carmy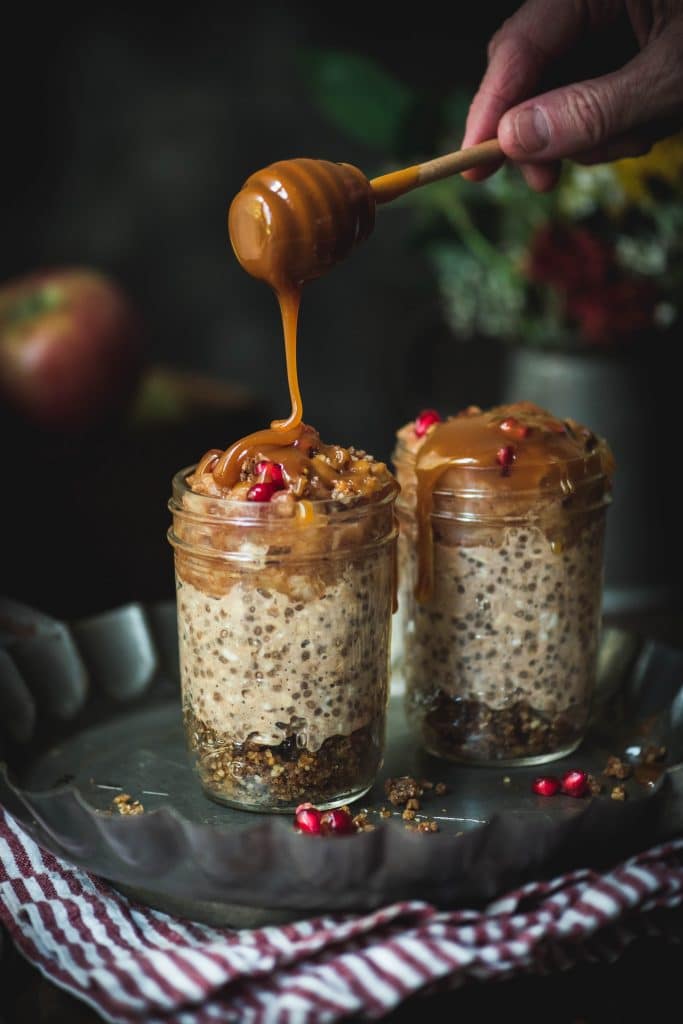 Apple Pie Overnight Oats
Start off a crisp cool morning than with pre-made overnight oats. They sit all night in the fridge, and are ready to heat and eat in the morning.
Get recipe at Crowded Kitchen
Apple And Honey Oat Scones
Apple and honey oat scones are fluffy and moist. Perfect for a quick grab and go breakfast or to enjoy an afternoon tea or coffee. This apple breakfast recipe is perfect for a weekend brunch, too.
Get recipe at My Kitchen Love
Love the idea of homemade scones on this marble serving board.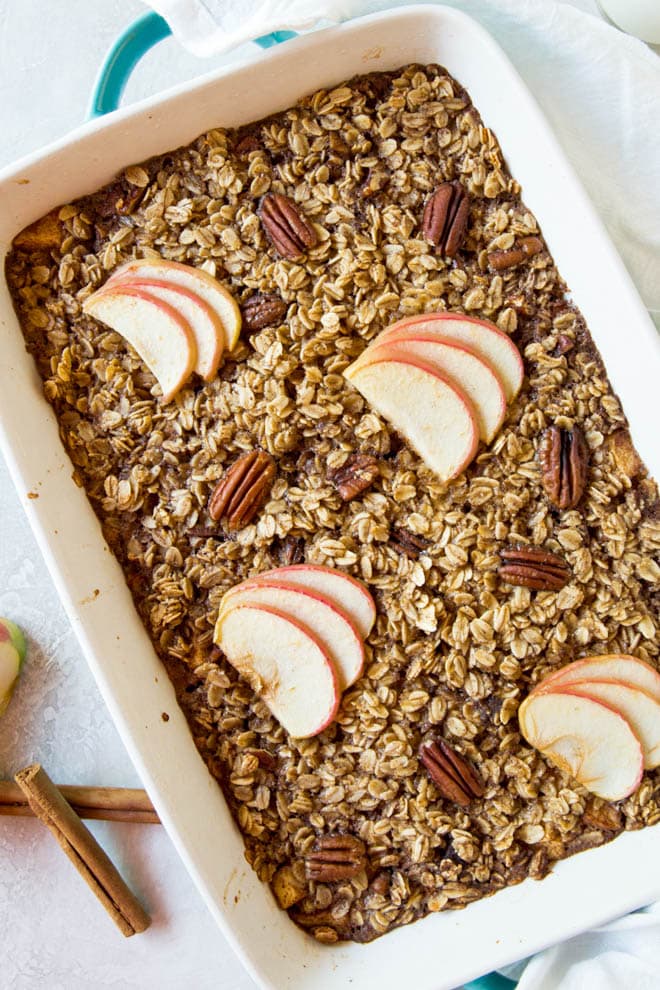 Baked Apple Oatmeal
Apple cinnamon pecan baked oatmeal comes together with simple ingredients in less than 15 minutes.
Get recipe at Spoonful Of Flavor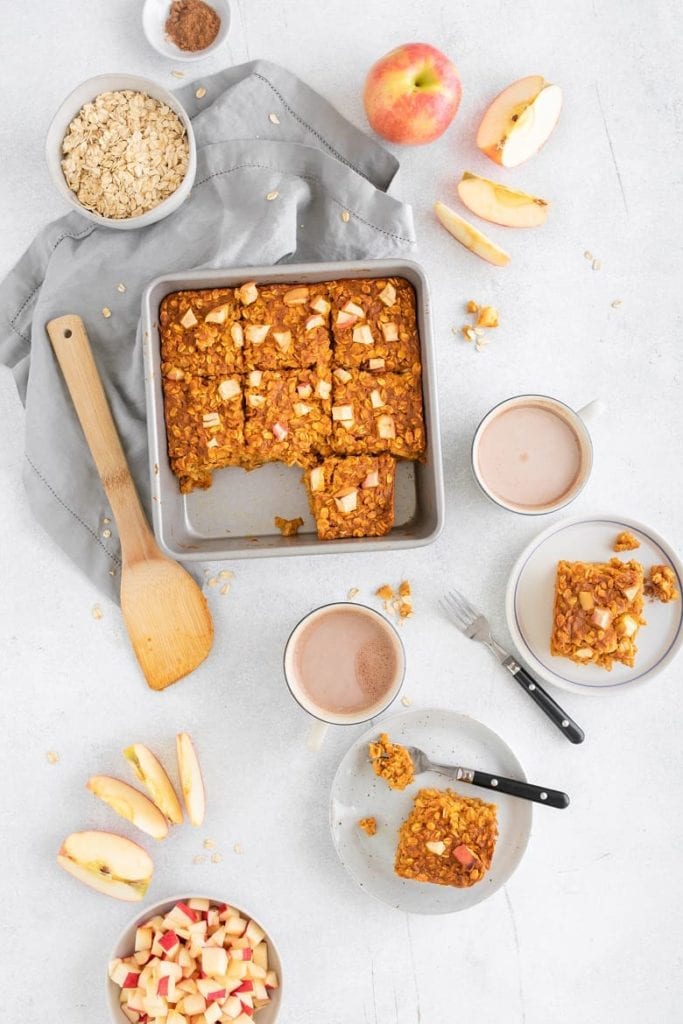 Apple Pumpkin Pie Baked Oatmeal
Apple pumpkin pie baked oatmeal is an easy, hearty breakfast option for on the go or to make for a crowd. This fall baked oatmeal will have your whole kitchen smelling like fall.
Get recipe at Bucket List Tummy
Mmm… check out this pumpkin pie coffee.
More fall recipes to love
Love Fall? See my list of what to do in Portland in the Fall.
Let me know when you try one of these apple breakfast recipes! I love seeing photos of your food! Don't forget to tag me @sipbitego on Instagram.