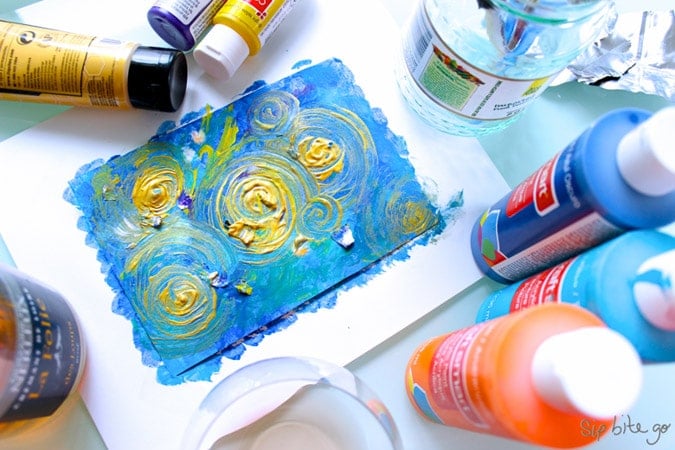 I'm excited to share with you a DIY abstract art project that seems like it would take too much time, or require up-front artistic talent, but is the complete opposite. This abstract art DIY tutorial is fun and freeing, even if you have only 30 minutes to spare.
We're more creative than we think…
It's our comparison to others that gets in the way! At-home, abstract art is 100% achievable, regardless of whether you have an art background or not. The secret is to start small so you can feel the huge accomplishment of finishing your 4×6 or 8×10 framable masterpiece in 30 minutes.
Even if you haven't dabbled with acrylic paint in a while (or ever!), you can become an abstract artist in less time than it takes to finish a glass of wine during girls' night. You just need a step-by-step tutorial, some inspiration for colors and brush strokes, and standard art store equipment: still liquidy tubes of paint + bristles + paper + (optional) a glass of vino.
Work with a manageable canvas size
You'll be set up for automatic success if you work with a tiny, manageable canvas. And by canvas, I mean "whatever you have on hand" – whether it's printer paper (my go-to), leftover watercolor paper or even a piece of junk mail on nice, thick card stock from the recycling bin. You can create on any canvas! You can determine the dimensions for your piece based on a small spare frame you own (so you have a destination for it to go when it dries). Or you can default to cropping a 4×6 sheet of paper, which is a nice, small, standard size you can frame or stick on your cork board or fridge.
Supplies needed for DIY abstract art
Awake the

paint colors that speak to you

from hibernation.

Bristles, bristles, bristles. You don't need a gajillion brushes, but you can keep several handy so you can choose a new one at the spur-of-the-moment. Choose

paint brushes of different sizes

so they create different effects and patterns on your canvas (more on that later!)

Water cup + paint dish.
Foil

or a metallic of some sort. I used a few thumbnail-sized pieces of the metal foil lining a rose bottle. It was a really good excuse to pop the cork on that rose!
Blobs, dollops + other painting dance moves – To help you get started
Once you have all of your materials gathered, it's time to get working!
Liquid courage
If it get's you in the painting mood, pour yourself some vino and swirl your glass around (obviously optional, but encouraged if that's your thing!). Today, I'm working with rose from LaFolie wine that I snagged at a wine tasting before moving from San Francisco to Portland).
Your work space
It feels great to work near a window, but all you really need is a flat area you're comfortable painting on. Set up your work station with your favorite colors readily accessible. (Sometimes I'll just pluck the paint off the tube of paint, other times I like to put dollops of my pallet colors on an old plate I picked up at a San Francisco estate sale last summer. During the last 15 minutes of the sale, after I began staking claims on a box of kitchen items I couldn't wait to get home and polish up, I received the spectacular news, "everything in the kitchen is free!" – that was the moment I became the owner of this Delta branded plate. Does this mean they used to not serve airplane food in creepy, steamy, plastic melting and still frozen rice keeping containers? How classy.)
Unwind with music
It's time to get in the free-flowing mood (which will help you work faster, actually). Put on some music if it helps and get into a rhythm, pattern, or just free-flow dots. Let the paint dance right out of its tube.
Add more dance moves or create more patterns of paint dots in different colors. I spaced mine evenly throughout the page, but next time I will try a new unique twist.
Blend + mush
Mush the colors around themselves in circles so you can still see the brush strokes.
Sparkle
Cut small scraps of shiny foil to have on hand. You can use foil from a wine bottle wrapper like I did or just go for some cooking foil. Scatter your metallic pieces across your canvas so it adheres to the paint. Give it a hand with a paintbrush if it won't properly smoosh.
See? It wasn't just so I could drink wine during the demo…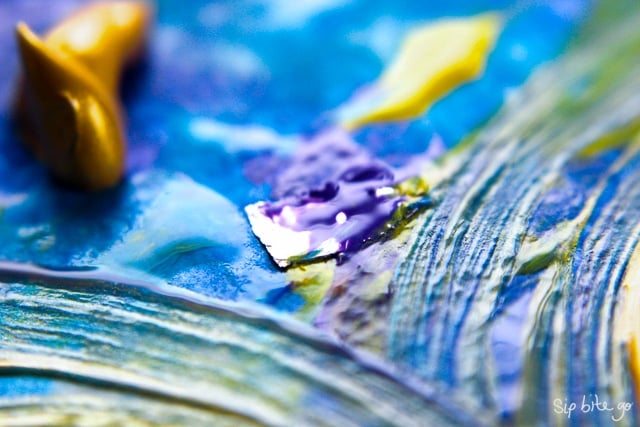 After you place your metallics, revisit the canvas and eperimentally play with different paint brush sizes and paint colors. Try only painting one color to the right of another color, or make up another rule that will be easy to follow while helping you create a pattern.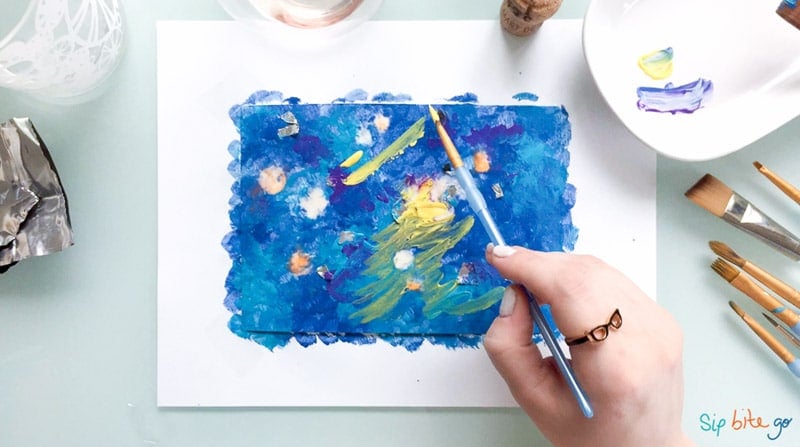 Once you've set a nice backdrop of colors with a little sparkle from the foil, take a bright color that will stand out (I worked with a dollop of gold) and bounce the bright color around your page.
Swirl
Now that you have a bunch of colors worked around the canvas, it's time to build motion. You can drop some purposeful blobs of paint right on the paper, and then take a paint brush to swirl them around. (Mine happens to look "Starry Night" inspired because I picked my favorite colors, which I apparently share in common with Van Gogh.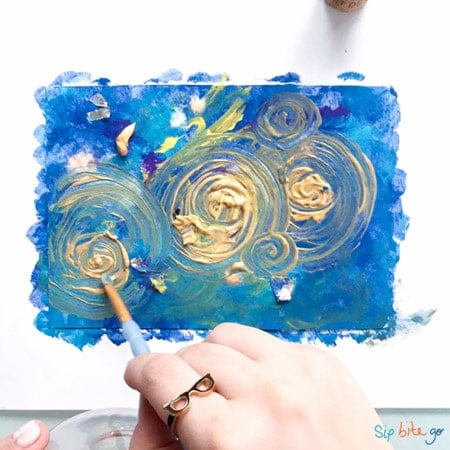 Why hello, Van Gogh
The masters of art knew when to stop, and for those of us who don't know when to put the paintbrush down please note: 30 minutes is plenty!
Set, finish, frame. Or magnetize to the fridge. Or pin to cork.
Since I created my coincidentally-starry-night-ish art on printer paper, it got a little wavy as it dried overnight. I plopped it in my scanner (you could stack your dry piece under some cookbooks), and it was perfectly flat the next day. I'm sure I could have put it in a frame right away too, but if you're looking for a finished-polished-look, or want to scan it into your computer to sell on Etsy, flatten it over night.
Don't forget to sign your work! (and finish your wine?)

Your turn
I hope I've inspired you to find some paint you can bring back to life with a quick 30 minute art project. Once you accomplish your first DIY abstract art project, you might find the ambition to create more pieces to build a mural on a wall that needs a little TLC at home. If you love what you've created on a small canvas, you could think bigger and make a statement piece to prop on your dresser. Either way, I'd love to see where your abstract art takes you. Tag #sipbitego on Instagram so I can check it out!
Go ahead, and get painting!
SCOOP UP YOUR

FREE

PRINTABLE DIRECTIONS TO CREATE YOUR OWN ABSTRACT ART:
Watch the step-by-step video on YouTube
Check out my abstract art Pinterest board for new DIY art ideas