My Pinterest is on fire
My Pinterest grew from less than 200 followers to over 800 followers in less than a month. The best part is, it feels good. I did it the right way with a routine and strategy that works even on those days you hit the snooze button 3 times before checking your social media in bed, as if the day is going to wait for you. (I sure wish it would wait…)
I experimented and learned that my Pinterest would grow as long as I could commit 10 minutes a day (super easy to accomplish while the coffee is a brewin'). And honestly, there are some days I can't commit 10 minutes, or even 5, and it still grows. (I still hold my breath just incase, though). My most recent growth experiment went so well, I would love to share it with you so you can get ideas and simple steps to grow your social network today – for business or fun.
Yup, whether you are using Pinterest to build your future life (personally, my dream home is dripping with understated neutrals, pops of teal and gold metal accents), or you use social media to increase your connections (more people contacting you in hopes of becoming a customer), I have tips to help you grow your Pinterest following.Yup. You've mastered those square compositions and filters while munching on chips with guac and snapping an artistic shot of your margarita on the rocks with salt + a squeeze of lime. Yet, somehow, those dimensions just never stand out quite right on Pinterest, they never capture and grow your followers, because they are too small.
Long and narrow compositions, especially those with white space, stand out really well. Shoot for 735 width x 1200 – 2200 in length. Create a template of your standard sizes and fonts so its second nature to make Pinterest-specific images. (because less time designing means more time adding delicious ideas to your easy apps + side recipes board)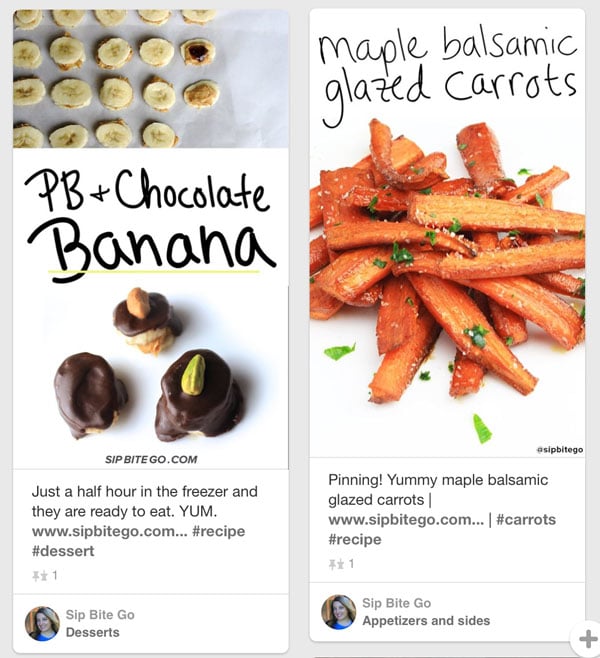 2. type larger than you think[/title][fusion_text]It's time to zoom out. Will your words stand out when people scroll through boards? Large, clear, centered text does really well. Don't make the same mistake I made early on: I thought I needed a lot of type because I was too zoomed in to my photoshop or canva designs. Now I save my text for the description. I rely on the pictures to do the talking and make the type large and centered. I also love adding a descriptive word here or there, like I did in my all-time favorite pin for the best cauliflower mac and cheese recipe.
3. join or start a Pinterest community[/title][fusion_text]Pinterest success really took off when I began joining community boards. A lot of people don't know about this really valuable Pinterest feature, and it's a shame. I had about a dozen blog posts up when I joined my first community board. With about 2-3 images (of different size and layouts) per blog post, I had enough to repin (repinning your top posts is very important!) my top performing Pinterest images. Community boards drastically help increase your reach because they attract so many views (it makes sense that they are naturally optimized with all the engagement), and if someone repins your pin, it asks them to follow your board.
To join my first community board I checked the description and commented on the board leader's latest post asking to join. She verified the high quality of my posts and approved me immediately. Joining other boards will help you grow your network a ton.
The next step that will drastically improve followers and growth is starting a community board that is purposeful (not pushy) and defined (has a niche). My flagship Sip Bite Go Community Board was really the tipping point of gaining Pinterest followers at rapid speed. The followers have kept coming and aren't slowing down. 5 new followers was a big deal, then 10, then 25 new followers a day. My new morning routine of checking and tracking my Pinterest account got me pumped for the day, like a shot of strong Italian espresso sprinkled with cinnamon at 3pm when you could use a nap. I check my followers, likes, and new comments while giving the cold shoulder to my pesky little orange and blue porcelain clock, staring at me to get out of bed and start the day.
Today, with the luxury of momentum on my side, I focus my Pinterest time on pinning to my individual boards then repinning the best of those pins to my favorite community boards:
I'd love to invite you to pin creatively with me. If you are interested in joining my community boards and pinning your favorite recipes, diy ideas, and travel inspiration, just leave a message on the most recent pin for whichever board you choose. Looking forward to it! Join the Sip Bite Go Community Board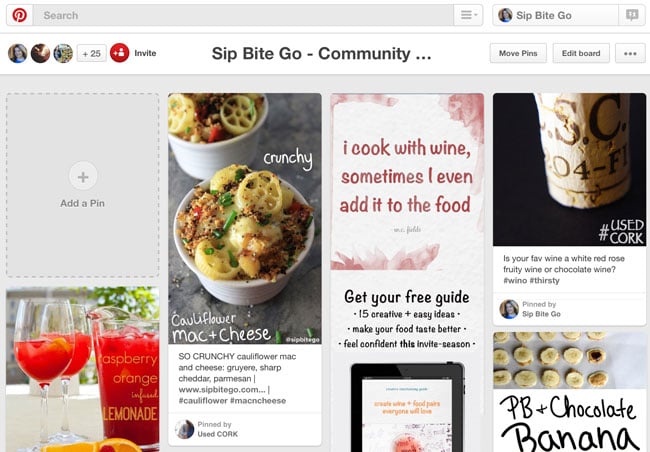 4. comment and engage
You would have no interest in following someone who didn't interact with you to build an honest relationship, and your future followers won't either. Just repinning doesn't work. It is important to reach out to make new connections does a ton to grow your friends and followers on all social media. The more engagements a Facebook post receives, the more it is shared. Ditto for Pinterest. While you feverishly pin wine bottle DIY ideas (one day I will learn how to cut wine bottles in half with nail polish + string! one day!!), make sure to comment. This highlights you as someone with similar interest as people are scrolling and reading descriptions. I especially love community boards because there are so many different types of pins to choose and comment on. I personally LOVE when people comment on my pins, if they've tried a recipe or project, so I try to return the favor.
If you're feeling shy, just improv it – go with your first reaction to get the conversation going:
how are you inspired by the pin?
have you seen something like it? does it remind you of something you love?
did you try the idea? how did it go and what would you change?
I've had great conversations with my new followers on Pinterest that lead to new Twitter, Facebook and Instagram followers, plus comments on my blog. Don't overthink it – feel confident with your initial comment and stick with it, like you are chatting with your best friend, losing time over a glass of vino on a Saturday night in. Its casual. Say hi.
One great way I like to get in the habit of commenting is to set a timer for 10 minutes once a week to put on my blinders (avoid distractions) and comment on posts in community boards.
4. absolutely track it
I never imagined I would be here today with over 800 followers now 940 followers just 4 days later!) on Pinterest. And it wouldn't be possible to get connected with so many awesome pinners if I hadn't tracked every day stats of the experiment (# of followers, pins, boards) and what purposeful changes I made each day (joined/started a community board, commented on 20 pins, etc.). You can make big leaps when you track.
Once I hit a stride of over 20 new followers a day, I decided to cut back the amount of time on Pinterest and focus on new ideas that will help me spread my love of creativity, food and travel to new people. I kindof put Pinterest on autopilot: I check it as my coffee brewed in the morning, comment, make new pins for new blog posts once a week, construct pretty boards for projects I was working on (like DIY kitchen carts to organize my every-one-is-so-valuable collection of pot holders, dish towels and chopping, grinding, brewing machines I own, not to mention all the spatulas).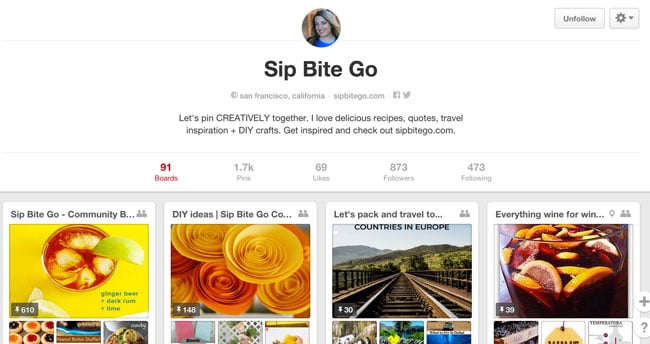 Yes, I've grown my Pinterest following 4x in just 3 weeks. It feels like winning the raffle every day, but it did take strategy and experimentation. I'm super proud (pats back) that I figured out how to make Pinterest work for growing my network. I think you can easily grow your Pinterest followers with my tips. If you want a copy, let me know below. Once I get 10 "yes votes", I will make the guide and send it to you. Just enter your info below. My treat.